This letter was written as a response to Lousiana Governor Bobby Jindal's recent comments about his notion of not believing in hyphenated identities. According to the Times of India, he said his parents came to the U.S. from India four decades ago to become Americans and not Indian-Americans.
My parents came in search of the American Dream, and they caught it. To them, America was not so much a place, it was an idea. My dad and mom told my brother and me that we came to America to be Americans. Not Indian-Americans, simply Americans."
Dear Gov. Bobby Jindal,
Do correct me if I'm wrong, but, I bet you have had all kinds of labels and insults hurled at you over the years. You have probably been called a Twinkie and a sell-out amongst other things. I bet that stuff gets tiring. I can relate on some level. I was called a terrorist when I was simply bringing home groceries just last week which, I won't lie to you, kinda sucked.
Anyway, just so we are clear, you will not find any name calling in this letter. We will leave that to the rest of the country. The spirit of this letter is more along the lines of wanting to understand you, not as one brown person to another, but more so as one "American" to another. American is in quotations because I am a tad confused at your notion of what it means to be American. Hyphens. Quotations. Shit, Governor, you make me question my use of punctuation on so many levels! But I digress.
So, let's put everything out in the open. I want you to know that I do not want to understand you better because I feel any sense of loyalty to you just because you are brown. I do not support every brown person out there simply because of similar pigmentation or a shared heritage. Actually, I have been asked before if I like any/every public figure because they are Indian and my retort is usually something like: You are brown and I'm neither enthused about nor supportive of your climb up the political ladder, so see, no skin color bias here.
I do not say that to be snarky. Well, not entirely. I say this to communicate that I understand you, Bobby. To be fair, I certainly do not expect you to support every Indian-American person because of ideology or simply because they are brown. Many have said that you diss Indian-Americans in this country and I have defended you. I always say, "Bobby does not owe us anything because we are brown," just like we don't owe him support just because he is brown. Fair enough, right? Great. Still, I have a bone to pick with you.
I'm so very tired of the social and political climate in this country. So when I read what you wrote about assimilation and how sub-cultures are undermining American unity, I felt even more tired. And then it dawned on me that maybe I am not understanding you correctly. Maybe you are offering progressive ideas on how to strengthen America. But try as I may, I could not find any guidance in your suggestions that pointed towards a better America. So I am requesting you or someone from your camp to write me and explain this to me like I'm a friggin' toddler.
I mean, break it down in simpleton terms because I am feeling challenged in wrapping my mind around your words. And I NEED to understand where you are coming from because I know you represent a segment of the population that believe my hyphenated identity is deterring this nation from being fabulous. So Bobby, help me out, make me see how I am eroding the perfect union, domestic tranquility, and common defense of my nation by my hyphenation. Tell me why I am ridiculous, please, as I certainly plan to tell you.
Let's start a dialogue! Okay, so I'll start —
My umbrage with your recent sentiments on immigration assimilation is that you gave half-assed, half-baked (ugh, more hyphens, sorry, I know you hate those) ideas, something that is irresponsible since you are a man in power. That you just happen to be brown adds a bit of sensationalism for good measure, but hey bro, even if you were purple, I would still think your request for amputating one's ethnicity from their identity is not only a lofty but ridiculous.
So real talk Bobby, isn't this nation kinda' based on a buncha' hyphenated identities? Blah, blah, melting pot, blah. Everyone was a foreigner (I mean besides the Native Americans, who, well, oh Bob, I don't even know who to direct THAT letter to) when they first came to this country argument, factual as it may be, is kinda trite at this point, right? So help me look at this with fresh eyes. Allow me to state what I think is the takeaway from your sentiments and correct me as needed.
If I understand you correctly, you are saying that by identifying with hyphenated identities we are creating sub-cultures thus depriving the country from a singular national identity, which is weakening us as a nation, right?
Man, that's heavy, and kinda puts the responsibility square on the shoulders of the hyphenators, huh?
But here is the thing, what if we are not the ones creating the division? What if other Americans want to keep us separate? So then what? Do we still rally for acceptance with steadfast determination and if so, what does that mean, I mean really mean?
And what if I am not always thinking of my skin color yet the rest of the nation won't let me forget it? What if I find I have to constantly prove that hey, I'm not an Indian-terrorist, I'm just an Indian-American because some people do not think I'm deserving of the title "American" by itself. What about having to constantly tick off boxes that ask me what I am because that information will be disseminated for various, nuanced reasons?
You said, "If we wanted to be Indians, we would have stayed in India." But what about those people who want to be Americans and go through all the proper and legal channels of becoming American yet still don't enjoy the same opportunities? What about Americans who were born and raised in this country, but that do not receive the same freedoms as other Americans? I mean Bob, do I really have to go there? Do I need to remind you of things that keep happening in this country by law enforcers and fellow citizens that keep this country divided?
But no, I do not want to complain, I do not want to be a tattle-tale and further perpetuate my lethargy. Besides, I know you know what is really going on.
If you could give me a more practical framework, I would be more inclined to give your remarks serious thought. Let's say we go along with your plan and I drop the hyphen and I simply go as American. What does that mean in my practical day-to-day? Could you please walk me through it?
Does that mean I trade in the comfort of chaa for a chai tea latte? No, that seems pretty superficial, right? Or do I stop watching any movies directed by Raj Kumar Hirani and only watch Clint Eastwood directed movies? Do I no longer partake in FaceTime calls with my cousins in India? Do I replace saying Sat Sri Akal with a simple hello when greeting my in-laws? Oooh and Bobby, boy, I don't think I could give up samosas. Have you?
But no, wait, you could not possibly recommend I stop doing those things as you even said yourself that you don't suggest "people should be shy or embarrassed about their ethnic heritage."
And codifying how I speak, dress, and act would surely be encroaching upon my constitutional rights and I know you're not going there… I mean…are you? Real talk, Bob, is that what you are suggesting?
Look, I am not asking this to be glib or funny. I am seriously asking you what it means to be your version of American or "American" or whatever. And while we are at it, could you just tell me once and for all, how I am any less American by being Indian-American? What is it about my hyphenated identity that is diluting the notion of Americanness?
What are you suggesting I use as a point of reference for being American? And if there is not a reference point I can readily avail myself to and we are making up an identity as we go along, could you give me context clues? What is THE master culture you recommend I assimilate to? Is it White America? Christian America? Southern America? Anglo, straight, Christian gun-toting America? I dunno, Costco card-holding America? What arbitrary metrics are we using to determine my Americanness?  Is this as dizzying for you as it is for me? Throw me a bone here, Bob, who is it I'm supposed to be that I'm not being when I moved to this country, MY country, as an Indian-American?!?!?
You cannot get around these hyphenated identities. They exist. They are real, Bobby, whether you wish to acknowledge them or not, they ARE real. They are the very backbone of this country. Democratic-Americans versus Republican. Blue states versus red states. Hell, you are in an office that reinforces a hyphenated culture, are you not? Sure you may not identify as being an Indian-American, but you are a Republican-American, right?
So my take away from your remarks is this: You are not asking us to denounce a hyphenated identity. What you are asking us to do is replace it with another hyphenated identity. Alls' I'm saying is be upfront – tell me in no uncertain terms which hyphenated identity you are really suggesting I adopt. I think I have an idea, but I always like things spelled out. You know being Indian-American and all, we are all about some spelling, are we not?
One more thing, Bobby, just out of curiosity, did you ever think maybe, just maybe, you are asking the wrong group of people to disengage from their identities?
So here's a thought: Instead of asking Indian-Americans to denounce their hyphenated identities, why not ask political parties to do so? Why not ask our legal, political, economic, educational systems of power to quit serving one particular hyphenated identity? What say you? Could you, would you, stop being a Republican-American for the greater good? I'm not even asking you to be a Democrat. I'm just suggesting you be an American and, you know, screw the hyphens.
But see, here is the thing, if I ask you to denounce your identity for a mythical greater good then you and I become quite similar, don't we, Bobby? And not just because we are both brown, but because we want to see change, a change that serves our own agendas.
Meh.
I have no wish to be like you, so I will not make such suggestions.
I hope I hear back from you.
With regards,
Soni Satpathy-Singh
P.S. Check out my business, Sketchydesi.com. I am pretty sure you will hate it; it's all about hyphenated identities. Maybe it will provide you fodder for your rants like you have done for me.
---
---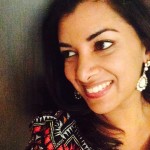 Soni Satpathy-Singh is a recipe writer and developer who resides in Manhattan. She is either always cooking or eating be it for work or simply because she loves to! She is working on her own cookbook and also recently created "Sketchy Desi" which provides daily humor, greeting cards, and apparel that celebrate brown culture. To see more of Sketchy Desi's work, visit SketchyDesi.com or stay tuned to upcoming posts on Brown Girl Magazine.