by Karthyani Satish – Follow @browngirlmag

It's that time of the year again. Onam: when green banana leaves gleam with rainbow colored curries, teens that ordinarily live in their beat-up converse are forced into traditional costumes, and the ubiquitous *Maveli who strides around the homes and minds of Keralites is back at his full-figured, belly-baring finest.
As every self-aware Malayali knows, there are two ways to deal with Onam: either go all out and happily drown in the many cups of thin white payasam you have been served, or God forbid, take the high road and pull the ABCD (American Born Confused Desi, to quote a much-beloved Malayalam movie). 

When I picture this infamous trope, I think backwards Yankees cap, beat-up denim, and a nasal whine—but moooom, I'd rather have pizza! Pretty hypocritical of me, I know, especially having played that role many, many times.
Distancing yourself from Onam festivities will get you some glares. If you're lucky, it might get you some whispered comments too. She must think she's above all this, or her parents have brought her up horribly. And if you manage to make enough of an impression, you will become the new poster-child of irreverence. See, they'll say. That's what the West does to you.
It's not that we think it's beneath us or that we're trying to disassociate from our roots (and God knows I've heard that one more times than I can count). It's just that it doesn't mean as much to us as it did to the generation before. To our parents, Onam was this magical time, the highlight after a long, rainy monsoon; but to us, it's just another day and a taxing one at that.
My mom often waxes lyrical about the aroma of banana chips and the joy of getting those much-awaited new outfits from her uncles and aunts. However, the Onam we know isn't bathed in the golden light of nostalgia and swathed in a sheet of memories.
No, to us, Onam is where we meet the other Malayali kids and grumble about the ominous sadya to be served on long, plastic-sheet covered tables, discuss the newest Marvel trailer, and sweat in those heavy ethnic clothes. The boys get lucky with that one; they turn up in jeans or hoodies while we girls are bundled into the shiniest silk skirts in the Western hemisphere.
Personally, I can get behind the tree-swings and the new clothes. I could even bring myself to play the over-exuberant expat reconnecting with her roots. But what mars the horizon for me is that traditional sadya, lurking at the back of the room and my mind like a *sambar-faced monster. I swear I'm not being annoying and snobbish, I've told my mother many time. I'm just not a fan.
I've always been a picky eater, and the grey-green mystery of the *aviyal does not help. Thank the Lord for whoever thought of adding banana chips and jaggery-coated uperi to the menu. I've often filled my stomach with more than my share.
Our parents often sigh that we kids will never have authentic, non-commercialized memories of our childhood to pass on to our kids, but in our own way, we do. I remember one Onam a few years ago, where a couple of us snuck out into the dunes of Dubai to feast on jerky and ice cream that one of our more generous friends bought. If you're reading this, friend, I owe you my sanity. Or at least ten bucks.
But funny enough, that will be the memory of Onam that sticks to my mind through the years and may be passed on over the generations. It may not have the old-school charm of my parents' days, but for now, I think it'll do. Now if you'll excuse me, I have a sadya to avoid.
*sambar: a traditional Malayali lentil-based vegetable stew
*aviyal: a traditional Malayali vegetarian side dish
*sadya: the Onam meal, served on banana leaves
*Maveli: the Onam mascot
---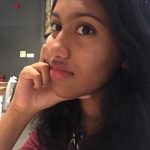 Karthyani Satish is an aspiring doctor/novelist, currently in high school. When she isn't rhapsodizing about George R R Martin or pondering existentialism, she can be found eating California Rolls and re-watching Marvel movies with her dog, Bruno. She also has a passion for Reese's Peanut Butter Cups and the intricacies of Westerosi politics.