by Akanksha Varma – Follow @browngirlmag
The sun has almost set in the sultry winter sky
And to every poet's consternation,
Each nook of the city smells like cigarette smoke;
They wonder what they should write today,
A pint down with a burning throat
They walk through the city, to capture life.
 The night is piercing, even the hookers have put on modest clothes
and somewhere in a multi-storey building
a girl sings in the dark,
her drunken voice bewitching the entire city in its merry spirit;
And further down the lane,
an old man collapses, and with a wheezing breath
denounces his possessions to his son
and he breathes his last in the snow-clad streets,
the stars bearing witness to this commemoration;
and a girl stands over the bridge,
whose coat flips carelessly in the icy wind,
as she readies to jump into the freezing waters,
thinking desperately of last words that'll hopefully
last longer than she herself did;

And somewhere an artist's fingers roll the joint
After he's fucked the same guy he did last week,
And the one before that and the one before that,
Wondering if this is what love feels like:
No late night conversations, no meals,
Just two hot naked bodies writhing in passion
And the familiar smell of smoke and sweat.
They all wonder, they're all living,

And thus the city lives on-
They all wonder, they're all looking for something,
Or finding something or making something,
Or just being.
The city breathes through their breath,
and the world feels alive, thriving,
even though nothing is similar and nothing is different
because it has all happened, it is all happening,
it will always happen

and yet it is never the same—the girl's voice
has never sung of that one morning, ever again
and the old man's son will never know how proud
his father was of him,
and the artist has woken up to a realization
that what he loves has, and can never love him back.

So the next morning, when the moon descends
and the first shy rays of the eager sun wake them all up,
the poets, well, they'll already be wide awake,
with cheeks blued, and hands gritty,
forgetting to see the sunrise, forgetting to breathe
as they write about the cities they've never left,
The cities they've never seen,
The cities they've never been,
The cities they've never owned.
---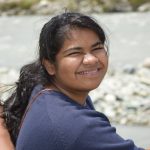 Akanksha Varma is an eighteen-year-old English major in a love affair with words. Socially awkward and introverted, her Friday nights involve good books, interesting movies, food, and lots and lots of sleep. She is very observant, a born listener and very emotionally shut down. A travel enthusiast, she loves exploring new worlds and everyday lives of people fascinate her a lot.