by Zara Husaini
This post was originally published on our partner website India.com:
Dhanish Karthik knows what it means to follow your passion—he left a stable career to fully devote his time to his passion, and he hasn't looked back ever since.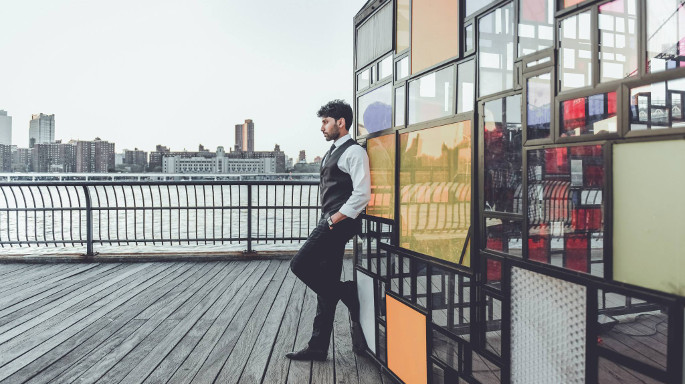 It shouldn't come as too much of a surprise that Karthik favored the performing arts—after all, it was in his DNA. But while Karthik calls his father—well-known singer, Nilambur Karthikeyan—his role model, one thing is clear: this young Indian-American actor is writing his own story, and his South Asian roots are very much a part of it.
Karthik, a New York-native, is realizing his childhood dreams as he takes on a two prominent film roles, but this is just the beginning for this talented performer.
"My fifth-grade yearbook said 'I [want to] be an actor,'" Karthik said. "But I'm sure my passion started long before then."
Growing up in a family that embraced the performing arts had a profound influence on Karthik's vision. "I have always been surrounded by the arts," he said. "I sing, dance, act and draw."
Despite his well-rounded perspective as an artist and performer, Karthik has always honed in on acting, which he now calls his full-time profession.
"I tried to act part-time while I was working at J.P. Morgan. Needless to say, being a part-time actor didn't work out well for me," he said.
Karthik, who has a degree in marketing, eventually felt he had to make a choice between his two professions. "In July of 2013, I resigned, and here I am: a full-time actor and loving every minute of it," he confessed.
But while acting is Karthik's lifelong dream, he is the first person to admit that pursuing a career in such an unpredictable field is not without its difficulties. According to Karthik, dealing with "the naysayers" is the hardest thing about being a working actor.
His mantra? "Everyone is entitled to their own opinions, but you can't let the negative energy take control of your decision-making."
Karthik continues to act full-time despite the difficulty that comes with the career because he said it is, quite simply, what he loves to do.
Karthik faces a major career highlight with the upcoming release of the Malayalam telefilm, "I Love You," written and directed by Sabarinath Nair.
"I'm proud to say 'I Love You' is my very first starring role, and it is hilarious to say the least," Karthik said. "The moment I read the script, I knew I just had to do this film. I loved every moment of filming."
Karthik said he landed the lead role after working on another production, a major crime film titled "Ivide." Though he may have had a small role in "Ivide," he said his work in the film opened a door that led to a much larger part in "I Love You."
Karthik's experience is already quite varied—between his work at J.P. Morgan, his major role in a small project, and his small role in a major project, he has done quite a bit in his career already. His experience is fitting for the future he envisions: after all, Karthik's plans include acting globally.
"I plan on doing not only Bollywood, but also Hollywood as well," Karthik said. "To me, it all depends on the script. The art of acting is universal no matter what language the film is written in."
Karthik's South Asian heritage is very much a part of who he is as an actor, but he said he hopes that it will not define him. It is no secret that Hollywood can be a tough place for minorities. There is a lack of roles that call specifically for South Asian actors, and people of color are often tokenized in the industry–but the good news is, progress is underway.
"I am proud to say that South Asians today are in fact making a name for themselves in Hollywood," Karthik said. "A few bold South Asian pioneers within the Hollywood industry, such as Kal Penn and M. Night Shyamalan for example, helped pave the way for where we are today. However, we still have a long way to go. In regards to feeling tokenized, my answer is no—if I look and act the part of a specific character, I'll get the role, simple as that."
Karthik's decision to act full-time seems to be paying off quite well. In addition to his roles in "I Love You" and "Ivide," he is also set to take on a slightly different project.
"I will be filming a music video for the very talented Madhu Balakrishnan shortly," Karthik said. "I have the role of Lord Krishna's Avatar, which I'm super excited about."
Karthik may have his hands full at the moment with all of the projects he currently has in the works. Still, he is not too consumed with his ongoing endeavors to figure out what he wants in the long run. In fact, Karthik's five-year plan is very well defined.
"In five years, with the grace of God, I will have done a minimum of at least one leading role in a Hollywood commercial film," Karthik said.
To keep up with Karthik's acting portfolio, check out his website and IMDb page.
---
Zara Husaini is a Chicago-based writer/editor who has covered everything from fashion to breaking news. She's a graduate of the Medill School of Journalism. You can find her personal blog at statementscene.com.