by Jisha Japagnanam – Follow @browngirlmag

Four hours may not seem like enough time to shed light on the devastating consequences of casteism and gender inequality in India's educational system, but Netflix's latest documentary, "Daughters of Destiny," successfully manages to do just that.
Dr. George Abraham, founder, and principal of the Shanti Bhavan Residential Institution in Tamil Nadu, is an Indian-American businessman who established the school in 1997. But this is not just a school—it's also a social experiment. Through this institution, Abraham envisioned using the power of education to alleviate the abject poverty and inequalities he witnessed in his homeland.
Shanti Bhavan, or "S.B." as referred to by its students, is specifically geared towards children belonging to Dalit families. Dalit, meaning "oppressed" in Sanskrit, refers to those on the lowest rungs of this archaic system of subjugation. Dalit families are the most marginalized and ostracized of India's outlawed, but unfortunately still very prevalent caste system. They are disenfranchised not only economically. but socially as well. The lowest of the low are given the scorn of Untouchability and scorned as living pollutants.
Students enter the institution around age four. They are provided with well-rounded support beginning from the first day of school until their first day of work as young adults. S.B.'s philosophy combines building a sense of community along with rigorous education, leadership skills, and core values to predict excellence. These children are deemed by society as subhuman and uneducable, especially the females. To achieve success, despite the fact that they are presumed to be destined for failure, is nothing short of a miracle.
In "Daughters of Destiny," we follow five of these girls at different stages of their matriculation over the course of seven years. Throughout the film, the theme of destiny versus opportunity is prominent.
We see the two worlds they must learn to simultaneously navigate.
They are fluent in English, wear western clothing and have knowledge of and access to the outside world thanks to their schooling. However, on holidays, back at their villages, there is a stark contrast between them and the rest of their largely uneducated and poverty-stricken families.
Although the students miss out on the majority of their childhood with their families, being at S.B. gives them a valuable perspective. By being exposed to the struggles of their community, they are constantly reminded of the invaluable gift of education they have been given.
Parents must wait 14-17 years for their student to complete the necessary schooling. The children are overwhelmed by the immense pressure of being the sole beacons of hope for their entire families. They are frequently torn between their personal aspirations and familial and societal pressures.
In "Daughters of Destiny," we witness Thenmozhi missing a carefree childhood with her family. Preetha is discouraged to follow her heart and pursue a career in the arts. Shilpa faces a resentful sibling and loses a loved one in her absence. Manjula confronts the real world consequences of caste prejudice once she enters college. Karthika deals with societal pressures to marry young and fights the idea that women are not worth educating.
Each girl becomes a strong, determined young woman.
As we delve into their backgrounds, we also get to see the incredible grit of the women who raised them. Many of their mothers are widowed, divorced, or simply receiving no financial support from a man. These women are forced to do backbreaking manual labor daily. There is emotional and physical abuse. There is the kind of poverty we rarely see anywhere in the US.
S.B. allows one child to enroll per family. The school hopes that by spreading out the number of admissions, each individual child may grow up and be a savior for their entire family. An educated child is expected to get a "good" job, break the generational curse of prejudice and poverty and eventually return home to uplift the entire community. The goal is for the children to understand education as a means of opportunity, power, and change.
Above all, Shanti Bhavan aims to instill a sense of morality and self-confidence in these students, especially women. These girls show perseverance despite the incredible odds stacked against them. Their stories are both relatable and inspirational to all viewers. They refuse to be defeated or defined by their circumstances. All it takes is one person in a place of privilege to offer an opportunity to another. That can have a ripple effect and change an entire community's fate.
For more information regarding Shanti Bhavan and how to support these children please visit ShantiBhavanChildren.org.
---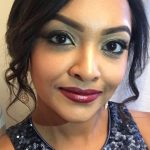 Jisha Japagnanam was born and raised in PG County, MD. She is a Speech-Language Pathologist working in D.C., who enjoys bottomless brunch, trashy reality t.v., and smothering her niece, nephews and cat, Sissy Mama with love.