by Fawzia Mirza 
Brown people can be…"the gay." No seriously, for real, we can.
That is what Nepal has been realizing over the last month as reports keep surfacing that the country will soon legalize same sex marriage. What does that mean? It means that Nepal will be the only country in the South Asian subcontinent to legally, politically and monetarily recognize the rights of two people who love each other, who want to commit their lives to each other through marriage and who, also, might have the same or similar body parts.
Nepal is proving to be a progressive country when it comes to the rights of its people: In 2007, homosexuals were deemed "natural persons" (phew!), in 2008, Nepal had its first openly gay member of Parliament (I'm qualifying this with "openly") and in 2011, the Census recognized a third gender category (something that even the USA has yet to do).
This doesn't mean that I, or any other LGBTQ person, should immediately fly to Nepal with their same gendered partner and take long walks on the beach… er, mountainside. It does, however, mean one very substantial thing: Progress.
The real question is, why are all the other South Asian countries so far behind? Countries like Afghanistan and Pakistan can imprison you for a really long time for homosexual acts. In Sri Lanka and Bangladesh, the crime is considered equally morally wrong whether you have sex with someone of the same gender or with a goat.
Then there's India. India is the country that, in 2013, overturned its own 2009 law, thereby RE-CRIMINALIZING homosexuality. I mean, India has one of the gayest industries in the world: Bollywood! Ironically, while India is home to the largest film industry in the world, it has yet to be the most truly progressive or most accepting on certain social and political issues, especially when it comes to the LGBTQ community.
How hard is it really, to accept the beauty of two people who love each other, wish to commit their lives to each other and wish to have that love witnessed in the eyes of their friends and family, their communities and, yes, even their government?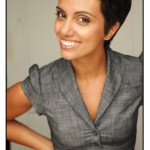 Fawzia Mirza is a self proclaimed Brown Girl and an actor, writer, producer, comedian and storyteller. She's performed at theatres all over Chicago. She has her own web series that she wrote, produced and stars in titled "Kam Kardashian" about the long lost lesbian Kardashian sister. She also has a play, "Me, My Mom and Sharmila," which is about the multitude of her identities, about being brown, about her mother and about Sharmila Tagore. Find out more about her on her website.