By: Catalina Campos
In a culturally renowned city highlighted in the global map for its rich abundance of the arts, the traditional classical dances of India thrive on the stage. Navatman Dance premiered their Bharatanatyam performance of "The Tale of Bhasmasura" at the Tribeca Performing Arts Center on November 13 to a nearly sold out show, the largest venue used by Navatman Dance capable of housing 260 guests.
The impressive performance depicted the iconic tale of a devotee granted the boon by Lord Shiva to instantly turn into ashes anyone whose head he touches with the palm of his hand. Intoxicated by this new sense of power, Bhasmasura attempts to destroy Lord Shiva maliciously chasing after him into a forest where he stumbles upon a beautiful woman, Mohini, preparing to perform her daily puja. Intoxicated by her beauty, he proclaims for their marriage but Mohini refuses, stating that as a dancer she must only marry a man as talented as herself. Mohini coyly challenges him to match every step and as Bhasmasura gets carried away, he fails to recognize his own downfall. Her final step ended by placing her hand upon her head and with that Bhasmasura was destroyed. Ultimately, Mohini revealed herself as a form of Lord Vishnu protecting Lord Shiva from a potential catastrophe.
[Artistic Director: Sahasra Sambamoorthi]
The New York Times-praised Ramya Ramnarayan is no stranger to breaking boundaries in Bharatanatyam and is paving the way for Navatman Dance to continue doing so. Artistic Director, Sahasra Sambamoorthi states:
"Having a guest choreographer as talented as Ramnarayan and equally genius music by the composer Ravikiran makes a huge difference in our capabilities as a dance company, which really pushes us forward, so the entire company has been really excited. The fact that this is also a dance drama with a storyline from mythology versus traditional format margam is also something that New York City doesn't get to really see so there are a lot of new faces of Navatman you will see in this production."  
The ensemble included Maya Kumar, Aastha Joshi, Anuradha Sethuraman, Yatrika Ajaya, Jessica Perez, Karishma Shetty, Smitha Madhav, and Srinidhi Ragharan.  Along with an exceptionally talented troupe, the spotlight did not stray from the musical prodigy, Chitranna Ravikiran, involved with producing this original composition. While most of us were figuring out how to walk at the age of two, Ravikiran made his grand debut.
[Navatman Dancer: Maya Kumar]
Navatman Dance did not fail to compete with an incredibly epic tale and its powerful figures. Artistic director, Sahasra Sambamoorthi and guest choreographer and performer, Ramnarayan, displayed stunning and heavily intricate footwork with crisp and sharp movements performed in flawless unison. Mostly faster speeds were used during Mohini's and Bhasmasura's battle emphasizing the dancers' strength and the ironic severity in Mohini's crusade.
The dancers' gorgeous abhinaya added an essence of the soul, captivating the audience and bringing the stage to life. Abhinaya is the art of expression in classical dances, a technique usually taught to advanced dancers and usually hard to master. A profound God-like nature resonated from Navatman's dancers with an added spark in their execution. A clear reminder to the audience that this dance-drama meant so much more than just a weekend plan. 
---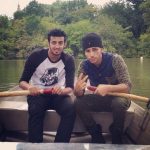 Catalina Campos is a graduate of the University of Houston earning her B.A. in English Literature. She previously managed a prestigious photography gallery and has worked as a music and fashion editor in Berlin. As a recent New York transplant, she currently studies Bharatanatyam and Kathak at Navatman, Inc and hopes to one day pursue a career in promoting South Asian arts. Catalina spends her free time indulging in films and exploring galleries. You can follow her on Instagram.