by Sana Kamal
Nars Cosmetics launched a new permanent lipstick line called Audacious, which includes 40 color rich shades that give a creamy finish so your lips can look smoother and fuller.
I love the sleek, black lipstick tube packaging and magnetic closure for the caps of the lipsticks. These caps will securely close and will not pop off in your makeup bag.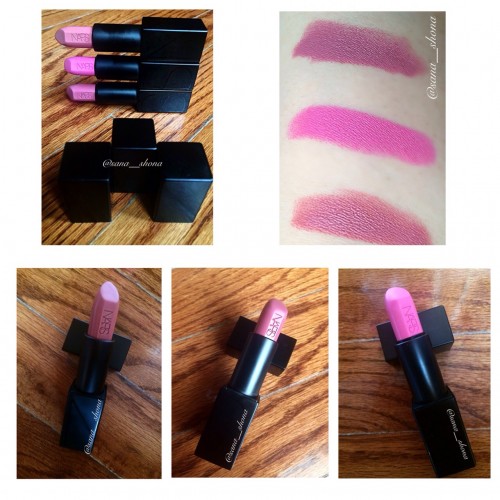 Photo Credit: Sana Kamal
Upon applying the product the first point to take note of, and an important one for those with dry/chapped lips, is that this collection of lipsticks will keep your lips moisturized throughout the day. The colors are opaque and pigmented and show off their vibrancy with just one application. During the course of a day, Nars' newest collection of lipsticks will last about five hours before you have to reapply, and it stained my lips nicely as well.
For women of color, I would suggest the following shades: Claudia, Marissa, Angela, Anna, Audrey, Charlotte and Michiyo. However, this does not mean you should not try out the other amazing colors too.
Swatches from left to right: Anita, Claudia and Anna
I own Claudia, Anita and Anna from the Audacious collection. Claudia is a cool pink with blue undertones and satin finish, it has a rich and opaque pigmentation. Anita is a medium dark pink with warm undertones and a satin finish, it has an opaque color. Anna gives off a cool tone with a muted medium dark pink shade and a semi-matte finish, it gives full-color coverage when applied on the lips.
Lipsticks from the collection retail for $32 for 0.14 oz, and I am looking forward to adding more to my collection. If you own this product or have recently tried it, send us pictures and leave your review in the comments below.
[divider]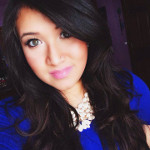 Sana Kamal graduated from Rutgers University with a bachelor's degree in Biological Sciences. She is currently applying to medical school and working on expanding her family business, R & R Cosmetics LLC. Although, she is not a professional makeup artist Kamal loves to apply and experiment with makeup on herself and friends. She is a proud Indian-Bengali-American girl who loves beauty, fashion, glitter and science.