by Radhika Srivastava – Follow @Browngirlmag

I say that I'm a first generation immigrant, but my mom says I'm a first generation American. Even though my status is a little hazy, India is where I'm "really froooommmmmm." India is an exceptionally diverse country, and it means a lot of different things to different people.
To my mom, India was home. It's where she grew up and where the vast majority of her family is. She made a life there and never thought she was going to leave. When I was younger, and not comfortable with my non-whiteness, India used to feel like home to me too. Now, as a headstrong young woman who is accustomed to her independence, I feel a little less comfortable there.

Even so, India is where I've spent most of my summers. It has been jalebis for breakfast and mango ice cream after dinner. It's been playing in the mud and rain of the monsoon. It's been going to the local open air market to buy Mari biscuits, hot and sweet Maggi sauce, and Amul cheese. It's been going to the ageless tailor. It has been riding in rickshaws and feeding the cows with my younger sister.
But above everything, India has been about my grandparents. It's been the regular white buildings of the army sector in which they live. It's been shopping for Indian clothes and jewelry with my nani, mom, mausi, and sister. It's been eating aloo paratha after aloo paratha that my nani always had made for me. It's been watching Hindi movies and ridiculously dramatic soap operas. It's been eating kebabs in Defense Colony and masala corn in the new malls that arose over the years. It's been enjoying family-wide after-lunch naps.


My whole world has shifted since my grandmother passed away suddenly. Even though we moved to the United States when I was just two months shy of six, I have so many memories of her. I was an incredibly fussy baby who hated most people and even drove away several nannies, but I liked Nani. She would hold me in one hand and cook with the other. I learned my Hindi from her, and I always surprise and delight my mom when a particularly rustic word that Nani taught me works its way into my Hinglish. She spoiled me to no end, and I adored her for it. When I was four, I gave a speech in school in front of a thousand people for Gandhi Jayanti, and she was so thrilled that she bought me a teddy bear from the local market. Rosy is almost eighteen years old now, and I am not embarrassed to say that I still sleep with her every single night.

Even after moving, I saw my grandparents almost every summer – either they came to us or we went to them. As Nani's mobility declined, the nature of our relationship changed, but the bond was just the same. My sister and I would play with her cane and later, her walker, and she was absolutely paranoid that we were going to break them. I helped her walk for short distances, and was always ready to catch her. When her hands grew shaky, I helped feed her. My mom and I would even sneak her pieces of mango and other sweets that she was not supposed to have. When she was mostly bedridden, I would lay down next to her and hold her hand. When she was admitted to the ICU, I never thought that she would actually leave us.

When she was admitted to the ICU, I never thought that she would actually leave us.
When she passed away, I was thousands of miles away, ironically studying in the cadaver lab. It completely broke my heart. Utterly miserable, I left everything and joined my mom in India. I was able to make it there in time for half of her last rites. It was the first December I had spent in India since 1998. The house was cold and empty; it was strange being in her house without her.
I spent most of my time helping my family prepare for the different ceremonies, and eating delicious homemade Indian food. I asked our cook to make all the food that Nani liked to eat, from arvi rassa to dosa. I even insisted we go to every bakery in the town until we found the lemon tarts she and I used to eat together. I made everyone leave her spot at the table empty, even when we had guests and ran out of space.

We went to the banks of the Ganges to immerse her ashes. My mama and nana played the primary role in the puja. We all prayed for Nani's soul and the souls of our foregone ancestors to find peace. On the thirteenth day following her death, we held the final puja in the house. Again, my mama and nana had a main role, but I had the chance to do aarti towards the end. I have been trying with all my might to let her go so that she can find peace, but it has been so difficult. I know that I should be happy that she's not suffering anymore, but I miss her terribly.

During this trip, I began to think about death, Indian culture, Hinduism, gender, power, and me. It brought to light many of India's paradoxes. Does it make sense that it's socially acceptable for men to pee on the side of the road, but it's not okay for me to wear leggings because they reveal the shape of my legs? Does it make sense that all the models plastered on the billboards are a pasty shade of white, when we as a people are different shades of brown that no amount of fairness creams and bleaching will change? Does it make sense that cows are considered holy, but here they are wandering the streets eating garbage?
Does it make sense that only male ancestors are named during religious ceremonies, when without women, there would be no continuation of the familial line? Does it make sense that when my parents pass, neither my sister nor I will be the ones to take part in their last rites, but rather the job will be given to the next male in line? I don't think I am in any position to make sense of this all or pass judgment. I just know that I can never hold my Nani's hand again, and that my relationship with India has changed irreversibly. We can only wait and see how this new chapter of our relationship unfolds.
---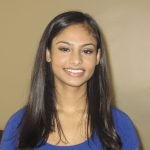 Radhika Srivastava is a 22-year-old second year medical student from New Jersey. She is also a Bharatnatyam dancer who loves being on stage. You can follow Radhika on Instagram @rad_sriv, but be warned, her feed is mostly food and selfies.