My grandmother went missing on a bright summer day. It was the kind of day that reminded me of the shirtless joggers in the neighborhood park and the shouts of joy filling the air as children licked dripping ice-cream cones handed to them by the vendors lined outside.
She was visiting our new home in the fast-paced cosmopolitan that is Delhi, where no one spoke a word of our native Telugu. My grandmother, out for her regular afternoon walk, hadn't returned home after the usual hour. I was on my way to watch a movie when my mother called me. I could barely understand her breathless outpour as she told me I needed to search for a 70-year-old woman, lost in a sea of people who didn't speak the same language as her.
My first instinct was to run around the block a couple of times and in the event that I didn't find her, hope that she would return home before I missed too much of the latest Bollywood blockbuster. It was only when guilt and fear of my mother's wrath kicked in that I thought of checking the neighborhood park, a space that my grandmother often said gave her a sense of peace.
My grandmother lived in Hyderabad, a South Indian city two hours away from Delhi by flight. During my visits, I would often find her sitting on her bed, bangles clinking as she adjusted her dark-colored sari falling on the pages of her prayer book.
My earliest memories of my grandmother consist of her daily routine. She was a woman who commanded attention with every movement she made. I would watch with fascination as she twisted her wiry hair into a bun and twirled a string of Jasmine flowers around it, shifting between chanting prayers and humming Telugu movie songs as she went about her work.
My grandmother's hands felt coarse when she held mine, roughened by years of cooking and cleaning for her thirteen children. Her eyes were often lined with the black kohl that she made by burning charcoal over the fire. She would offer to put some on me, a cultural sign of beauty, but I would squirm from her grip and run to my mother in the fear that she would gouge my eyes.
After I finished high school and chose to purchase branded eyeliners, I began to envy the meticulous way in which she had dressed herself up every morning. Though we spoke the same language, I preferred to communicate with her through gestures as they conveyed much more than my awkward phrasing of Telugu.
Of India's 22 official languages spoken across the 1.1 million square miles of Indian soil, my grandmother was fluent in one. Telugu, the language of my ancestors, sounded like dripping honey and poetry when spoken by her, but when it came out of my lips it sounded like someone who was just learning how to drive a car, hesitant and halting. It echoed a generation that was gradually losing its roots to fit into a more modernized world.
British colonizers left India almost 70 years ago, but they left behind a people who now grappled with insecurity if they didn't speak English well — the more fluent you were at English, the more respect you deserved.
Every summer, I gave my grandmother English lessons. My chubby fingers would guide her wrinkled ones across a page with 26 squiggles, but halfway through my class, she would lose interest and go back to her Telugu books.
To return the favor, my grandmother would try entertaining me by narrating native folktales. She weaved stories of brave kings and noble warriors while I struggled to compete with my ABCs. I interpreted her indifference to keep up with the times as an unspoken fear of failing. When I voiced my opinion I was greeted with her tinkling laugh, followed by affectionate mocking of the "strange" way I enunciated my words in Telugu and her disregard for the changing face of the country.
As I wandered around the park that day, I wondered how my grandmother had found her way without speaking the language. I approached the ice-cream vendor outside the park, who said she had entered an hour ago by using simple hand gestures for directions. For a woman who didn't speak a word of Hindi or English, she seemed to be communicating fluently with her surroundings.
I finally found her sitting under a Neem tree in the park. Bathed in the shade of the tree, her face was serene despite the shouts of children playing cricket and swings creaking under the weight of toddlers. She turned and caught me staring, then beckoned me to come sit next to her. Watching her soak in the happenings in the park reminded me of our summer lessons, and how her face would light up when she narrated Telugu folktales.
Her statement always stayed with me, "My stories sound better than yours." And they always did.
---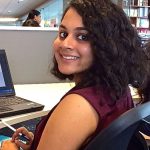 Vishakha Darbha is a videographer and a feature writer, with particular interest in creating profiles of ordinary humans doing extraordinary things. When not hunting for stories, she spends her time singing, backpacking, consuming and/or analyzing pop culture and reading biographies. She is currently pursuing her master's at Medill School of Journalism, Northwestern University.