This post was originally published on our partner website India.com.
The Fearless Conference, to be held on October 1-2 in Philadelphia, is a two-day event for "ambitious women who are ready to ignite their passion, creativity, and inner badass."
Now in its second year, the conference is often referred to as the brainchild of Melissa Alam, founder, and editor-in-chief of Femme & Fortune, which serves as a digital platform for ambitious women.
"From a digital space to a physical co-working space for women called The Hive, I've loved creating a community for others," Alam said. "After attending many conferences to further my career, I realized that Philadelphia wasn't home to a creative conference for women. So I decided to start one! I named it 'The Fearless Conference' because I believe all women should live life without the fears of judgment, self-doubt or a lack of confidence. The options for an amazing life and career open up once we let go of that fear. This conference is that first step for the community."
For Alam, Philadelphia has not only served as home to the conference but as one of her greatest inspirations.
"It's a city made for creatives and artists. This city allows anyone to have the opportunity to make a name for him/herself—one of the major reasons why I love the spirit and hustle of this town," she explained. "I feel extremely supported here, and it's allowed me to grow my businesses, host numerous events and create an awesome network of friends and contacts. My motivation for The Fearless Conference comes from the need for women to stand up for themselves, unite together and let our opinions be heard. It really is an amazing feeling to see the energy of all of the guests and attendees during the conference!"
Though there are many conferences that serve as empowerment mechanisms, The Fearless Conference is truly unique.
"It is not a typical professional event where you act reserved or feel self-conscious around others. It has a nurturing and creative air with a very down-to-earth vibe," Nikki Khanna, head of Sponsorship and General Ops, said. "It is the ideal environment to soak in other's life lessons, connect with like-minded people, and eat/drink without shame. The team behind the conference are three minority millennial women, and we want attendees be themselves and feel comfortable in their own skin, all while getting motivated to be the best version of themselves once they leave—it really is unlike any other conference."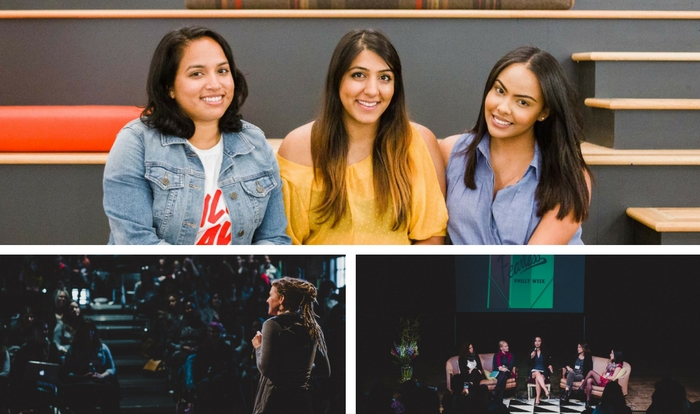 The team behind the conference hopes this conference serves as motivation for the women who attend to
"try something uncomfortable every day, to say sorry less, to believe in themselves, to believe in others, to not waste time, to take care of themselves, to read more, invest in themselves, to be fearless in whatever capacity that means to them," Khanna said.
Conferences and events that serve as empowerment and motivational tools are extremely important to the communities they are impacting.
"Growing up in a South Asian household, I learned from early on that the men were always right. When I did something good, my dad would joyfully say that I am like a son to him," Khanna reminisced.

"My dad couldn't comprehend that his daughter, a girl, could make him proud. I don't blame him because that is how he was raised and all he knows. However, I made it my personal mission to change his views and the millions of others who think women aren't as smart, strong, and hardworking as men. The only way that change in perception can occur is through awareness of gender inequality and acknowledgment of those women breaking the norm, which is exactly what The Fearless Conference and other women empowerment events accomplish."
It is necessary to embrace these types of events and ideas in our society today because it is evident that we still have a long way to go on the path toward equality.
"I would love The Fearless Conference to be one that gives enough power and confidence to its audience that it seeps into their way of working and connecting to others even after it's over," Liza Santos, head of social media and PR, said. "If The Fearless Conference can start a movement of empowerment in one's ability to make moves, reevaluate goals, and ignite a core of uplifting individuals, then we are doing something right."
As strenuous as the road towards equality may be, there is definitely some reward to working in this type of motivating environment.
"The most rewarding aspect of being involved with this conference has been the impact it has had on women—and men—not just those attending but many who cannot and others who follow us on social media," Santos added. "I often read and hear women say they have re-ignited their passions, confidence, and creativity after attending The Fearless Conference. We all attend with a bit of vulnerability, but a willingness to open ourselves up for strength and guidance from each other's ideas and experiences. Workshops, panels, keynotes are all coming from women and men, just like us, and that's what makes The Fearless Conference so rewarding."
As for any advice they want to share with fellow fearless women, Alam replied that,
"we're all stronger when we come together as women. I can't imagine what my life would be like if I didn't have my girl gang of close female friends to support me during not only the good times but also the bad times. I've been uplifted and empowered by the women around me, and that's what I want the attendees of The Fearless Conference to feel. There's no need to be intimidated or feel out of place—just come with an open mind and be ready to shine amongst some amazing and inspirational women!"

---
We're excited to share, the Brown Girl team will be in the house! BG's Editor-in-Chief Trisha Sakhuja will moderate Sunday evening's panel discussion on breaking gender stereotypes and barriers in today's society. We want YOU to join too so enjoy 20% off w/ discount code BrownGirlMag.
Here's the schedule for the two-day conference:
Saturday will consist of interactive workshops from 11am-6pm. This includes four educational workshops, an entrepreneurial resource packet and a happy hour with light appetizers from 4-6pm.
Sunday is the traditional conference day from 11am-6pm starting with a morning brunch, vendor area, headshots, and inspiration from three career-oriented panels and two keynote speakers.
---
Saloni Gajjar is a recent alum of NYU's Magazine Writing Program. Her passion lies in pop culture writing, as is evident in her work with magazines like Marie Claire, Interview, and Complex. Her goal is to show the arts as a medium and mirror of the society, much beyond just entertainment.