As most of you probably know, Sunday night was the second presidential debate, held at Washington University in St. Louis. The anticipation for this debate was even higher than the first, as voters were looking forward to Hillary Clinton's direct response to the leaked video of Donald Trump's heinous 'Grab Them By The P*ssy' comments.
The @NYDailyNews wasted no time on the #donaldtrump and #BillyBush story…. pic.twitter.com/GUSrO8BH7D

— IsItFunnyOrOffensive (@IsItFOO) October 7, 2016

It was also a chance for Trump to try to save his crumbling campaign as prominent Republican politicians withdrew their support. Not only did Trump fail to offer a genuine apology for the crude comments he made in the tape, he was not even able to give direct answers to any of the questions that were asked.
Moderators Anderson Cooper and Martha Raddatz steered the debate with pointed questions, pressing both candidates to stay on topic and within the time limit. Trump didn't take this too well and accused the moderators of ganging up on him when told to stop interrupting Clinton, at times even debated both Cooper and Raddatz. But one of the greatest moments of irony last night was Trump's response to Gorbah Hamed's question, which was about rising Islamaphobia in this country. Hamed asked both candidates how they would help Muslims deal with the consequences of being labeled as a threat to the country.
Trump's response, "Well, you're right about Islamaphobia, and that's a shame."
Someone call an ambulance because my eyes just rolled all the way to the back of my head.
Trump continued to say, "We have to be sure that Muslims come in and report when they see something going on. When they see hatred going on, they have to report it."
Cue the formation of the greatest hashtag response on Twitter last night. #MuslimsReportStuff went viral on Sunday night, and the responses are arguably the best thing to come out of this debate. See for yourself:
He's behind you!#MuslimsReportStuff #Debate pic.twitter.com/b9ueYfqO5b

— Shaista Aziz (@shaistaAziz) October 10, 2016
I wanna report a guy who is constantly sniffing and doesn't know what he is talking about #MuslimsReportStuff #debate @chaudary_zainab

— Erdoan A. Shipoli (@eshipoli) October 10, 2016
I saw armed jihadists curse the US gov & swear they'd fight to the death but turned out they were white supremacists. #MuslimsReportStuff

— Hend Amry (@LibyaLiberty) October 10, 2016
I think my sister drank orange juice straight out of the carton, will continue to investigate #MuslimsReportStuff

— basith (@MrCommonCents) October 10, 2016
Sometimes when I'm at the grocery store and I gotta buy grapes, I'll taste one without paying for it. Self reporting. #MuslimsReportStuff

— Shabbir Hossain, MD (@ShabbirHossain) October 10, 2016
Trader Joe's has a sale on dried mangoes #MuslimsReportStuff

— TariqTouré ???? ???? (@TariqToure) October 10, 2016
Terrorists. #MuslimsReportStuff pic.twitter.com/Vb8VCDu4D8

— Donna Auston (@TinyMuslimah) October 10, 2016
If you missed the debate, here's a roundup of tweets that basically describe how last night went:
cooper: do u pay taxes
trump: no!
cooper: so you dont
trump: of course i do
cooper: what
trump: bernie sanders
cooper: wait what
trump: isis

— jomny sun (@jonnysun) October 10, 2016
Hillary is proof a woman can work hard, rise to the top of her field & still have to compete against a less qualified man for the same job.

— Erin Ruberry (@erinruberry) October 10, 2016
Trump writing a term paper:

Sources Cited:
1. You Know It
2. I know It
3. Everybody Knows It

— Kat Combs (@itskatcombs) October 10, 2016
Y'all can quit with this "both candidates suck" mess. Never in US history has one candidate been so heinously less qualified than the other.

— Krista Kee (@Krista_Kee) October 10, 2016
What if every woman got their own Anderson Cooper when they talked?

"Please don't interrupt her, she did not interrupt you."

— Meg (@MegDraws) October 10, 2016
CLINTON: Here's my portfolio, if you'd like to take a look.

TRUMP: PUSSY ISIS!!!

UNDECIDED VOTERS: Idk, it's tough. They were both so good

— Lauren Duca (@laurenduca) October 10, 2016
Voter registration deadlines are coming up soon, so make sure to check your registration status before it's too late. Don't forget to research candidates that are running for local offices too.
---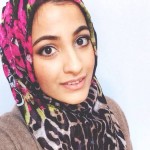 Hera Ashraf is a graduate with a Biology degree, hoping to pursue medicine. She is a self-proclaimed foodie with a passion for desserts. Coffee and Bollywood are her two most favorite things. She loves to read, even though she barely gets time for it anymore. Brown Girl Magazine allows her to write about the things she loves and then shares it with the world. Her ultimate goal in life is to become a world wanderer.