by Anuja Shashipadme – Follow @browngirlmag
This post was originally posted on Anuja's Endeavors and republished with permission.
Munich is one of those cities that allows you to feel nothing but awe, mixed in with tranquility, as you walk by the city center near Marienplatz and admire the pre-modern era buildings. The city is a beautiful mixture of modernity and antiquity, where both young and old live in unity.
Our first night there, my travel buddy's cousin, who is a Munich local, took us around Marienplatz, pointing out important buildings that also played a role during the Nazi regime. Luckily, we were also able to drink some gluwein, a traditional German drink served throughout winter markets. It consists of hot wine mixed in with orange flavor, sugar, and cinnamon—perfect for warming up in the cold, snowy German winters.
The next few days consisted of heaps of sightseeing in Munich. One of my favorite ways to learn more about the city was going on a free walking tour with the popular European tour company called Sandeman's. The tour guides are always so knowledgeable and helpful if you need recommendations. These tours are amazing if you are a secret (or not-so-secret) history buff too!
Another World War II-related museum called the NS Documentation Center was recommended to us by some locals. The museum displayed important documents from the World War II era and revealed the beginnings of the Nazi regime and its progression towards mass genocide. There was a lot of reading to do over 3-4 floors of documentation, but for WWII and Holocaust nerds like myself, it was a worthwhile find!
Our fourth day in Munich fell on the Three King's day, a Catholic holiday celebrating the birth of Jesus,  when surprisingly almost everything was closed because Munich is still a primarily Catholic city! Somehow, we found a small cafe that was open and became part of the popular German afternoon tradition as we dined on apfel cheesecake and a latte macchiatto (the proper way to drink this was to sip it through a straw).
A visit to the Deutsche (German) museum was next, which displayed seven plus stories of exhibits on different fields of science, from pharmaceuticals to physics, from map-making to the science of sound and instruments. We only had two hours to walk through the museum before it closed, but one can easily spend an entire day exploring the depths of the science exhibits (especially if you love science!).
On our last day , it was time to have another epic adventure. We climbed the 300 steps up the tower belonging to St. Peter's church to get a gorgeous view of the entire city. We also discovered an edgy coffee shop called Aroma Kaffee near the city center that I recommend to any visitor in Munich! Not only is the coffee on point, but the decor and the vibe are one of a kind. Munich definitely stole my heart and I can't wait to return someday.
Places to eat/drink
1) Hofbrauhaus: You haven't had real beer until you visit this amazing beer hall. It's open all day (till late) and has traditional German folk music played by musicians dressed in old Bavarian clothing. (~8 euros for a liter of beer)
2) Aroma Koffee: A hole-in-the-wall coffee shop that is rated highly by TripAdvisor. Must-see for its coffee and good vibes. (~3 euros for a cappuccino)
3) L'Osteria: A Very economical and tasty Italian pizza place! Munich has tons of Italian influence, and tourists from Italy are common all year round. Plus you can buy an entire pizza for only 8.50 euros!
4) Sample some gluwein: If you're visiting during the winter time. (~3-4 euros)
Must-sees
1) Deutsche museum: ~15 euros for admission
2) St. Peter's church tower: ~3 euros
3) NS Documentation Center: ~2.5 euros for students!
4) Viktulianmarket: German winter market, free to walk through!
---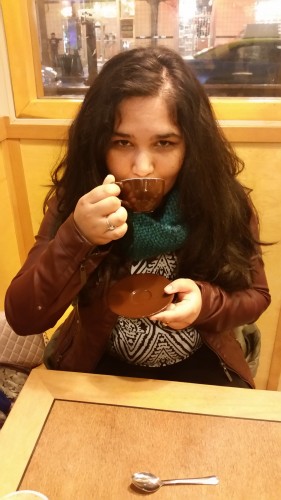 Anuja Shashipadme is a recent graduate of the University of Virginia with a double major in Cognitive Science and Spanish literature. When she's not drinking coffee, you can find her traveling to different places, writing poetry, or getting lost in a good book.