by Atiya Hasan 
Arthy Saravanan was born in Kanyakumari, a small village in the southern tip of India. She did her primary schooling in Muscat, Oman and subsequently moved to Toronto, Canada to pursue further studies. This past May, Saravanan was crowned Mrs. India International 2014 in Atlanta, Georgia. She represented Toronto, Canada as the reigning Mrs. India Toronto International 2014. She also went on to represent married Indian women in the global finals of Mrs. International 2014 in Florida, the oldest pageant in the world for married women.
As a young girl, Saravanan's passion and interests lay in the medical field. It wasn't until much later that an interest in the world of fashion and pageantry emerged.
As far back as I can remember, my main ambition in life was to become a physician. I had known this from a very young age, all my high school and college years were dedicated towards accomplishing this goal. I also showed a tremendous interest in sports, being involved in multiple school teams including volleyball, basketball, badminton, and field hockey. It is probably safe to say that I grew up a tomboy; likely because I modeled after my brother. I wanted to play with his friends, jump from buildings like he did, and ride my bike down steep hills as the boys would. Fashion and beauty were non-existent in my world.

Then I met my husband. We started off just as friends. He appreciated my little idiosyncracies; he made me realize my inner beauty and strengths. This is when I initially started appreciating fashion, and what it truly meant to be a girl. My husband is my rock; I feel as though we have grown up together. Now, after ten years of being together and five years of marriage, we have reached a stage of companionship where we support and motivate each other in every facet of life.
The support that came from Saravanan's parents throughout her life and the values they instilled in her is an integral part of her identity.
They [parents] were never the strict kind to set rules or curfews during school. They never said 'no' to anything I wanted. They were the type to buy me the toy I had my eyes on even before I asked for it. They would let me go out and stay as late as I wanted. It was likely due to this abundance of love and freedom that I felt awkward doing something that was out of my belief system. I had set up a strong set of core values and I was living life through them. My parents have been supportive of me through every aspect of my life, from my career to my personal journey.

As expected, after winning the title, I did experience some backlash from friends and family, mostly because of the stigma that beauty pageants hold. This was however a different competition. This pageant focused more on the accomplishments of a married Indian woman and how she balances family life, career, charity and other community involvements.
Saravanan graduated from the University of Toronto with a Bachelor of Science in Human Biology with minors in Zoology and Psychology. She completed her medical education at the prestigious Indiana University and earned her MD in 2011. She is currently completing her residency specialty training in radiology and is anticipated to graduate in 2016. She hopes to pursue her fellowship sub-specialty training in Women's Imaging.
My hard work and dedication was paid off when I received the letter of acceptance into medical school. I remember a feeling of satisfaction overwhelming me at the time. Little did I know that this was just the beginning to a lifelong journey of education. Medicine is a field that should be pursued only for those with absolute dedication and passion for it. It is not the job you take to make money or satisfy your parents, especially succumbing to the typical Indian parental pressures. It requires a huge amount of dedication involving both mental and physical strain. Having said that, it is one of the most rewarding careers that makes you feel an enormous sense of accomplishment every single day. For me, this was my drive. I don't feel like I go to work every day. I truly feel like I have the opportunity to pursue my passion and live my dream.
Saravanan tells us of the initial intimidation she felt as she stepped into the world of pageantry:
I felt like I did not belong in the room with such amazing, beautiful women who had each accomplished something great in her own world. Needless to say, I decided to make the best use of my time at the pageant and make it a wonderful and fun experience for me. I started making friends, got inspired by several amazing personalities and met wonderful people. I realized that the challenges I faced as a new working mother were shared by many in the room. The best part of all this: I was just being myself, and sharing and celebrating what I had accomplished thus far.
Saravanan's platform, that she was questioned by the judges about in the final round of the competition, is the healthcare disparities among underprivileged children and women. She hopes to continue promoting this platform as the current Mrs. India International 2014.
It is intricately connected with my medical career as I have seen first-hand what the consequences of inadequate health care are. After being crowned, I have an amazing stepping stone to spread this message and raise awareness about this important issue in society. I am the International Spokesperson for two charity organizations; Handi-Care International which focuses on helping the poor and disabled children in India, and Medical Yatra, which is a medical mission trip organized by American-Indian physicians to help the unfortunate in rural India. Through this, and my support for Every Women Every Child, A UN-based movement to help poor women and children globally, I hope to take my passion to the next level by spreading the message about health care disparities and raising money to support these charities.
Her advice to other brown girls out there working towards accomplishing their own ambitions and goals?
My two cents: stay true to yourself and live your passion. Make a difference!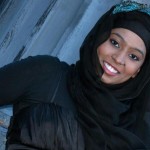 Atiya Hasan is the Editor in Chief at Brown Girl Magazine. She currently lives in Bishkek, Kyrgyzstan where she is finishing up her final semester of medical school. She is all about female empowerment through education and understanding of their rights and sexuality. She is scheduled to be published in an upcoming anthology titled "Faithfully Feminist: Jewish, Christian, and Muslim Feminists on Why We Stay" and is part of the I Speak for Myself series. In her free time, Atiya enjoys consuming large amounts of chocolate and TV shows.