Pageant Diaries Vol. 3:
On a recent trip home to Princeton, N.J., I somehow let it slip to my mom that I want to make a trip to my favorite shoe store. I needed a pair of platform stilettos. I was pretty good at a runway walk in regular stilettos and now it was time to step up my game. I needed a pair of six-inch heels! I intended this to be a solo trip since I do all of my best shopping alone. But I only had a few hours to spend with my mom and my grandmother, so of course, we traveled together—all three generations of women.
My grandmother is the typical conservative South Asian woman. I remember the look of horror on her face and the shame that was dealt upon me for my halter top prom dress from my junior high school prom.
After having seen pictures of me on stage for the Miss New Jersey USA Pageant and well aware that I am planning on competing in the Miss New York USA pageant again next year—I thought I would give both my mom and grandmother a shock. I would show them the height of the heel that I would purchase.
During the past year, my shyness around my family in expressing my love for pageantry has turned into teasing my mom with my love for pageantry to the point where she is shaking her head at my foolishness. I assumed that my grandmother must feel the same way.
Once in the store, my mom separated from our group to look  for her own shoes. My grandmother stayed with me as I browsed. I showed my grandmother a pair of platform light pink strappy shoes with a tall and chunky heel, bedazzled with sparkles. Shoes that were fiercely bold, but a little hoochie even for my taste.
"Do you like these?" I asked. My grandmother smiled without a word. She had the poise and grace that I hoped to gain from preparing for next year's pageant. I tried the shoes on. I practiced my runway walk—still not a peep from my grandmother.
I continued browsing the selection of insanely tall heels. My grandmother came with me, still without saying a word. I wondered, was she in shock that I was looking at such tall shoes? But she still smiled and stood patiently as I tried on shoe after shoe.
Finally my grandmother spoke, "Are you looking for shoes like this?" she asked, referring to the heels that I had just tried on. I responded yes, for my coming TV appearance I need shoes that will make me look taller. These shoes will elongate my body, I explained. She said she was worried I would hurt my ankle, but she was supportive.
My mom on the other hand responded, "You should buy shoes that you can wear every day." I responded that the shoes would come in handy in preparing for my pageant and for modeling. These shoes would not solely be for my TV appearance. Furthermore, I would be wearing these shoes all the time. I love heels. I felt defiant. Defiance against my family's strict conservative views has always made me feel strong.
To my surprise I heard no protest in return. Had I broken my grandmother and mother into accepting that I am no longer the once conservative, quiet and obedient little girl that I had been brought up to be, or had I underestimated them? Are they more open-minded than I thought them to be? I still expected the scolding that I heard when I was 13- years-old and wearing short shorts and a tank top. I still felt like I should be hiding this side of myself from my family. I always feel like I need to portray an image of modesty when I am with my family. I felt so rebellious to even tell my mom and my grandma that I wanted to wear high heels.
Maybe I did not need to hide this from them anymore. They have seen that I have blossomed into myself.  My greatest personal and professional successes have come to me by being true to myself. Perhaps my family has begun to see that. I could still have a reason to doubt their belief in me—but perhaps they truly have changed. It is still hard for me to accept that my parents are proud of me as I am. But maybe they are accepting of my achievements. Why is it so crazy to me that they have changed their minds about pageantry and modeling?
Just in case you missed it: Check out Vol. 1 and Vol. 2 of the Pageant Diaries Series!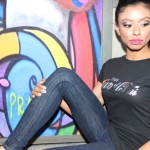 Sheena Pradhan is a Registered Dietitian-Nutritionist, writer, speaker and model. She runs a nutrition consulting and communications company, called Nutritious Balance in New York City. In addition to BG, she writes for India.com, The Daily Meal and Busy Mom Snacks. She also loves to blog about health, food and nutrition on her blog. When she's not writing, modeling, or consulting on nutrition, you can find her preparing for the 2015 Miss New York USA Pageant, riding her bike around Central Park, or wandering midtown Manhattan for inspiration. You can find healthy tips daily by following her on Twitter!