by Monica Bhatnagar – Follow @bhatmon
The Indian-American kids I grew up with seemed really smart, and their parents would take every opportunity to remind you of this. I went to countless family parties where aunties and uncles would share the latest and greatest news about their kids – "Samir got a perfect score on his SATs!" or "Priya has a 4.3 GPA!"
I always wanted to give my parents a similar reason to brag about me to their friends, but I did not get a perfect score on my SATs, and I never understood it was even possible to have a 4.3 GPA? (Hint: By lying)
Auntie never gloated about her son, so she made it her mission to brag about other people's kids. I remember one encounter in particular with Auntie at a family party. My friend Sonia,
and I were eating in the backyard. My family had recently moved to a new city. I had zero friends at school, and the onset of puberty didn't help my personality.
Auntie walked up to us, and said to Sonia, "Sonia beta, you are looking so pretty." I waited for Auntie to say something nice about my new blouse or my neatly coiffed mullet.
Instead, she turned to me, and said, "Did Sonia tell you that she was voted president of her class?"
What happened next is kind of a blur. I may have turned to Sonia, and said, "Cool!" in a really loud voice. But it was far more likely that I dove face first into my biryani.
I'd also like to believe that Auntie did not know I ate lunch by myself for most of the seventh grade, so I was far from winning any popularity contests.
In this episode, Auntie uses every opportunity to tell Katie how awesome her daughter Rinku is. Katie is so over it!
---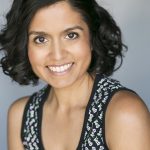 Monica Bhatnagar is a Los Angeles- based actor and filmmaker. She has worked on commercials for Lumosity, Honda, and Red Laser, and her sci-fi short film "Manikin", which she wrote, and acted in premiered at the Los Angeles Women's International Film Festival in March of 2016. Monica regularly acts in sketches for Late Night with Conan O'Brien. She also creates her own comedic sketches, including her latest, "Mediocre White Man Confidence…It's a hell of a drug". Follow her on Twitter: @bhatmon, and Facebook: @ActingMonica.