by Monica Bhatnagar – Follow @bhatmon
My mom and I were loading up the last of our groceries into our car parked in the Trader Joe's parking lot when a woman walked up to us and asked if I went to Catholic Central High School.
She took a closer second look at me, and realized that I hadn't been near a high school in years, and asked instead if I had a child enrolled at CCH. My mom then turned to the woman, and with all the drama, and disappointment she could muster as an Indian mother, said, "My daughter doesn't want children!".
I don't ever remember having a conversation about kids with my husband. I knew he wanted several when we married many years ago, but I wasn't ready. I was in between careers and needed time to figure out what I wanted to do next. One year led to another, and then another. Maybe kids just weren't on the cards for me is what I currently think.
But, I've spent many nights wondering what was wrong with me. I wondered why most women my age wanted kids, and I had no desire to procreate. My parents gave me everything I could possibly need in life, so why couldn't I just grant them their one wish, and make them grandparents? Also, who was going to take care of me when I got old? I look back to the times when I was caught up in the baby -no baby tug-of-war, and I want to tell myself, "There is nothing wrong with you, your parents are proud of you, and love you. and your amazing nieces and nephews will take care of you when you are old, ha ha!"
In this episode, Bad Auntie goes to ridiculous lengths to make Desiree reconsider her life choices.
I am beginning to wonder if Auntie is actually the embodiment of my fears and anxieties in disguise!
---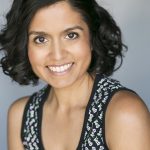 Monica Bhatnagar is a Los Angeles- based actor and filmmaker. She has worked on commercials for Lumosity, Honda, and Red Laser, and her sci-fi short film "Manikin", which she wrote, and acted in premiered at the Los Angeles Women's International Film Festival in March of 2016. Monica regularly acts in sketches for Late Night with Conan O'Brien. She also creates her own comedic sketches, including her latest, "Mediocre White Man Confidence…It's a hell of a drug". Follow her on Twitter: @bhatmon, and Facebook: @ActingMonica.