by Monica Bhatnagar – Follow @bhatmon
This episode of Bad Auntie is inspired by my love for horror films, and my uncanny ability to lose weight and then gain it all back again at the drop of a hat.
The first time I dramatically lost weight in a short amount of time was during the summer of my senior year in high school. My mom and I were visiting India, it was August and it was hot. I subsisted mainly on water and daal, and at the end of our one and a half month vacation, I had unintentionally lost fifteen pounds.
Following this, during my first semester of my senior year I surmised that if I ate one Reese's peanut butter cup Blizzard from Cone Zone per day, and nothing else, I could maintain my svelte new figure. So that's what I did! And my new "petite-ness" did not go unnoticed.
It had been a while since I attended a family gathering, but one Saturday evening I found myself sitting in the living room of a family friend's house watching "Murder She Wrote" reruns while the aunties ate and gossiped nearby. Jessica was about to solve a murder or something when an auntie yelled to me from across the room. "Beta, did you eat? You have become too skinny…"
Whereupon, they all chuckled ominously. I must have given them the impression that I wasn't feeling social because they began talking to each other about my weight as if I wasn't in the room.
"Kids these days are dieting too much," said one. And then the one comment that really got under my skin, "her face is looking too skinny."
I wanted to scream, "I cannot win with you guys!" But instead, I turned to the TV and drowned my confused 17-year-old self in murder mysteries and fantasies.
The rest of this story is best left for another time, but I can assure you that after many years of therapy, and self-love I am doing fine. Nina, the protagonist in the following episode, however, has a Bad Auntie ghost, who she can't wait to exorcise.
---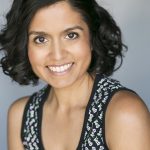 Monica Bhatnagar is a Los Angeles- based actor and filmmaker. She has worked on commercials for Lumosity, Honda, and Red Laser, and her sci-fi short film "Manikin", which she wrote, and acted in premiered at the Los Angeles Women's International Film Festival in March of 2016. Monica regularly acts in sketches for Late Night with Conan O'Brien. She also creates her own comedic sketches, including her latest, "Mediocre White Man Confidence…It's a hell of a drug". Follow her on Twitter: @bhatmon, and Facebook: @ActingMonica.