by Monica Bhatnagar – Follow @bhatmon
Auntie had a voracious appetite and a massive belly that spilled over the pleats of her sari. At family functions, she would hover near the food which made it very difficult to avoid her if you wanted to eat.
This particular gathering started off like any. I had convinced my mom to make me a plate and bring it to the far corner of the room, where I was hiding. I was enjoying some papdi chaat when out of nowhere Auntie walked up behind me, wrapped her soft, squishy arms around my mid-section, and proclaimed to EVERYONE, "We chubby ladies have to stick together!"
And then she laughed a big laugh that echoed throughout the basement, and in my psyche for years to come.
I was MORTIFIED.
As a child, I devoured meals at record speeds and happily went back for seconds. I was the kid asking the other kids, "Are you going to finish that?" I don't remember the first time someone called me, "healthy." (For non-Indian folks, "healthy" does not mean what you think it does! "Healthy" in the South Asian community means plump, chubby, chunky, big. You get the idea.)
I look at childhood photos of myself and I see a well-proportioned young girl, but that's not what I was made to believe about myself.
Thankfully, Auntie never brought up my size again, which freed up her time to shine a beacon on my other insecurities. I got better at hiding. I learned to make myself really small in order to avoid unwanted attention.
Now on the rare occasions when I see her, I still keep my distance even though I am better equipped to process her comments — old
habits, I guess.
This episode illustrates my relationship with Auntie to a tee. I was her prey, and she, the wild animal, would only strike when I had let down my guard and was truly enjoying myself. What a killjoy!
---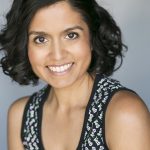 Monica Bhatnagar is a Los Angeles- based actor and filmmaker. She has worked on commercials for Lumosity, Honda, and Red Laser, and her sci-fi short film "Manikin", which she wrote, and acted in premiered at the Los Angeles Women's International Film Festival in March of 2016. Monica regularly acts in sketches for Late Night with Conan O'Brien. She also creates her own comedic sketches, including her latest, "Mediocre White Man Confidence…It's a hell of a drug". Follow her on Twitter: @bhatmon, and Facebook: @ActingMonica.