Raise your hand if you knew that in 2013, the Indian Space Research Organization (ISRO) launched the Mars Orbiter Mission (MOM). Raise your hand if you knew that not only were we the first Asian country to reach the big red planet, but we were the first country to do it on the first try. Now keep your hand raised if you knew that the Hollywood film "Gravity" (2013) cost more to make than MOM (leave it to brown people to get a bang for our buck).
Brown Girl Magazine recently had the privilege of interviewing Bollywood actor Akshay Kumar on his newest film, "Mission Mangal." Directed and co-written by Jagan Shakti, "Mission Mangal" tells the empowering story of India's first interplanetary expedition and all the intelligent men AND women who were a part of the process.
What was your initial reaction when you heard/read the script for "Mission Mangal?"
When our director, Jagan, narrated the script, he told me astonishing facts that really opened my eyes. I was drawn to 'Mission Mangal' instantly because the fact that India launched a satellite mission to Mars in the quickest amount of time and with the smallest budget in comparison to NASA, China and Russia. It was certainly a story that needed to be told. As his sister works at ISRO as a scientist, Jagan had a clearer picture about the characters, their portrayal and the entire mission per say.

I was extremely proud that I was chosen to play the character of Rakesh Dhawan and to represent one of the biggest moments on India's space history on screens. What made me even more compelled to be a part of the film was the fact that this was a real story of ordinary people doing extraordinary things, achieving huge feats and inspiring generations to dream big. 🙂
Can you describe the research you did for the role, regarding mission control and management, space missions, perhaps speaking with the scientists at ISRO, etc. How long did it take to prepare for — and get in the headspace of — this role?
I got to learn a lot about space science thanks to this role, as I play the Mission Director. Besides updating my vocabulary with scientific terms like 'trajectory,' the meaning of which I still don't understand (chuckles), there wasn't really any special preparation required for the role as such. Like with all my films, I followed my director's instructions as he's the one person who understands the film better than any of us.

I definitely didn't know much about India's Mars mission prior to the film. I didn't realize just how magnificent the team at ISRO's achievements were until I learned about the facts. It was a truly an overwhelming experience to sink into the character, even though I have done over 150 films.

We were bringing to the screen one of the proudest moments in Indian space history, and we had to be extremely responsible in our portrayal of the scientists, as we wanted to do absolute justice to their achievement, innovation and genius. Jagan had immense clarity, and all my co-stars did their job so well that it inspired me to put my best foot forward, too.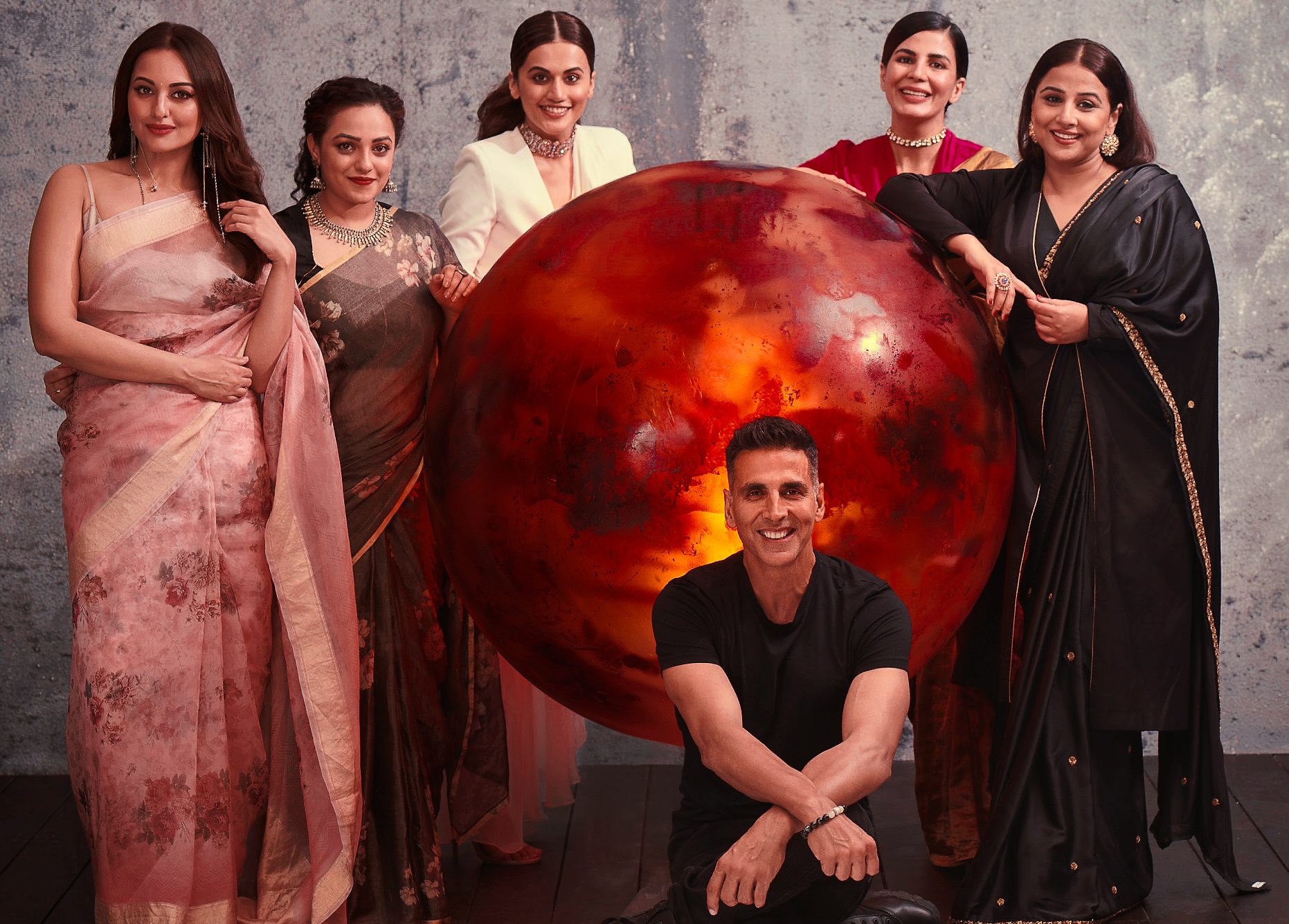 You're sharing the screen with so many powerful, outspoken females; do you think this will help to change Indian cinema's male-centric views/priorities?
In 'Mission Mangal,' we were one big team and learned so much. Being placed in the shoes of a space scientist allowed us to investigate a completely different profession, and a small glimpse at how hard-working the people in this industry are.

'Mission Mangal' is neither a male-centric or woman-centric film — central to the film is the focus of having an empowered mind, where every human being has the opportunity to think with unlimited possibilities to achieve unlimited feats.

All my female co-stars in 'Mission Mangal' have incredible films to their own credit and they have carried forward their wonderful body of work through this film as well.

Yes, the film breaks gender stereotypes by establishing that women can excel in all kinds of professions including science, but 'Mission Mangal' is a film that is character driven as opposed to gender.
Was there anything in the "Mission Mangal" story or anything from your real life that inspired you to help bring awareness to more women in strong, lead roles?
I feel truly blessed to be surrounded by such incredible women in my life, be it my mother, my wife or my mother-in-law, and even my 6-year-old daughter. All of them have been of immense value addition to my life and their experiences have inspired me as each day they contribute to my growth on a personal and professional level.

I'm all about fem-force, and while 'Mission Mangal' isn't just about the woman empowerment message, I am proud to be in a film where there are six lead stars, of which five are women.
Like in "Gold" and "Padman," you've starred in multiple films that tell the inspiring true stories of Indian figures. Why was telling the "Mission Mangal" story important to you, and what did it mean to you as an actor and as an individual? And why tell this story now?
I truly believe in the subject matters of the films I pursue and take on those projects hoping they will have an impact, which I believe they can. I have only been investing myself in projects that I am deeply passionate about, even when others may be skeptical about them. Films I have done with that mentality including 'Toilet – Ek Prem Katha' and 'Padman' are a result of this mentality, and they were so worth the risk.

Indian cinema has taken on a more serious tone in the past few years, and I believe it has been for the better, because we are focusing more on the reality of Indian life. We are a very high achieving nation, with so many amazing stories to tell. 'Mission Mangal' particularly focuses on a such an amazing true story that is timely and an inspiration. The film, I believe, will strike a chord with the young and old alike. I would love for parents to take their young children to watch this film and maybe we will have more children aspiring to be scientists.
You've had a long and storied career in the Bollywood industry, what's the main difference in Hindi cinema now versus 30 years ago?
Cinema is a reflection of the society, and is bound to be influenced by the changes brought about in our society. Needless to say that Indian society has drastically evolved in a plethora of ways in the last three decades, which is also reflected in the ways our films are being produced and consumed. The content of our cinema has expanded to embrace new perspectives and fresh story ideas, which are broadening not only the appeal of our cinema to wider audiences but attempting to spotlight issues, themes and topics that have traditionally been deemed taboo, niche or more suited to parallel cinema. Our industry has certainly become more inclusive and progressive to reflect the zeitgeist.

Our industry has also become more democratic insofar as audience participation. It is difficult to produce a film that have problematic implications and get away with it conveniently. Social media has done some good in democratizing the media industry giving everyone a microphone to express their thoughts, concerns and ideas.
This Independent Day weekend, let's remind ourselves that patriotism is not violence, it's not hatred, and it's not prejudiced. It's working together and empowering each other independent of caste, creed, and religion, and creating something that as a nation we will be proud to show our kids one day.
"Mission Mangal" is now playing in theaters.