This post was originally published on our partner website India.com:
"If my childhood, teens, and twenties were about wanting people to like me, now I want people to know me. So, this is a start."
Thus begins Mindy Kaling's new book, "Why Not Me?"
For longtime fans of Kaling's on-screen work ("The Office," "The Mindy Project") as well as readers of her first book, "Is Everyone Hanging Out Without Me? (And Other Concerns,)" Kaling's book is worth every penny.
"Why Not Me?" is a triumphant collection of essays in which Kaling sheds light on various aspects of her life. In the beginning, she outlines what it's been like to find "medium" fame since "The Office."
Tapping into things she can and can't do now that she gets recognized often, Kaling comes across as both modest and confident, even going so far as to comment on what it's like to have women tell her they want to be her BFFs.
"One very gratifying compliment I sometimes hear is that women want to be my best friend. This endlessly amuses my actual best friend, Jocelyn, because in her estimation I'm 'a good friend, but not that great.' Here are the pros of being best friends with me: I am one of the best people you could take to your ex-boyfriend's birthday party that you were dreading going to. I am always up for dessert. I am always up for skinny-dipping. If you want to talk to any hot guy at any party, I will so be that girl who gets drunk and introduces us, then inches away so you can roll your eyes about me and sell me out so you can bond with him. I will dance almost anywhere with anyone. I have one of the sickest closets of clothes, and I will let you borrow anything and spend hours doing fashion shows in my bedroom with you. There are no cons."
Kaling's self-deprecating humor then gives way to various anecdotes from her life, including the description of a year-long affair with a White House staffer named Will.
"That was a moment when I realized how cool my life is," Kaling writes of the day they first met. "I was trying to hit on a guy and was being interrupted by the president of the United States."
The essay stands out as she describes the kind of mixed messages we've all experienced in dating, with a touch of outlandishness about meeting President Obama, and what it was like to attend a state dinner.
Throughout the book, Kaling comes across as extremely down-to-Earth, often describing that she'd rather be at home in sweatpants eating McDonald's than out at a fancy dinner or party. In one essay, she has her assistant track "A Day in the Life of Mindy Kaling," complete with hilarious and candid pictures. It's a rare and intimate glimpse into Kaling's work schedule that spans over 18 hours a day.
In describing her work and schedule, however, what strikes the reader is how humble she is. Kaling is someone that worked her way to the top (the top seemingly being having her own show), and her work ethic shows. She doesn't complain about long hours or hectic shoots, instead showing incredible humility for all that she has earned. She even dedicates ample time to describing the importance of mentors like Greg Daniels (showrunner of "The Office") who helped shape her trajectory in the industry.
In particular, Kaling describes the turning point of her career when she realized her work at "The Office" was no longer fulfilling, which led to a leap of faith—writing a pilot for her own show: "These conflicting feelings about my job were illuminating—I was finally experiencing what they call 'White People Problems.' Or, maybe because of my socioeconomic background, this is more of a 'First World Problem' or a 'One Percenter' issue? I can't pinpoint which conflict of privilege I was experiencing, but you get it."
As the book builds, often becoming more serious (topics wise, but not without Kaling's sharp wit and nerdy humor), the reader becomes aware of how much Kaling has grown since her last book. The mature voice and confidence with which she reflects on her life shows a depth that is both rare and relatable to so many of us.
As a long time fan of Kaling, I was particularly moved by her essay on her relationship with B.J. Novak ("The Office.") She delves into the ambiguousness of their friendship with quirky anecdotes and honest praise of Novak as a person and writer. She tells a remarkable story about watching an episode of "Lost" on a flight with Novak as they hit turbulence, and the incredible experience of seeing a vulnerable side of someone who is usually very calm, cool, and collected. Their friendship has been the focus of much public attention over the years, but Kaling has no intention of quelling the rumors. In the end, she simply describes him as her "soup snake"—a reference to Michael Scott's character in "The Office" as he realizes Holly is his soulmate, but mispronounces the term. It is a moving and vulnerable admission on the part of Kaling, one that stands out in a book that otherwise glosses over the seriousness and intimacy of her personal relationships.
The book comes to a close on more serious notes. Kaling includes a hilariously uplifting speech she gave at a Harvard Law School graduation and then ends with an essay that shares the title of the book. In this last piece, Kaling addresses a young teenage girl who asked a question of Kaling on a panel about how she got her confidence. Recognizing that her answer on the spot was not nearly honest or real enough, Kaling uses this essay to reflect truthfully on hard work, confidence, and body image.
It is an incredibly candid and moving glimpse into Kaling's perception of herself and how she deals with media scrutiny about her weight.
"Though I am a generally happy person who feels comfortable in my skin, I do beat myself up because I am influenced by a societal pressure to be thin," Kaling confesses.

"All the time. I feel it the same way anybody who picks up a magazine and sees Keira Knightley's elegantly bony shoulder blades poking out of a backless dress does. I don't know if I've ever seen my shoulder blades once. Honestly, I'm dubious that any part of my body could be so sharp and firm as to be described as a 'blade.' I feel it when I wake up in the morning and try on every single pair of my jeans and everything looks bad and I just want to go back to sleep. But my secret is: even though I wish I could be thin, and that I could have the ease of lifestyle that I associate with being thin, I don't wish for it with all of my heart. Because my heart is reserved for way more important things."
This last essay drops all pretense of humor and sarcasm and becomes the cornerstone of the lasting impression Kaling leaves on the reader. It comes across that Kaling is aware of how hard she has had to work to get to where she is—so not only does she not take it for granted, she unabashedly basks in the confidence that comes from seeing that hard work pay off.
"The truth is, I have never, ever, ever met a highly confident and successful person who is not what a movie would call a 'workaholic.' We can't have it both ways, and children should know that. Because confidence is like respect; you have to earn it."
Kaling's sharp and witty humor, coupled with her untarnished honesty, lends a voice to each essay in "Why Not Me?" that keeps the reader hooked throughout. By talking about things like fame, privilege, what it's really like to shoot sex scenes, body image, the façade (and perks) of Hollywood glamour, and several personal anecdotes, Kaling sprinkles in a little bit of everything—such that anyone who picks up the book will find something they can relate to. This is perhaps our greatest gift as Kaling's fans—she is at once relatable and sarcastically witty, and the book reads like one long chat with a best friend.
"Why Not Me?" left me with, as great books do, a sense of sadness when it ended—and a belief that I know Kaling as well as I would a good friend. As Kaling herself says, "With the exception of an auctioneer and maybe Kris Jenner, there is no one in the world less mysterious than me." Really, I just want to join Kaling in sweatpants, eat McDonald's, and watch Netflix all the time.
---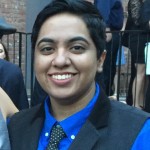 Priya Arora is a queer-identified community activist, writer, and student. Born and raised in California, Priya has found a home in New York City, where she is currently pursuing a Master's degree in Counseling Psychology at Teachers College, Columbia University. Priya's passion and research lies in capturing and fostering the needs and experiences of South Asian American LGBTQ people, with a mental health focus.