by Salwa Tareen
M.I.A.'s music has unapologetically toed the border between diaspora and homeland for years. In "Borders," her new self-directed music video, M.I.A. proves just how well she can blend pop prowess with a political message.
While the song is catchy and provocative in its simplicity, the music video highlights the current refugee crisis in a new way. In it, M.I.A. and hundreds of men hang on chain-link fences, pose in the desert, and ride a fleet of boats. While some criticize M.I.A. for using these men as accessories, a closer look reveals the collective power of migrants and refugees in a time of crisis.
https://youtu.be/DoXCea3b4QY
As the video's director, M.I.A. builds this message with simple, yet poignant, visuals. The men in the video are a commanding physical presence—they form the word "LIFE" on a fence, transform into the shape of a warship, and seem to rule the seas in countless boats. These visuals demystify the common fear of these men as terrorists, criminals, or greedy laborers while highlighting their ability to create new forms as a collective, rather than individuals.
M.I.A. is not interested in creating docile or tragic portrayals of these men or refugees in general. Rather, by constantly asking "What's up with that?" in the song, she forces us to question our existing assumptions of them.
[Photo Source: YouTube/Screenshot]
Women and children are not completely absent from the song's message or music video. One cannot help but think of M.I.A.'s own family history in relation to "Borders." The daughter of a revolutionary fighter, M.I.A. fled increasing violence in Sri Lanka at a young age with her mother and sister to settle in the UK. In fact, "Borders" is dedicated to her Uncle Bala, who she thanks for "taking us out of Sri Lanka and saving us."
We all know M.I.A. for her individuality. Yet, "Borders" demonstrates a collective empowerment built not only in numbers but also in solidarity with the struggles of refugees, as well. "Borders" is a prompt, an invitation, and a reckoning.
This is "what's up with that."
[Feature Image Source: YouTube/Screenshot]
---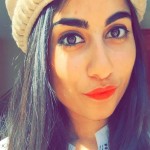 Salwa Tareen is a recent college graduate, community organizer, and writer from Kalamazoo, Michigan. Through her work, she seeks to explore the intersections of language, identity, and politics whether it's in the form of a poem, dialogue, essay or literature review. In her spare time, as a Pakistani-American woman born in Saudi Arabia and raised in Canada, Salwa enjoys crafting clever quips to the question: "No, where are you really from?"