Meral Kathwari is the owner and director of Kathwari of Kashmir, an international textile business started by her late-father in Kashmir, India, which she took over after his sudden passing at the age of 20.  She is also a freelance journalist, producer, and reporter at LMC-TV, a community television channel in NY, The Knockturnal, an entertainment and lifestyle website, and has formerly worked for ABC, NBC, Time Out Dubai, and The Celebrity Café, among other corporations.  Meral spends her free time writing for her travel and lifestyle blog, Brunette Secrets, where she creates travel segments that air on LMC-TV public access television throughout Westchester, NY. Meral has completed a Bachelors degree in Mass Communications: Journalism with a minor in Speech Communications from Iona College and she will be attending Fordham University in the fall for a Masters degree. Meral is an only child and once won the Blazin' Wing Challenge at Buffalo Wild Wings and doesn't regret that she ended up in the E.R. right after.
"I'll never forget the moment I found out my dad had been an accident that took his life. It was a 24-hour ordeal of finding out whether it was really his body that they had found on the beach. He was on vacation in Goa, and I was just finishing up my junior year midterms.
So much went through my mind. It couldn't be, this is all a bad dream, who's going to take care of everything, what am I supposed to do, this is all a bad joke. I kept texting and calling him to see if he would answer. I had just wished him a happy birthday and he said he was going for a swim. I found out later that it was his body that was taken unfairly by a riptide, just after we had spoken.
My father, Tariq Kathwari, was an international businessman who started a renowned Kashmiri textile business from scratch in the 80s. He had an artistic talent that catapulted him in the industry. He loved creating designs for carpets and rugs and working with Kashmiri artisans to build textiles and decor. His designs were exhibited in museums and shows across the world and exported to clients overseas. His mission was to spread Kashmiri crafts throughout the world and empower the artisans of Kashmir.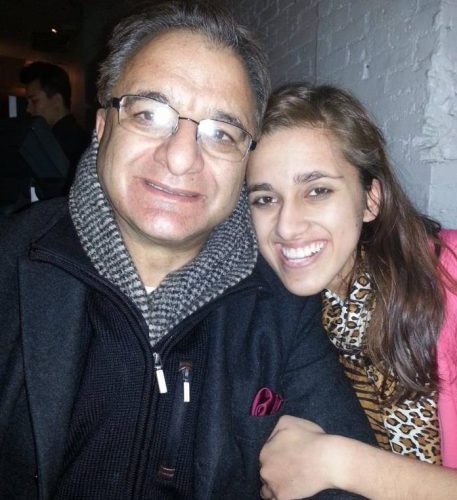 [Meral and her father. Photo Courtesy: Meral Kathwari.]
When I traveled back to Kashmir to collect his my dad's things, I was stopped in my tracks. His many suppliers told me that I should keep the business running. 'His soul is in here,' one of them said. Clients kept popping into that they missed him; they had his carpets in their home and wanted more of his work. I thought to myself, what am I doing? There's no way I could just close it up. But how could I continue to go to school and pursue journalism, too?
I looked at the priceless rugs around me and thought to myself that I needed to continue my dad's legacy. I felt his presence in his showroom. I kept remembering him walking around, showing and selling his carpets to clients when I would visit. I wanted his name to carry on and this was the only way.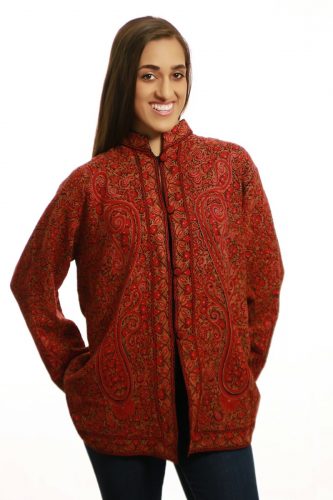 [Meral wearing a Kashmiri textile pattern. Photo Courtesy: Meral Kathwari.]
I took over the business and made sure it continued. I didn't know if I would be able to make it work but it was an instinctive decision. I had been raised in the US almost my whole life. I was born in India, and both my parents were Indian, but would I be able to acclimate to a very different place, much less run a business?
I decided to set it up in a way where I could watch everything, keep tabs, and go back to the US to complete my degree. I trusted his loyal workers. I thought: Let me use what I know to expand this further. I created social media pages for the company and reached out to international clients as much as I could. I'd liaison with his suppliers and workers to make sure all the goods being created were sustainable. Somehow, I kept doing this while pursuing journalism in school.
I created a new website to market to clients online. I kept traveling to Kashmir, every break I could get from school—while I interned and served on many e-boards at college, too. Everything is so different in Kashmir and I always unintentionally manage to look like a foreigner. For two years, I've been running and directing the business as successfully as I can.
I've always lived by two mantras, 'Everything happens for a reason' and 'Anything is possible,' and I am making it happen!
I didn't let the geographical circumstances stop me. I care for both journalism and the business so much. I'm planning on continuing to pursue both dreams side-by-side, with my planner attached to my hip."
-Meral Kathwari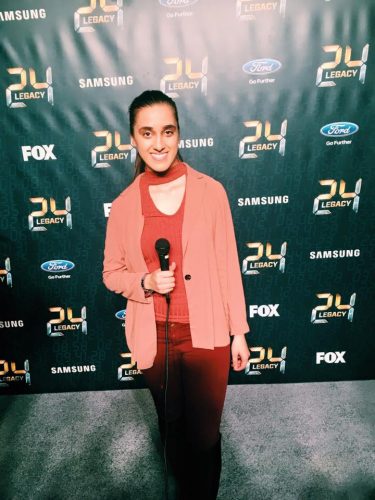 [Meral reports from the premiere of 24: Legacy. Photo Courtesy: Meral Kathwari.]
Learn more about Kathwari of Kashmir here. Get to know Meral on her website, Facebook, Twitter, and Instagram. And subscribe to the Brunette Secrets YouTube channel here.
---
Do you know a Brown Girl who is awesome at what she does? Send an email telling us why at Trisha.Sakhuja@0mq.349.myftpupload.com.