In some of the more rural areas of India, it is impossible for women to go to religious facilities, go to work or even do daily chores when it's "that time of the month." That's why the unlikely story of Arunachalam Muruganantham of Coimbature, India has touched so many people and why he became the subject of the documentary, by Amit Virmani, titled "Menstrual Man."
Screened in New York City on Thurs., March 13 as part of the Maysles Documentary Center's special presentation on Women's History Month, the story chronicles Muruganantham's first discovery of menstrual pads (only after he got married) and his later disbelief that something so necessary for women was so expensive in his home land. He wondered how women in his native village could afford this product that was sold at 40 times what it took to make it.
The statistics on sanitary pad usage in India agree with Muruganantham's findings. Only seven percent of women in India use sanitary pads and in rural areas, that number dips down to two percent. Approximately 70 percent of reproductive diseases in women are caused by poor menstrual hygiene because the women resort to using unclean rags or even sand and ash due to, both the high cost of the product and the cultural taboo of even mentioning that they are menstruating.
India was missing the two A's that caused this problem," Muruganantham said in the documentary. "Availability and affordability. There was a third that I found as well—awareness."
So this high school dropout set out on what he calls the "low cost sanitary napkin revolution." Through various research methods—including wearing a fake "uterus" of blood as he walked around to test his prototypes and asking medical school students to return used pads to him so he could study the outcomes—Muruganantham discovered that the path to the perfect maxi pad was not easy.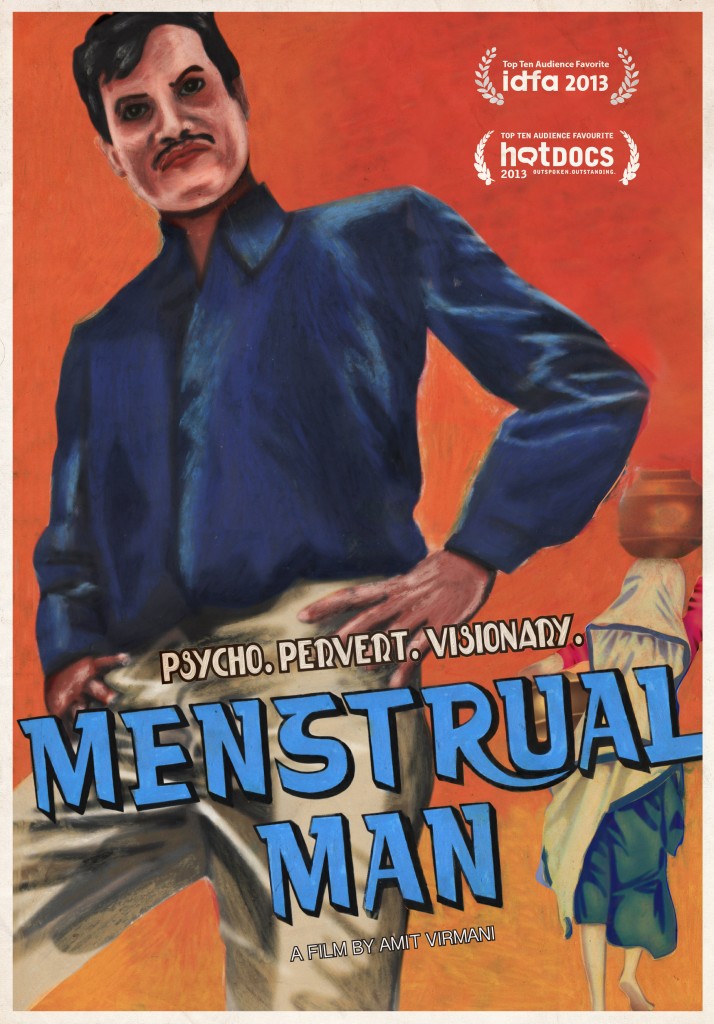 First, were the social constraints he faced. His village thought him to be a "pervert" or someone possessed by a demon, due to his insistence on his research matter. He even described how his friends turned away from him on the street. His wife, for whom he started this research, left him 18 months into his project and his mother followed four months after that. Yet, Muruganantham's ambition did not waver.
Next were the technical issues—while he could create a decent pad out of regular cotton, he knew there was something missing that made it into a valuable maxi pad.
It's like knocking on the door of Coke and saying, 'Can I ask you how your cola is manufactured?'" Muruganantham' aid.
Years into his research, he found that cellulose from a tree bark was the mystery component he needed, but of course, he needed a massive and expensive machine to break down this tough natural substance.
Slowly but surely, Muruganantham was able to break down this complex machinery into four simple wooden machines.  His final plan was not only for women to be able to work while on their periods, but he also wanted to empower them. So, by creating these machines that need little to no technical support, he developed a way for local woman to earn a living for themselves and their families with minimal upfront cost. While these machines normally cost millions of dollars, Muruganantham was able to create a system for just a few thousand.
Muruganantham attributes his success to his lack of education.
"People are using education as merely a tool for survival," he said in the documentary, "not as a way to achieve something."
His idea is the "Butterfly Model of Economics," as he calls it, where he likens his model to the way a butterfly merely takes some of a flower's nectar without killing it and thus creating a self-sustaining model.
The documentary itself is fast-paced and highly entertaining since Muruganantham as a protagonist is very likable. The director also incorporates Bollywood music and scenes from famous movies to lighten the mood of the documentary.
"As to the appeals of the movie, I'm big on masala and it's all there," Virmani said in a Twitter Q&A following the screening. "Funny, sad, loss, triumph, hope… I even threw some song and dance."
Virmani leaves us with an important message.
I want people to know that anyone can make a difference. They don't even need to do it for or in developing countries. Every community has problems you can solve with ingenuity and determination."
As for Muruganantham, he hopes to see India as a "100 percent sanitary napkin country" in his lifetime.
If you'd like to see the documentary yourself, it is now available on Vimeo.