by Suswana Chowdhury – Follow @browngirlmag
Mehjabeen Hassan, 25 years old, sits on her bed surrounded by yards of raw silk fabric in gold, blue, red, and white. Her room in Jamaica, Queens doubles as her design studio for her eponymous South Asian fashion line.
"You have to start from somewhere yourself. I wasn't planning on doing this now, but during my senior year of college, I used to make a lot of my own outfits to the point that people used to tell me to make them their outfits. I just made something for my best friend and word got out and she started recommending me to more people. That's how I got clients."
In a South-Asian culture that preserves traditions and conservative values, both taking a break from education and creating a designer label is an unusual path. Hassan's parents were not on board with her plan at first but she says the support she received from other South-Asian women makes the compromise worth it.
"A lot of times women will randomly direct message me on Instagram or Snapchat me that they're so glad I took this gap year and did something I always wanted to do and that's something we can't do as South Asian women. That just makes me happy, knowing that I'm doing something right."
But not everyone praises her for the work she's doing. On occasion, she's faced discrimination and condescending attitudes.

"I won't name the organization but I went to one place for a consultation when I first started and he just literally tried to side-rail me into, 'Oh so you're not going to continue this forever, you're not going anywhere with this. So you are going to law school in the end, and this is just for two years?' And I said no, I plan on turning this into a non-profit and he laughed, he laughed in my face."  
For Hassan, breaking South-Asian norms does not just stop at designing fashion. Her goal is to eventually turn her label into a non-profit for underprivileged families in Bangladesh where most American designers produce their clothing for very low wages and poor working conditions. She hopes to partner with JAAGO, a well-known non-profit that runs both physical and mobile schools for disadvantaged children in Bangladesh.
"The women and men working in my factory would get paid well enough and depending on where I am with my student loans, I will donate 100 percent of profit towards funding the education for their kids. So they can work and their kids don't work because child labor is a huge thing back home. A lot of people say it's under control now, but it's not—they just don't have the stats right. People still work and don't go to school because their parents can't afford it."
Hassan wants to ensure that in addition to the children, the women will be educated too and given opportunities to advance their own literacy and life beyond the traditional housewife role.

"One of my aunts is divorced and it's one of those things in the South Asian culture where divorce is a huge deal. You kind of become the burden of the family. I want to provide a platform for women like her to get trained and then work for my organization. I want to be able to tell women like her that they can choose to get out of an abusive relationship and do something with their life even if they're divorced, even if you're separated. You don't need a man; even if you don't have an education, you can still do something."
Hassan is planning a trip to Bangladesh within the next two years to start building her factory. She has already recruited a friend to supervise the label there and pay the women fair wages.
---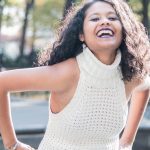 Suswana Chowdhury is a double major in Journalism and Political Science at Baruch College. Her philosophy in life is that nothing is impossible. And in fact, she is actively working to get "impossible" deleted from the dictionary.