by Syeda Hasan 
Hey BG world! My name is Syeda and I'm a 23-year-old journalist living in Houston, Texas.
I've loved writing for as long as I can remember, and that drew me to pursue a career in journalism. My first reporting job was for my college newspaper – shout out to the Daily Texan! As a reporter, I loved being able to get out in the field, break the ice with strangers and better my writing skills every day. When I began interning at a local radio station, KUT News, I discovered my love for audio reporting. I still got to write every day, but I learned to take my storytelling to a new level, taking the audience to the scene of a story through sound. I'm currently living my dream reporting for my local National Public Radio member station, Houston Public Media News 88.7.
Most recently, I launched Brown Girl's very first podcast. I believe in journalism as a public good. Journalists catalog the stories of today, big and small, so they aren't forgotten tomorrow. We all have talents to contribute to the world, and I hope to use my reporting skills to give voice to the stories worth hearing.
I love all kinds of nonfiction. I think that stems from being a journalist. I'm always eager to learn what's going on in the world around me. I watch about three or four documentaries a week, so please send me your recommendations! I like watching anything that will teach me something new, which is why I also have a huge weakness for reality TV, namely the Real Housewives. I think women are hilarious and fascinating, and I love seeing how much we have in common with strangers whose lives are so different than our own.
As a wise man once said, "I wasn't born in Texas, but I got here as fast as I could." I love everything about Texas, from the Tex-Mex to the bluebonnets, the BBQ and the sunshine. (I know two of those things were food – a girl's got to have her priorities in order). I live in one of the coolest, most dynamic cities in the world, the home of Beyoncé and space exploration, and I'm proud to call Houston home.
My parents relocated to Pakistan when I was 17. Living apart from them has been one of my greatest challenges in life, but it's also pushed me out of my comfort zone and allowed me to grow. Since my parents moved, I've had the chance to visit Pakistan four times and connect with my heritage in a way I never had before. I wrote about those adventures for Brown Girl, and I hope to keep sharing my stories with you along the way.
As a first-generation American, it can be hard to find role models that look like you. I love hearing the stories of my fellow brown girls because so many of us share the same experience of growing up trying to reconcile our identities. We must respect the traditions of our parents while paving our own way as first-generation Americans, and that's no easy feat. I'm proud to be a part of the Brown Girl team, providing BGs with a space to connect, discuss and learn. Through my stories and podcasts, I hope to offer some insight and build a sense of belonging for future generations of brown girls. Follow along on my journey @syedahasan28.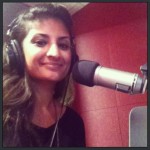 Syeda Hasan is journalist reporting for Brown Girl Magazine and Houston Public Media News 88.7, Houston's NPR station. She is also the host of BG's podcasts. Syeda is a news junkie who loves non-fiction, from documentaries to the Real Housewives. She is a proud Texan and Longhorn with a mild obsession for all things French. Syeda has previously reported for the Daily Texan and KUT News in Austin.