by Duriba Khan 
Once upon a time, long, long ago, in a land far, far away, an angel was born. She possessed a cherubic face, blonde locks, blue eyes and cheeks so rosy, they could be mistaken for petals of a rose. She constantly giggled and smiled, and her parents adored her and spoiled her with whatever her delicate, bony hand reached for.
In a hospital room a couple of states away and three years later, a crying, wailing, and kicking young girl with black hair and brown eyes was born (the ultimate combination). Her parents adored her so much that it hurt, and they portrayed this affection through constantly stuffing her with Parle G biscuits, carrot flavored baby food (it tastes just as bad as it sounds), and dreamt picturesque scenarios where she and her elder sister would open a vaccination clinic by the name, "The Khan Klinic" (see what I did there?) for the homeless.
That girl was me.
Now, the Parle-G biscuit addiction has taken a toll on my weight, the carrot thing didn't really work out, considering I received my first pair of glasses in the third grade, and I guess they're still clinging on to the clinic thing.
Hey there! My name is Duriba, how about a handshake? No, no, don't really reach out to your screen. Brothers please, that's haram, c'mon now. Oh, darn…you got your greasy fingerprints on the screen and my, do you brown girls have a strong grip. Wow! And how soft are your hands? Girl, what moisturizer is this? Costco's generic lotion? OMG, ME TOO!
Oh, you want me to stop shaking your hand?
Okay, sorry.
Once again, my name is Duriba, and I'm your average sixteen-year-old girl. I live a mundane life where my routine consists of eating (Halal) rice krispies treat at 10 a.m., attempting to practice yoga at lunch, seriously considering cutting my bangs at 4 p.m., painting my fingernails teal at 7 p.m., removing my nail polish to pray at 8 p.m., then staying up until midnight to finish the Precalculus homework. I was born in Chicago and moved to Austin when I was three. I've attended Islamic school my entire life, so everything I know about "the outside world" is from Bollywood, Hollywood, brown parties, the Internet, or the secret calls I have every couple of days with John Abraham after my family members fall asleep.
As this is a culturally oriented magazine, I'll begin with my background. Most people are astonished to hear this, but I'm actually half-Indian (mom) and half-Pakistani (you guessed it, Dad!). You would expect much controversy in my household, but the only time it really gets heated and even a bit awkward is around cricket season.
I like to think that I'm a free spirit, simply a traveler on my way to bigger, better, things. I'm very rambunctious, talkative and open. I love to make new friends, learn new things about people (especially Beyonce), web designing, filmmaking, vlogging, blogging, shopping, writing (DUR HUR HUR) and creating art. But more than anything, I love to make people laugh.
I love learning about Islam, "The Beatles", coconut water, and spend much of my time re-reading birthday cards. I'm also obsessed with coffee flavored things, an ardent SRK fan (who's Sallu Bhai?!), passionate about elephants, and a huge believer in good karma. I owe so much to my family including my cousins and uncles and aunts, and my best friends who have supported me in every decision in my life, from debating whether or not to purchase a watermelon to switching schools.
All in all, I'm SERIOUSLY excited to see where my journey with Brown Girl Magazine will take me, and I hope you all enjoy reading my work as much as I do writing it. Finally, a big thanks to everyone who has ever supported or complimented my personal blog, [Being]Duriba. If it wasn't for you all, I wouldn't have the courage to submit an application to BGM in the first place.
As for my haters,
I hope you have to consume carrot flavored baby food for the rest of your life!
[divider]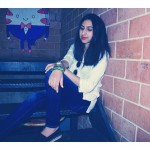 Duriba Khan, or "D-Dawg", is a sixteen-year-old blogging, vlogging, photographing, filmmaking, sketching geek who enjoys long, romantic walks to the refrigerator. She is half-Pakistani and half-Indian, and currently resides in Austin, Texas. Duriba also feels uncomfortable writing about herself in the third person. For more of Duriba's work, check out her blog.