During the evening hours of Tues., Feb. 10, three Muslim-American students in Chapel Hill, North Carolina were shot, execution-style, in the head at their apartment. The murderer, a 46-year-old white male, turned himself in after the shooting.
I came to learn about the horrific incident at 1 a.m. last night via Facebook. (One would think, I would become privy of the triple homicide through a news network, but that was not the case.) Early this morning, I noticed my Twitter news feed was blowing up with thousands of supporters tweeting updates and condolences via the trending hashtags #ChapellHillShooting and #MuslimLivesMatter.
For now it's a senseless shooting – where are the national media? They cover mall shootings, post office – where r they? #ChapelHillShooting

— Linda Sarsour (@lsarsour) February 11, 2015
It wasn't until about 10 a.m. that I saw the first major news network acknowledge the incident, which surprisingly or not, was written by a Muslim writer.  One thing is clear, we are witnessing a double standard when major news media outlets, such as CNN, MSNBC and Fox News, cover crimes committed by extremists, and perhaps those committed towards Muslims take second priority.
Shooting deaths of 3 Muslim students near UNC might have been linked to parking dispute, police say. http://t.co/dg62sQCKTX

— CNN Breaking News (@cnnbrk) February 11, 2015
Sadly, the fact of the matter is, if a Muslim shooter killed three white University of North Carolina students execution-style, the coverage by mainstream media would start immediately after the incident, and coverage would be astonishingly and drastically different.
Well-known journalist and TV personality Piers Morgan even said it himself:
If a Muslim executed 3 Christian students in U.S., it would get a LOT more media coverage than I'm seeing right now. #ChapelHillShooting

— Piers Morgan (@piersmorgan) February 11, 2015
Mainstream media outlets mention how the killer, Craig Stephen Hicks, was motivated by a "dispute over parking." There is absolutely no mention of Hicks' anti-religion and anti-Islam opinions, which he publicly posted about on his Facebook page.
So, it is hard for me to digest that the only motivation for shooting three students, two of whom were recently married, in the head at their own apartment, over a parking spot. (A parking spot, really?!?)
I could go on, with examples, about the media's double standard when it comes to covering the lives of colored people, but the more terrifying part of the story is the media's lack of acknowledgement that this could very well be a hate crime. And it's not a fact we can afford to avoid because Hicks was public about his anti-Islamic views. But, apparently that isn't enough probable cause to be considered a motivation to kill. And that is what makes me feel unsafe, honestly, for the first time ever.
My heart breaks when young American Muslim women tweet they don't feel safe in the country in which they were born. #ChapelHillShooting — Linda Sarsour (@lsarsour) February 11, 2015
I hold mainstream media outlets just as accountable as Hicks for the deaths of Deah Shaddy Barakat, 23, his wife, Yusor Mohammad, 21, and her sister, Razan Mohammad Abu-Salha, 19. It is time for big, powerful media houses to change their rhetoric and stop adding fuel to the fire, that is Islamophobia.
All speculation aside, Barakat, Mohammad and Abu-Salha seem like great people, and I can say that because Tweeters speak highly of their humanitarian efforts on social media. We can only hope and pray their deaths are not in vain.
Beyond the politics – three young lives, with promising futures – were prematurely taken. RIP. #ChapelHillShooting pic.twitter.com/1m7NusLhYN

— Khaled Bey (@KhaledBeydoun) February 11, 2015
[divider]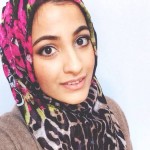 Hera Ashraf is a graduate with a Biology degree, hoping to pursue medicine. She is a self-proclaimed foodie with a passion for desserts. Coffee and Bollywood are her two most favorite things. She loves to read, even though she barely gets time for it anymore. Brown Girl Magazine allows her to write about the things she loves, and then shares it with the world. Her ultimate goal in life is to become a world wanderer.