Jasmeet Sidhu is currently a senior creative producer at MasterClass.com, a San Francisco-based online education platform that produces videos with the world's best talent teaching their craft. She has worked on the music video sets for Taylor Swift, Jay Z, Ariana Grande and more, and has photographed Taylor Swift, Sia, and Cage the Elephant in Concert. She has previously worked in the fields of journalism and entertainment. She was formerly a reporter at the Toronto Star, Canada's largest newspaper, an operations manager at Black Hand Cinema, a Los Angeles-based music video and commercial production company, and formerly worked at Facebook in New York City. Jasmeet completed her B.A. at the University of Toronto and her M.S. at Columbia University. Her two older siblings are both high school physics teachers, but she continues to regularly beat both of them at Jeopardy.
"I'll never forget when the exact words were spoken to me.
On a visit back home to Toronto, I was having breakfast with an old mentor. After discussing our lives, our careers, Donald Trump (of course), and personal updates, the conversation turned to me combing over my usual insecurities that I continually had about my ability to achieve all that I wanted to in this lifetime.
After my lengthy pronouncements and anxieties about the state of my life had ended, he paused and said:
'You should stop worrying. You're a powerful woman.'
The words itself stunned me at first and then sat with me in an uncomfortable way for several moments.
'You're a powerful woman.'
It was a shocking statement to hear, even from a trusted mentor. And it's one that shouldn't have shocked me the way it did.
In my current job as a senior creative producer at MasterClass.com, I help direct the visual content you see in the videos from the shoot to its edited form and guide our instructors around the topics that our team would like them to speak to. I wanted a purple wall behind Shonda Rhimes (yes, that Shonda Rhimes). Somebody made that purple wall happen.
But not just that.
I've waded my way and risen through the complex and white-male heavy industries of news media and entertainment, starting as a coffee-fetcher on the set of a Taylor Swift music video, to media photographer on her 1989 World Tour.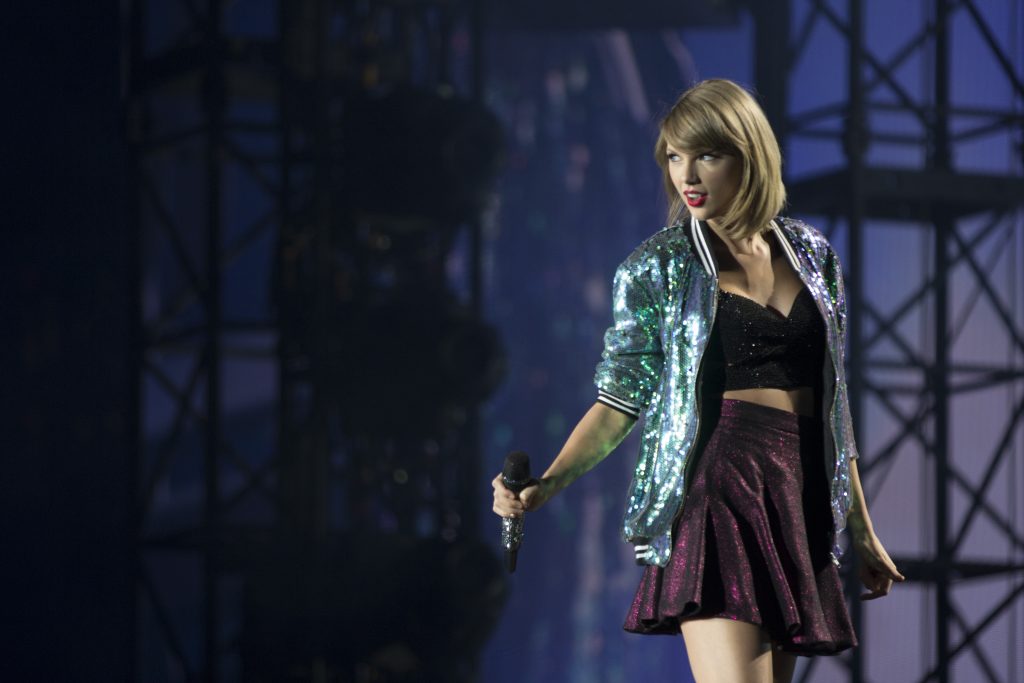 [Jasmeet's photo of Taylor Swift during her 1989 World Tour. Photo Credit: Jasmeet Sidhu.]
I've relentlessly pursued the things I wanted to do, no matter where they took me: working and living in Toronto, New York City, Los Angeles, Paris, and now San Francisco.
I've been essentially financially independent since I was 18, paying my way through school through scholarships and summer job earnings, and funding every adventure, every career change, and every good and bad life decision, on my own.
And yes, a quick Google search on me can show you that I have won awards that outright called me "powerful" in the award title.
And yet, here I was, sitting shocked at the idea, the very notion, that I, the child of working-class Punjabi immigrants raised in a heavily South Asian suburb of Canada, could be a powerful woman.
The thing is, I've always had a bit of an underdog mentality when it came to my career, and it has always prevented me from fully enjoying what I've created for myself. What I had done in the past was nothing, because there was always still so much more for me to do. I woke up every day feeling like I was behind, not working hard enough, not trying hard enough. The glow of a success was like a temporary tattoo. Never get comfortable. Never get complacent. Never enjoy your accomplishments. No one likes a woman who likes herself too much, anyway.

[Jasmeet on HuffPost Live with Maulik Pancholy (30 Rock, Weeds). Photo Credit: Huffington Post.]
This thinking fueled a drive and determination that was necessary for certain aspects of my career. As a woman and as a minority, I knew that I would always have to work harder.
But it also led to a sort of blind ignorance on my behalf of accurately assessing what I was achieving as the years passed.
As I walked away from that breakfast, those words hovered in my mind.
'You're a powerful woman.'
And you know what? In that moment, for the first time in my life, I really liked how that sounded. Me. A powerful woman. And I wondered what my life would be like if I fully owned it.
Shonda Rhimes has a fantastic section in her book, "Year of Yes," where she talks about the novelty of "badassery" for some women.
'Badassery, I'm discovering, is a new level of confidence—in both yourself and those around you….I am smart, I am talented, I take advantage of the opportunities that come my way and I work really, really hard. Don't call me lucky. Call me a badass.'
For most of my life, I felt the exact opposite.
I saw it in the way I did mental gymnastics every time someone tried to offer me a compliment on my work or career. The way that I honed in on all the luck and good timing that led to the things that I've achieved, and not the hard work, the strategy, and resilience that I poured forth. I constantly took away my own sense of agency at every turn, even as my accomplishments and awards piled higher and higher.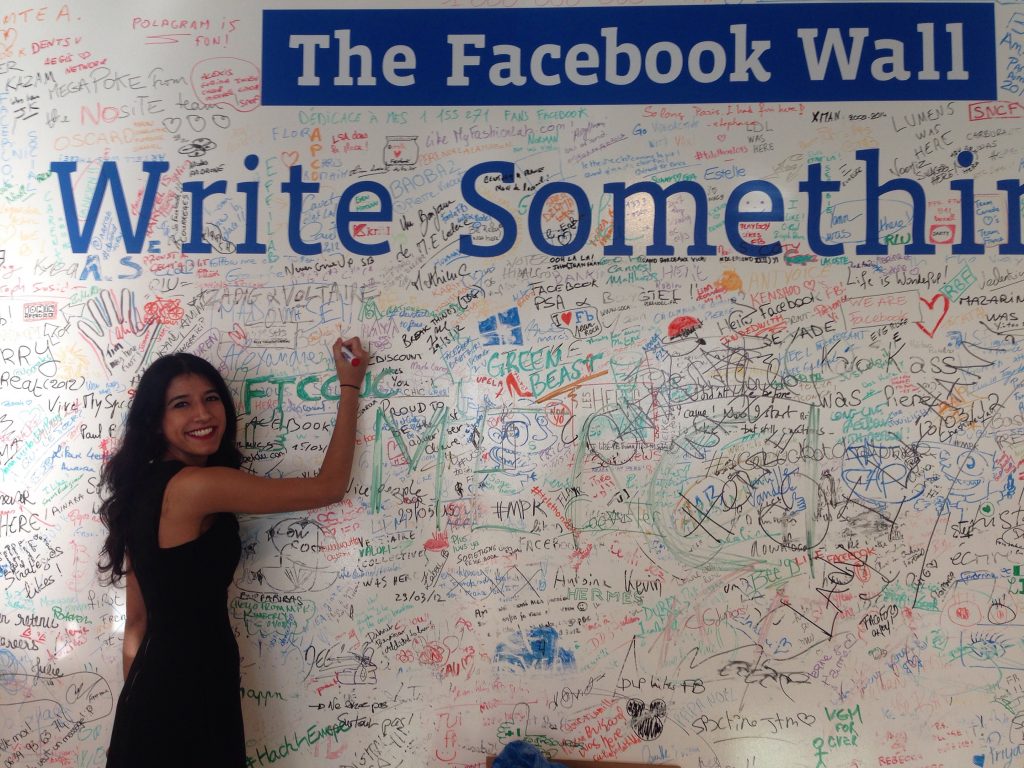 [Jasmeet signing the Facebook "wall" in the Facebook Paris office. Photo Courtesy: Jasmeet Sidhu.]
But after many years, I saw the ways that doing that constantly, defeated me. Drained me. Blocked me from certain people and opportunities. Left me in shadows when I was in difficult circumstances, and could have relied on the knowledge of how much power I really had to make and create things for myself.
And I was tired of it. For once, I wanted to know what it really felt like to be proud of myself, wholeheartedly. Not buts. No ifs. Just straight up proud of myself. To enjoy my accomplishments and not feel guilty for them. To know and own the fact that I was a powerful woman.
It was hard at first. But the more I mentally allowed myself to feel good, I began to see my world change.
I found myself much more relaxed at the office and producing better work. I found myself not being threatened by other people's successes, and instead became excited about what I could learn from them. I found people were more drawn to me and the confidence that I showed. Turns out, as much as misery loves company, the exact opposite is also true.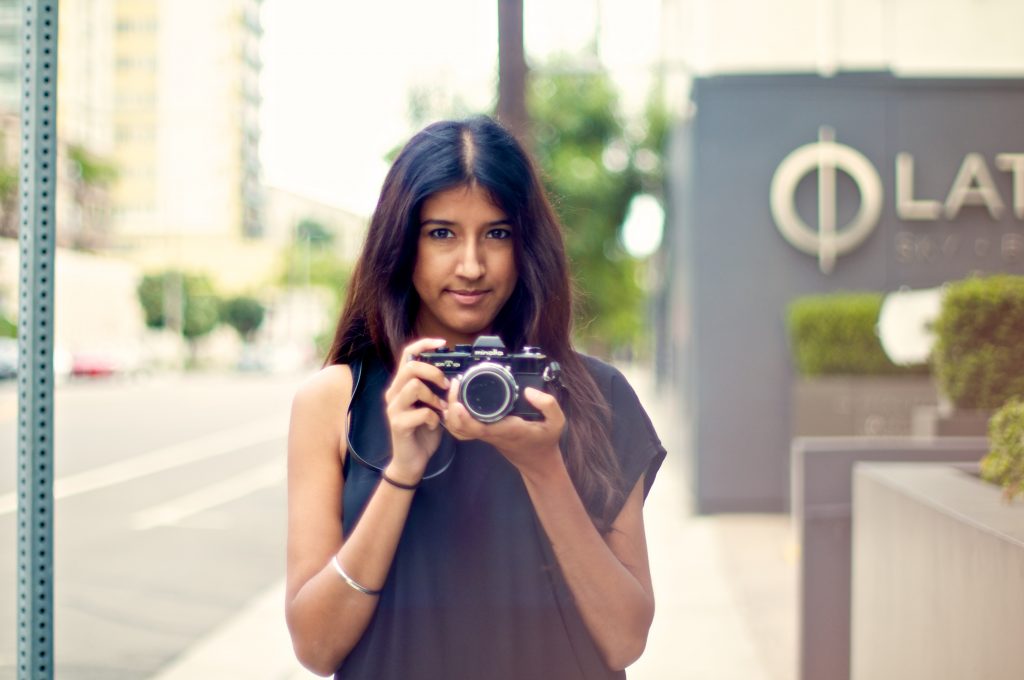 [Jasmeet posing with her camera. Photo Credit: Jesus Zuniga.]
I still hold the same desires and ambitions in my life as before. I want to direct my own visual content, be it films, music videos, or otherwise. I want to write a book. I want to be a notable creative tastemaker and leader.
But I began to realize what a weight of "never being enough" really held in my life. How it discredited my own skills and hard-won experiences. How it constrained certain decisions and my worldview in ways that I know now could prevent some of these dreams from happening. It's a process I'm still going through, and one that needs a little bit of work every single day.
So here goes.
My name is Jasmeet Sidhu. And I'm a powerful woman, dammit.
So I challenge you, brown girls of the world. What are you proud of? What makes you feel powerful? And do you allow yourself to feel proud and powerful?
Try it out for an afternoon. Try it out for a day. See how it changes the way you think, you walk, you talk, and see other people you encounter. I'd love to hear how it goes for you."
-Xoxo,
Jasmeet
Check out this teaser video for the Shonda Rhimes' MasterClass where Jasmeet worked as the creative lead.  And watch Jasmeet's speech at the Punjabi Community Health Services annual International Women's Day Gala in March 2015! You can find Jasmeet on Twitter, LinkedIn, Instagram or at www.jasmeetsidhu.com.
---
Do you know a Brown Girl who is awesome at what she does? Send an email telling us why at Trisha.Sakhuja@0mq.349.myftpupload.com.