by Farah Khan
This story was originally published on our partner website India.com:
Well-known comedian Kapil Sharma's debut movie "Kis Kisko Pyaar Karoon" released in theaters on September 25 with a very impressive opening. As Juhi, one of Sharma's love interests in the movie, actress Manjari Fadnis plays a key role in "Kis Kisko Pyaar Karoon," and this movie highlights Fadnis's return to Hindi cinema after a bit of a break. Given this return to the Bollywood limelight, let's take a minute to learn a bit more about Phadnis and her career to date.
Growing up, Fadnis never thought she would become an actress given her family's lack of a filmy background—in fact, her father was an officer in the Indian Army. Fadnis proclaims that she "was a nerdy child," although she was "active on stage and known in her school for singing and dancing."
After toying with the idea of becoming a psychologist, Fadnis had a "TING moment" in eleventh grade when she realized she wanted to nurture the artist within her. She set off to Mumbai after finishing twelfth grade, and the rest is history!
Most Bollywood fans will remember Fadnis in her role as Meghna in the 2008 Imran Khan-Genelia D'Souza film "Jaane Tu….Ya Jaane Na" for which she won the Stardust Award for Best Breakthrough Performance. The complexities of Meghna's characters made this a "challenging" role for Fadnis, but she credits the writer and director Abbas Tyrewala with helping her perfect this performance.
The role of Meghna from "Jaane Tu…Ya Jaane Na" was just one of Fadnis's many varied performances to date given that she has been featured in Hindi, Bengali, Tamil, Telugu, Kannada, and Malayalam films since entering the filmy world in 2004. This impressive career feat would seem challenging to most, but not to Fadnis who "loves learning new languages."
Working in film industries all over India has left Fadnis feeling a bit like a "nomad," and while she is based out of Mumbai, she relates very well to this line from her work in the Disney film "Zokkomon."
"For an artist, the whole world is his/her home," she said.
On filming "Kis Kisko Pyaar Karoon," Fadnis said she "really enjoyed shooting every bit of it" and she is sure this will translate well on screen for audiences. Working alongside Sharma for both this movie and their recent North America tour with the "family" was an absolute "blast" for her.
Curious about some of Fadnis's secret talents? She has a not-so-secret "inclination towards music," and she has done her own playback singing in several of her past movies. Fadnis also told us that she is currently learning French, so here's hoping we get to see her put that talent to use in another feature soon!
Head to theaters soon to catch Fadnis on the big screen in "Kis Kisko Pyaar Karoon," and stay tuned for her upcoming releases, including her Marathi debut film "Sarv Mangal Savadhan." Fadnis also has a Hindi film in the pipeline, but she said she will have to stay mum about that until she begins shooting for it.
To stay up-to-date on Fadnis's releases, follow her on Twitter and Instagram.
---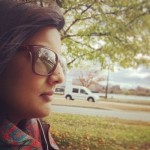 Farah Naz Khan is an internal medicine resident at Emory University. After graduating from college in Boston, she returned to her Alabama hometown to attend medical school, and was reunited with the mix of Southern hospitality and South Asian culture that had shaped her childhood. Follow her on Twitter @farah287 or read some of her thoughts at farah287.blogspot.com.