What is it like acting across cultures? This is a fascinating and important topic that has even greater relevance in the social media age, with actors having to balance sensitivity and making sure that depictions are authentic and truly lived experiences.
It's an issue that, as an Indian-American, Manish Dayal is used to confronting. Dayal is known for his roles in "Viceroy's House," the Spielberg-produced "The Hundred-Foot Journey," opposite Helen Mirren and Om Puri, and as one of the leads in the Fox medical drama "The Resident."
It was on a cross-continental Zoom call on a Monday evening when I settled down to ask Manish Dayal about his exciting journey as a South Asian actor in Hollywood and his experience on Season 4 of "The Resident," based on life after the coronavirus pandemic.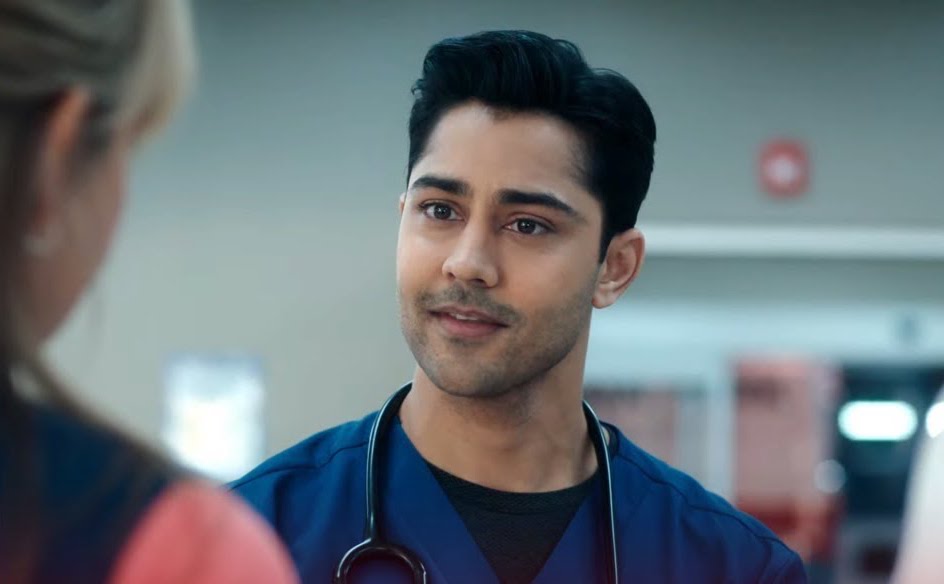 As audience members and fans, we do wonder what's it like working on shows where one has a lead role such as yourself in "The Resident." Do actors get into a rhythm or is it more of a whirlwind?
"For me, playing Devon on the show is the picture of an American dream. He's a first generation South Asian who excels academically with the help and support of his parents. Seeing a South Asian doctor on screen is seen as something quite ordinary, however, I think it's a very special position because of how few South Asian doctors are represented on screen. With season 4, the show takes a new turn depicting life after the pandemic and how difficult it's been, especially after losing his dad to the pandemic. I got into the rhythm of playing Devon, but the storyline, with all its twists and turns, is always a whirlwind."
We've seen whirlwind, romantic doctor dramas before, however, "The Resident" is essentially a show that deals with corruption in the medical world. A particular thought seems to be on everyone's mind – how Season 4 progresses in a different, more unique manner.
"When the role was first offered to me, the thing that set it apart the most was how my character is essentially straight out of med school, whereas everyone else is more established in their careers and familiar with this territory. When Devon went to college aiming to become a doctor, he wanted to serve humanity and offer everyone the best level of treatment regardless of where they come from. After all, Devon also originates from a humble background and through the support of his parents, worked his way up to med school.

When he first became a resident at the hospital, it was mind boggling for him to experience that level of corruption and indirectly get tangled into it. And especially now, after losing his dad to the COVID-19 pandemic, it's opened his eyes more to the kind of person and doctor he wants to become. And we will see more of that journey in season 4."
Speaking of the loss that he's experienced and Devon's journey thereafter, we wonder if this really will steer him in a new and more positive direction.
"I believe so. Devon is grief-stricken and can't stop thinking about his dad. He needs to come to the terms with the fact this wasn't his fault, his dad's passing. After which, he will strive harder to become a better doctor and treat everyone equally. The rich won't get away with the best – everyone must be catered to on the same level."
Devon really is the picture of an American dream. Has his character evolved as a person and a doctor, especially after being faced with all the deceit and fraud?
"When we started the show, Devon was fresh out of college and had a picture-perfect image of what being a doctor would be like. It's only now during his residency that he's experienced that it's not always a bed of roses. He's seen patients die, he's experienced families losing their loved ones and all of it has contributed towards his growth both as a person and as a doctor. The biggest loss he's facing is that of his father and that will mature him even more. I also think that as he progresses into the field of medicine, he's even more appreciative of his parents sacrificing so much to come to this country and building a better life for him. This is something so many South Asians and ethnic minorities can relate to."
Obviously, we're discussing ethnic minority representation more and more every day, thanks to social media and the digital age. We're sure Desis would like to see more tropes and stylistic choices from South Asian filmmaking reach a wider mainstream Hollywood audience. However, is this something that will garner a positive reaction?
"Absolutely. South Asians are strong and resilient as a community and it's amazing to be represented on screen in professions that we generally pursue in real life. I mean, all of us know at least one doctor in Desi families! We live in a time where diversity is rightfully appreciated, and more and more people are being given the recognition they deserve. For "The Resident", I can safely say that our writers have written the show beautifully and my character's story has been in a constant flow in terms of my heritage, my family's background, alongside all its twists and turns. I hope that soon, we will see more stories that represent ethnic minorities from all walks of life."
We can't wait for Manish Dayal to show us more of Devon's journey and what the medical world faces post-pandemic. "The Resident" Season 4 is now airing Tuesdays at 8 p.m. ET/7 p.m. CT on Fox, and the first two seasons are available on Amazon Prime Video.