by Ishani Nath
This post was originally published on our partner website India.com. 
A Malaysian artist is using makeup, her hijab, and a touch of magic, to transform into Disney princesses, receiving praise and admiration from an entire kingdom of followers.
Saraswati, who goes by @queenofluna on Instagram, has now amassed more than 226,000 followers entranced by her Disney transformations. The professional makeup artist and self-described "Disnerd" has done a variety of looks, including numerous cosplay characters and superheroes, such as Poison Ivy, Catwoman, and Harley Quinn.
What really caught the Internet's attention was her ability to bring Disney characters to life. According to an interview with MTV, her journey to Insta-stardom started once up a time with Elsa, the snow queen from "Frozen."
"It all started with the 'Frozen' hype, as my Facebook friends already know who I am," Saraswati wrote to MTV News in an email. "They requested Elsa makeup." From there, things took off like a flying carpet.
She also went 'under the sea' as Ariel.
She painted with all the colors of the wind as Pocahontas and showed off her beauty as Belle…
In her stunning take on Tinkerbell, Saraswati explained that she used an underscarf—a "hijab inner" that has a bun in it—to create the pixie's signature hairstyle out of a gold satin shawl. The result was straight out of Neverland.
Though she typically appeared as Disney's good girls, Saraswati wasn't afraid to explore her bad side, portraying some of Disney's classic villains, including the Evil Queen from Snow White, Ursula, Maleficent, and Cruella De Vil.
She even transformed into Jafar—proving that there was no limit to who she could become or what she could achieve with her creativity.
Her posts have prompted words of admiration from Disney fans, with commenters raving not only at her makeup skills but also her ability to style her hijab.
"[These photos are] proof that while showing almost no skin, you can still bring the house down," Facebook user, Mani Morgan, wrote in response to a Buzzfeed post about Saraswati's account. "Girl is too gorgeous omg! And full coverage! If I ever have a daughter, I've already found her role model."
Though Saraswati is being hailed as makeup artist royalty and an inspiration for hijabis everywhere, the mom-of-two says that wasn't her original intention.
"I have never claimed to represent all the hijabis. I am just staying true to myself and doing what I'm passionate about," she wrote to MTV. "At least, it makes me happy. And I am really glad I could inspire some women, little girls, and teenage girls out there — especially those who are afraid to wear [a] hijab in public. And [I'm] glad I could change some people's opinions about [the] hijab, who think that we are oppressed."

---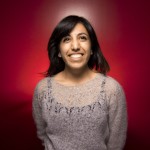 Ishani Nath is a freelance reporter living in Toronto, Canada. Her byline has appeared in The Globe and Mail, Reader's Digest Canada, Slate, and many other publications. She considers herself a mattar paneer connoisseur, a proud brown girl and an adult in training.