Brown Girls and internationally recognized makeup artist Karuna Chani recently met for a fun tutorial, champagne and cupcakes. Karuna was gracious to open her newly finished make-up studio in New York City to host Brown Girl editors Trisha and Kamini and our YouTube vloggers Sapna and Priya.
Karuna shared some cool tips about everything you need to achieve a flawless look with a bold, red lip! Read below and be sure to share our photos (courtesy of BG Kamini Ramdeen)!
Priya, our model for the evening, started with a bare face!
Step 1: Fill in your eyebrows using the Anastasia Perfect Brow pencil.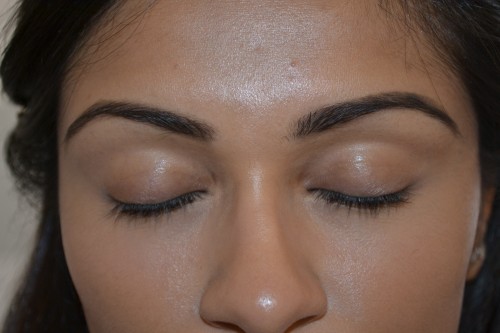 Step 2: Highlight the brow bone, cheek bones, chin and the bridge of the nose. Here, Karuna used a matte, light foundation (Bobbi Brown Stick Foundation) that is 3-4 shades lighter than Priya's true skin tone.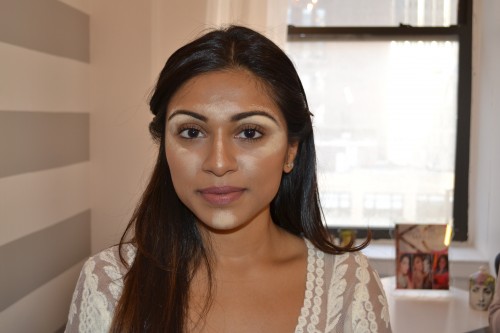 Step 3: For this step, Karuna contoured the hollow of Priya's cheeks using matte, light foundation (MUFE Ultra HD Foundation) that is 3-4 shades darker than her true skin tone.
*Quick tip: Suck your cheeks in to find the hollows/structure of your face.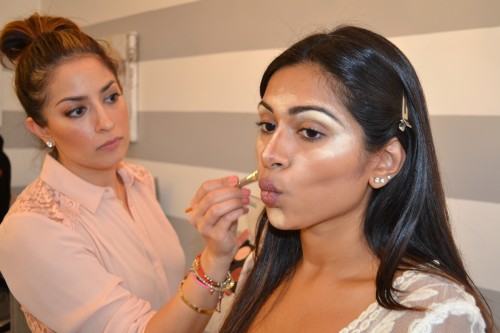 Step 4: Let the product settle for a few minutes before blending.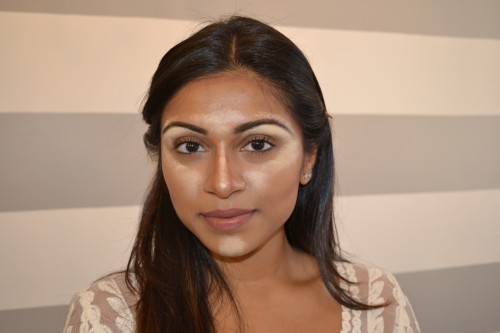 Step 5: And, the blending begins! Use MUFE's #150 Precision Blush Brush for a smooth blend with no demarkations or streaking.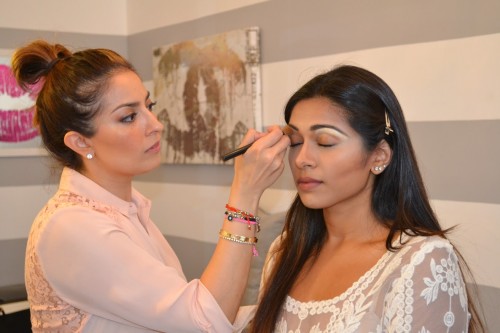 Step 6: Be sure to blend thoroughly, especially your jawline and neck. The key to makeup looking flawless and close to invisible is all in the blending and patience!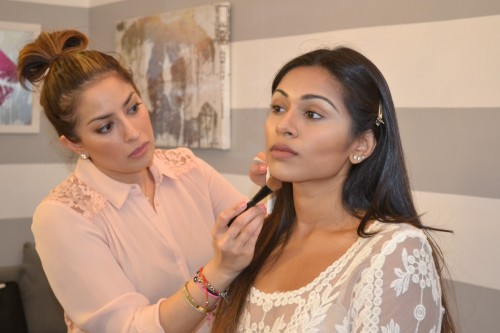 Here's the finished look after contouring and highlighting: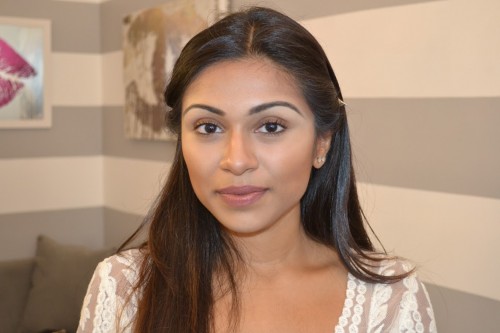 Step 7: Next, apply eye shadow on the base of your eyelid. Here, Karuna first uses a Nars Smudge Proof Eye base and then applied MUFE eyeshadow # 700 Amber for a nude shimmer finish with an eye shadow brush for the lids.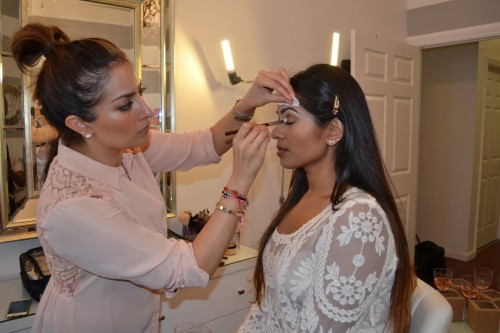 Step 8: For this step, Karuna uses a steady hand and Bobbi Brown Gel Eyeliner (black) with the matching Ultra Fine eyeliner brush. She also used a small piece of paper towel under the eye to keep the look clean.
*Pro Tip: A steady hand and precision are the key for the sharpest, cleanest line.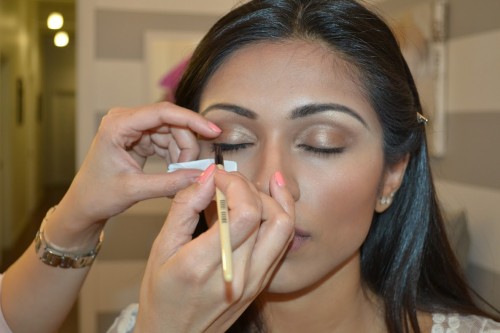 Finished look of the double-winged eyeliner: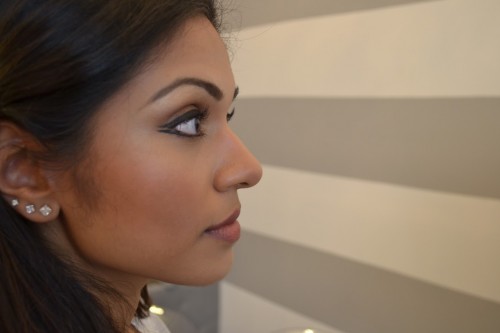 Step 9: Apply Nar's Matte Velvet Pencil in Cruella or Dragon for a bold, red lip pencil; perfect for long-wear and a night out.
Step 10: For the girls who want a softer finish, apply a high shine lipstick of the same shade. But if you like the bolder look, matte is the best option.
Step 11: Apply MUFE – HD Powder for an even more flawless, pore-less, semi-matte finish.
Ta-da! Here's the complete look, courtesy of Karuna!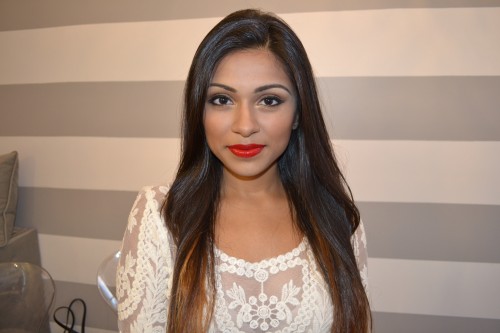 ---
Karuna Chani is an internationally recognized makeup artist, image and skin care consultant. With a background in fashion from Parsons, Karuna is known for her fashion-forward makeup looks and ability to perfectly 'marry' eastern cultural elements with western beauty trends. Bridal clients seek out the KC Makeup touch for that contemporary bridal look with elements of timeless beauty.
Going wherever the client is, Karuna has been to Bali, Hong Kong, Singapore, India and Africa to make bridal client dreams come true. As securing a date with KC Makeup to become the 'ever exclusive' #KCBride is an important part of a bride's wedding process, many book as much as an 18 months in advance!
Fashion clients look to KC Makeup for edgy beauty concepts, with flawless execution. Always photographing beautifully, Karuna Chani and the KC Makeup teams bring their passion for beauty to every client, always delivering.
An avid contributor to magazines and press outlets, just some of the media that Karuna Chani has worked with includes; Vogue India, Atelier Magazine, Maharani Weddings, Cosmopolitan Indonesia, Women's Health India, Marie Claire India, PARADE Magazine, The Daily Makeover, India Abroad, Wedding Affair Magazine, Bridal Guide, Femina and Hello! Magazine India; Karuna Chani's expertise is sought after by beauty editors, bloggers, tastemakers and photographers all over the world. Notable clients include Priyanka Chopra, Shahana Goswami, Caroline Scheufele (Co-president of Chopard), Amrita Singh and Chandrika Tandon.
---
Want more beauty tips? Watch BG beauty guru's tutorial on contouring and highlighting below: