Here I was thinking I was the queen of fusing together patisserie and Indian flavours with my pistachio cardamom palmiers when the CBC's "The Great Canadian Baking Show" announced it's 10 new bakers for its fourth season. Amongst them, Markham, Ontario's Mahathi Mundluru, who "loves to infuse the flavours of her Indian heritage into her creations."
"The Great Canadian Baking Show" is CBC's homegrown take on the hit "The Great British Bake Off." "The Great Canadian Baking Show" brings together 10 amateur bakers from across the country to compete in a series of themed culinary challenges that celebrate their diverse backgrounds, families and communities. Each of the eight, one-hour episodes features three rounds: The Signature Bake, the Technical Bake and the Show Stopper. After the judges taste and critique the bakes, they crown one Star Baker and ask one baker to leave the tent. 
View this post on Instagram
I had the chance to chat with one of the 10 bakers who will be in the tent this season, 24-year-old business analyst, Mahathi Mundluru about getting into baking, her time in the tent, and every other question under the sun about baking.
How old were you when you started baking?
I started getting into baking when I was about 18 or 19 years old. I was in university and I would see all of these videos pop up on Facebook and Instagram, and I watched them, but throughout the university, I actually didn't have a kitchen. So I didn't really start baking until I graduated. So officially, I started baking when I was around 22.
Why did you begin baking?
Honestly, I was just bored, and I'd see all these videos and they looked so easy to do. And then I tried them and they would be awful. So I just wanted to be better and do better. And, you know, as you keep trying to level up your skills you keep wanting to challenge yourself. So that's what baking was, for me. And over time, it just became something that was really therapeutic, that I enjoyed doing, and was really calming for me. 
Do you have any advice for our readers who want to get into baking but feel daunted by the different techniques and such? Where should they consider starting out?
Honestly, with baking, just start somewhere like it doesn't matter. For me personally, I found cakes were really easy to start with. So that's what I started with. If you have some flour, butter, sugar, eggs at home, you can put together a really nice cake. But the biggest advice I can give is don't be afraid — things aren't going to turn out the way you want them to but just keep going at it and you'll get better eventually. And no matter what, if you add flour, sugar, eggs and all that stuff, it'll still taste good.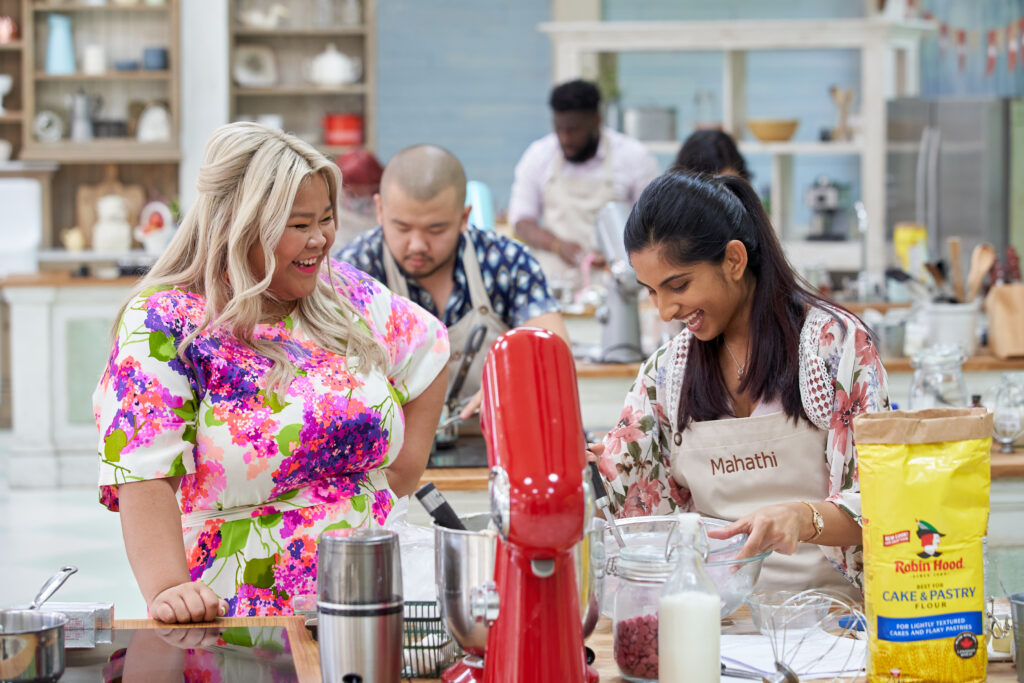 What made you want to audition for the Great Canadian Baking Show?
So I used to watch the British version of the show a couple of years ago. And I always thought it was super cool. And I was like, wouldn't this be cool if I could be a part of it. But when I found the "Great Canadian Baking Show," I was like, "Whoa, this is super cool." and that was around the time that I started baking as well. And so I got better and better and I was like, "Okay, you know what, I'll apply." Mostly just because I felt like I had nothing to lose. No matter what happened, whether I got an audition or not, it was still a win-win situation. There was literally no downside to applying for me.
What did the audition process look like?
There's an application that you fill out online and then after that, you go through a couple of different layers of like a phone call and, and an audition, which is invite-only this year, obviously, it was virtual. So they had a Zoom call with them where we had to do a bake along with them. And then, part of that was also we had to bake something that we resonated with us or just something that we liked.
Can you speak to what it was like filming the show amidst the pandemic (precautions, the general atmosphere of the tent, etc.)?
Yeah, so I always felt like I was really safe. I never felt concerned about, you know, there's a pandemic going on, what's gonna happen?  I feel like there were a lot of precautions that were taken that made us and the crew and the cast feel safe. It was great. Despite the fact that there was a pandemic going on, I still felt like we had the opportunity to, get to know the cast to get to know the people that we were working with, and really enjoy the experience.
So, were you guys like in a bubble?
Yeah. So we were all in a hotel together. But that being said, we still kind of did our own thing and still tried to limit interaction because it is a pandemic.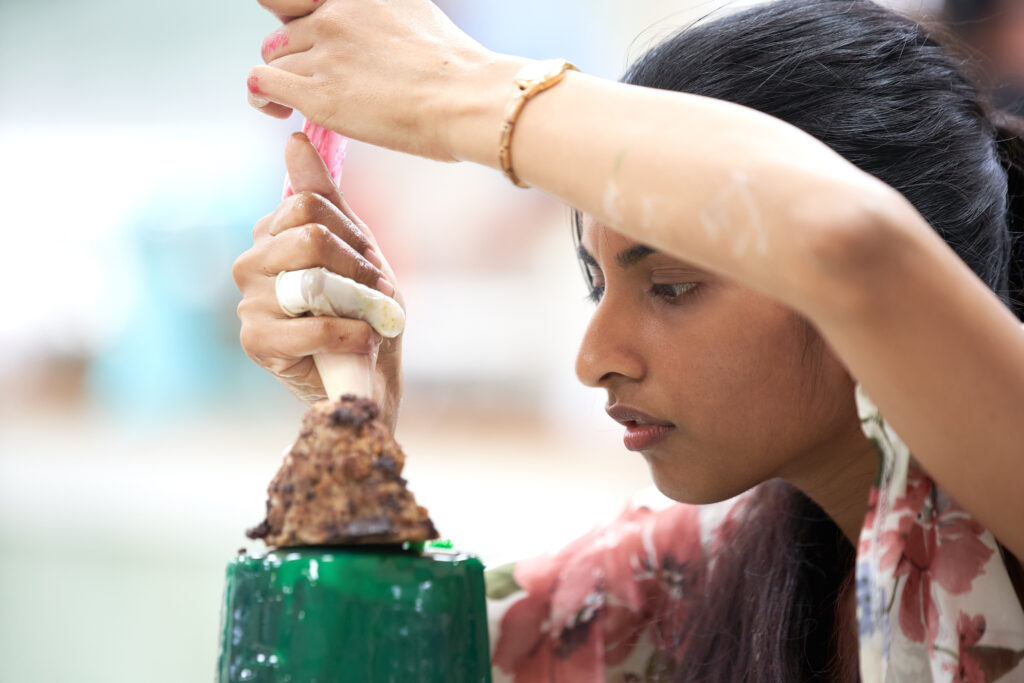 What is your favourite thing to bake?
I love baking cakes. Specifically chocolate cake. Like, sometimes simple is just better and if you're having a bad day, just make a chocolate cake. It's in the oven and out in 45 minutes, and it's the best.
What do you prefer: sweet or savoury?
Definitely sweet. I have a huge sweet tooth.
Is there anything that you really don't like baking?
I don't think there's anything I don't like baking. There are things that I'm scared of baking just because of how technical they are. And when I made them in the past, they've failed miserably. Certain types of breads are really tricky to make, certain types of pastries are really tricky to make as well. Anything with laminated dough can be really tricky. So things like croissants, or puff pastries. But with all of those, even if they're tricky, you still got to try them and you still gotta try to be better at it.
In your baker bio, I read that you love to infuse the flavours of your Indian heritage into your creations. Can you give me some examples of these creations?
Yeah, so when I'm thinking about flavors, I try to think about what is specific to South Asian flavors. So in South Asian cooking and baking, we tend to use a lot of spices. Cardamom's really popular [and] cinnamon is quite popular. We don't use as much vanilla but we use a lot of milk and pistachios. So I try to incorporate a lot of those into my baking. I also find that the other way that I kind of go about it is we have a lot of Indian sweets or South Asian types desserts, which we can use, Western flavors for so like, sometimes, I'm trying to think- A couple of weeks ago, I made Barfi and I made Barfi which was like with Oreo flavor or white chocolate raspberry. I've grown up in Canada, but I'm Indian and it's a really important part of me so I really like when I can kind of put both of those together.

Most recently I made a cake that was Gajar Ka Halwa cake so the cake itself was rose, carrot, and cardamom and then the filling was actually Gajar Ka Halwa it was really good. And I used ghee for the buttercream. 

Honestly, any time you can infuse any sort of flavors, not even just from South Asian culture, but from any other culture into things that are more common, I think it's awesome. And that's what's amazing about baking, you just get to experiment, right?
Do you have any designated baked good tasters in your life? If so, who are they
?
So with the pandemic, my designated baked good tasters are my parents. They're pretty sick of my food at this point, so I've been doing a lot of porch drop-offs to a lot of our family and friends around the community. 
Mahathi, although you've given me serious food envy, it was a pleasure to chat. I am absolutely ecstatic to see you and your creations on the newest season of "The Great Canadian Baking Show." To all of my fellow Canadians, the new season of "The Great Canadian Baking Show" premieres on CBC and CBC Gem on February 14th. Make sure you're there to see Mahathi and her creations. For those who do not live in Canada, you'll have to call a Canadian friend for all of the tea or wait until like the previous seasons, it makes its way to Netflix. In the meantime, connect with Mahathi on Instagram.