by Sruveera Sathi ­ – Follow @browngirlmag
Our #WCW this week, Dr. Zarina Ali, found medicine as her calling at a young age—something she realized as early as first grade while doing a school project on Elizabeth Blackwell, the first woman in the United States to earn a medical degree. Little did she know that decades later, she would be making history as well, by becoming the first female neurosurgeon in Pennsylvania Hospital's 266-year history.
While medicine was a calling, neurosurgery, however, was an interest she developed much later, largely as a result of seeking out and engaging with several great mentors. Now, a mentor to many residents and students herself, Dr. Ali is "paying it forward" to encourage aspiring neurosurgeons to pursue the field she loves so much. In this #wcw feature, I got a chance to talk to the inspiring mother of three (soon to be four!) about a typical day in her jam-packed life, how she handles implicit biases in the field, and even her most memorable case, which involves performing awake brain surgery on a singer. 
A Day in Her Shoes
For starters, a typical surgical day for Dr. Ali can start as early as 5:30 AM and can end as late as 10 PM. An early-bird, she welcomes this, beginning her day with meditation and prayer, followed by spending time with her children, and is usually out the door by 6:30 AM. Once at the hospital, she reviews charts and meets with patients before they go to the operating room (OR) and by 8 AM, Dr. Ali is ready to scrub in. The rest of the day is spent in the OR performing surgery, teaching, and instructing neurosurgery residents from the University of Pennsylvania, and rounding on patients. She says:

I have phenomenal neurosurgery residents from the University of Pennsylvania and I take great pride in teaching them how to perform surgery effectively and, almost more importantly, educating them on the indications, risks and benefits of surgery.
If you're wondering when she eats, she usually doesn't have time for a sit-down lunch, but instead, tries to eat between cases. Throughout the day, she also has to do the clinical paperwork required to care for patients and also takes the time to discuss each patient's surgery and care plan with other doctors, both within and outside the hospital, as well as with nurses and staff. As for when she ends her day, Dr. Ali says it really depends.

That can vary on a day-to-day basis…I believe in taking as much time as is necessary to perform a surgery effectively and safely. For some, that means a quick procedure, and for others, a longer operative time. Therefore, flexibility is key. For me, that means having the childcare in place that allows me to come home at 5 PM on some days, and 10 PM on other days. I make use of technology to touch base with my nanny and husband and rely on things like Whatsapp and FaceTime to make sure my other responsibilities are aligned appropriately. I live by the words of Ben Franklin, ''By failing to prepare, you are preparing to fail."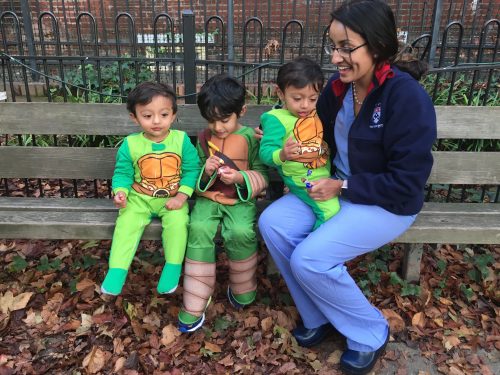 Her Medical Upbringing
Dr. Ali was interested in medicine at a very early age, partly due to having parents who were both physicians and being inspired by their work ethic.

They were practicing physicians in India and they moved to America when I was one. They were undergoing their residency when I was in elementary school and I remember how hard they worked during that time. My mom, in particular, was in residency training, raising four kids, putting a hot Indian meal together every night, and studying late at night. It still amazes me.
As for her intellectual curiosity, that too was nurtured by her parents.

My parents were keen on making sure my siblings and I figured things out on our own. So, being interested in science and medicine, I would naturally ask them a question about why our body does this or that. My parents' response? "Look it up in Harrison's (Principles of Internal Medicine)." Now, I could barely understand the words in that giant text, but it actually ended up being an important life lesson in reinforcing the need to learn to seek education and find answers. They planted the seeds of basic scientific inquiry; if you don't know something, it's incumbent on you to try and figure it out and find out the answer to your questions.
The Importance of Mentorship
Dr. Ali credits her continued journey in medicine and her interest in neurosurgery to her many mentors along the way. She was in a direct undergraduate-to-medical program at the University of Rochester, called the Rochester Early Scholar Program. This granted her admission, at the age of 17, to both the undergraduate college and medical school. Under the guidance of Dr. G. Edward Vates, she developed an interest in neurosurgery and neurosurgical research, leading to an additional Master's degree in Neurobiology and Neuroanatomy.

Vates was the first to introduce me to the neurosurgical operating room. With his faculty mentorship, I helped develop a neurosurgery research interest group. I cannot underestimate the value of seeing neurosurgery being performed in helping to guide my career specialty choice in medicine. There is truly no other specialty quite like neurosurgery. It was obvious to me that I wanted nothing else.
Others important mentors during her medical education included Howard Silberstein and Web Pilcher, whom she says were extremely supportive and invited her to their OR and clinics. When she ultimately joined her residency program at Penn, she had another series of outstanding leaders in the field who taught her everything about the practice of neurosurgery, from the technical perspective to the patient care perspective, and from an academic leadership perspective. Now, she finds herself incredibly privileged to call work with her former mentors as colleagues.

The learning process in medicine never ends. So it's really important at all stages in the process to have trusted colleagues and mentors with whom you can discuss cases and outcomes and ways to improve. Medicine is not a static field by any means and neurosurgery, in particular, is ever-changing. One can only get better at something if you can review it critically, ask the appropriate questions, and try to find innovative ways to improve.
Most Memorable Case
One of her most memorable cases was a 29-year-old singer named Zachary Williams who had developed episodes of speech arrest secondary to having a large tumor in the left frontal lobe. Unfortunately for him, this tumor was sitting in the language centers of his brain, which can sometimes lead one to lose the ability to speak altogether. Dr. Ali decided to do a unique operative procedure called awake brain surgery, which occurs while a patient's head is open and the patient is simultaneously performing neuropsychological tasks to make sure language function is preserved.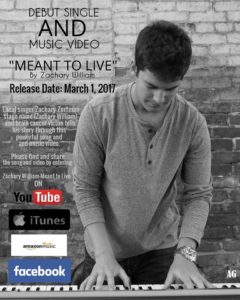 It was really special for me because it reminded me of the great privilege that we have, as doctors, to take care of patients like this. How many 29-year-olds do you know that have  undergone awake brain surgery? The resilience and courage of my patients is a constant reminder of what matters most. Zach was a singer. And I did not want him to leave that operating room without the ability to sing. So, after we did all the typical tests for language function testing, including reciting the alphabet and numbers, we handed him a microphone, and I told him to sing, while I removed his tumor. It was unforgettable.
Williams then went on to publish a song called "Meant to Live" and even wrote a blog post about his experience on the Brain Tumor Society Blog.

I was so proud that he was able to recover so well and that he used his experience in such a positive way to promote endurance and resilience in others.
Despite the strides made over the past few decades to close the gender gap in medicine, women still represent only 5% of practicing neurosurgeons certified by the American Board of Neurological Surgery (ABNS). In many specialties, women physicians continue to face a wage gap a large as $20,000 a year compared to their male counterparts. Added to these explicit disparities are more subtle implicit biases in the workplace which many professional women in typically male-dominated fields must overcome. This can range anywhere from patients not realizing that a woman is their surgeon, to not being considered for leadership positions or being excluded from male spaces.

I've certainly had experiences of bias from patients, staff members in the hospital, and patient family members. Yes, it's 2017, but like it or not, some people still find it hard to believe that a relatively young woman can be their physician, let alone, neurosurgeon. However, getting too wrapped up into the fact that this disparity exists steers me away from what I spent all these years training to do—take care of patients. So, while there's a time and a place to recognize and address these disparities, for me, first and foremost, is being a good neurosurgeon, no matter my gender, race, religion.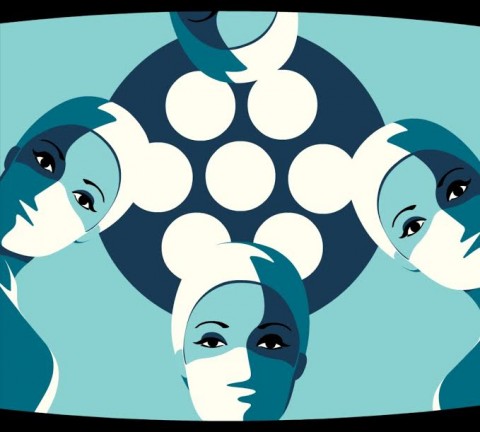 Dr. Ali uses positivity to overcome implicit biases present in medicine and surgery.

At the end of the day, I think actions speak louder than words. Being good at what you do, taking a sincere interest in the best care for your patients—those things ultimately matter more than what you look like.
Fast-Four with Dr. Ali
What do you enjoy doing in the rare chance that you get spare time?

I enjoy spending time with my family and friends. My husband, Umar, and I have a growing family of little men, including my 4-year-old, Zia, 2-year-old identical twin boys, Zayd and Zayn, and a fourth baby boy on the way. I definitely have enough to do taking care of and spending time with all these important men in my life. When not busy with them, I do enjoy exploring new restaurants with friends, singing karaoke, cooking, and travelling.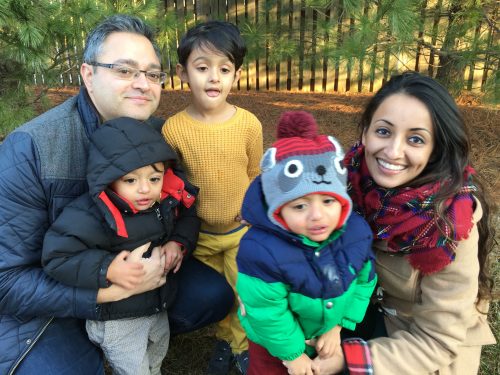 What is a quote that resonates with you?

"If a man is called to be a street sweeper, he should sweep streets even as Michelangelo painted or Beethoven played music or Shakespeare wrote poetry. He should sweep streets so well that all the hosts of heaven and earth will pause to say, here lived a great street sweeper who did his job well." 

– Martin Luther King, Jr.

Doesn't matter what you do – but give it your all, and be proud of it.
If you had the opportunity, what would be on chef Dr.Ali's menu for breakfast, lunch, and dinner?  

Well, I'm pregnant right now, so probably not a fair question! But here's what it would be right now:


Breakfast: I have both a sweet tooth and salty tooth, so I'd say stuffed French toast for the sweet tooth, and huevos rancheros and shakshuka for the salty option.

Lunch: A little bit more tough for me because I rarely have a sit-down lunch. I guess I would go for all types of ethnic foods – including thai, greek, and mediterranean options.

Dinner: Hyderabadi biryani. I'm from a place in India called Hyderabad—and we make the best biryani! Add a side of yogurt and Hyderabadi eggplant dish, bagara baingan. Yummm.

Dessert: Rasmalai and Budinos. Of course I can't forget dessert! As far as Indian dessert, my favorite dessert is rasmalai which is a milk-based sweet ricotta dish. I also love a special Philly dessert called a budino from one of my favorite restaurants, Barbuzzo.
And finally, who is your Brown Girl crush or someone you look up to?

I don't want this to sound cliché, but my mom is one of the biggest influences on me. She was one of 11 children, and she immigrated with my dad to the US, away from their home and families to give my siblings and I better opportunities and education. I continue to look up to her to this day. She still practices medicine and she has been my number one supporter and is hugely impactful in my life.
Check out the #LooksLikeASurgeon conversation on Twitter to join in breaking the gender stigma.
---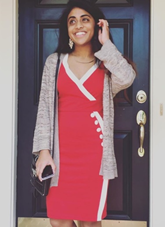 Sruveera is a recent graduate of William & Mary where she majored in Neuroscience and minored in Public Health. Before medical school, she is pursuing a Master's degree from Georgetown University and serving in her local community whenever she gets the chance. With community engagement as a driving force throughout her life, she hopes to one day combine her background in medicine, love of public service, and strong advocacy to enact systemic changes in the healthcare system and beyond.