by Duriba Khan 
This post was originally published on our partner website India.com.
I consider myself desi by all means. I grew up reciting Kareena Kapoor's fierce lines as Poo in "Kabhi Khushi Kabhi Gham" in the mirror as a young girl, deciding between rice or roti for every meal, whistling the intro to "Fanaa" during passing periods in middle school, and proudly clinking my payaal against my ankle as I sauntered past crowds who refused to pronounce my name correctly even though I learned a whole language for them.
I will never be that girl who is embarrassed or ashamed of my culture, and the twinkle in my eye, when the barista at Starbucks compliments my kurti with distressed jeans combination, is solid evidence of this. To me, being desi means being different— and I mean the good kind. The kind that involves flavorful dishes, a colorful culture, and loud music. The kind of different, nay, the "exotic" you will imitate at Coachella and sway your hips to in Zumba class. The kind you will never be able to replicate because you simply can't.
I have always been aware of my desiness…and why wouldn't I be? Every morning, it stared back at me in the mirror. It housed itself in my thick eyebrows, planted its cocoa seeds in my skin, and it lived in my movements: from the flick of my wrist to the nod of my head.
But my relationship with my culture and identity isn't always a rainbow and butterflies. There are nights behind locked bathroom doors where I have taken my familiar spot on the cold tile and sighed, epilator in hand, fully aware that I was being mocked somewhere. I wish I was normal, I would think every time I looked down at my curry-stained french manicure. I wish I didn't have to worry about my appearance this much, I would ponder while applying an extra coat of lipstick to distract from the acne sprouting off my left cheek….because what would Aunty say?
My parents aren't even the desi-est. Although my mother prides herself in gold rings grazing eight of her ten knuckles and my father spends much of his time pursuing cursory glances at Pakistan's news, both speak fluent English and work day jobs. Mama makes rice, sure, but it's burgers and pasta on the weekend. Papa reads up on Pakistan's political situation, sure, but twenty to thirty minutes later he's head bopping to Uptown Funk blaring from his 2008 Honda Pilot's (what did you expect?) stereo system.
In fact, looking back on my life experiences, there is not much my parents have actively done to help me preserve my desiness. We speak English at home and, contrary to every desi gene in my body, I can't handle spicy food. But there has been one thing that constantly reinforces my desi ideals upon me, and that is Bollywood. Because of it's huge influence in my life, I grew up idolizing Shahrukh Khan instead of Justin Timberlake and trying embarrassingly hard to get my bangle stuck in a guy's kurta at my cousin's wedding. Forget Apple Bottom Jeans; to me it was all about salwaars, socks, and trainers. Admittedly, It wasn't until the seventh grade or so that I developed a socially acceptable fashion sense where I didn't look like I had landed in America a month ago.
I then took it to become overly circumspect of my culture and appearance. My eyebrows bothered me, and I considered wearing salwaar kameez in public social suicide. I refused to consume the tiniest particle of masala and suddenly, Mamma was a fob. I cannot trace the root of these thoughts, but if I could, I would be all means incinerate it.
Although it took me many years to fully be glad of my culture and  heritage, I now wear it on my heart and sleeve. My tan skin is the most desireable in the world, and I fall more and more in love with the way my aunt's thick braid drapes across her back like a waterfall because my desiness has shaped my mind, anchored my personality, influenced my ideals and crafted me into the bhangra-ing, blogging, Starbucks addict of an Indian-Pakistani-American I am today. My desiness matters to me, and I would like to matter to it.
---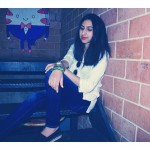 Duriba Khan, or "D-Dawg", is a sixteen-year-old blogging, vlogging, photographing, filmmaking, sketching geek who enjoys long, romantic walks to the refrigerator. She is half-Pakistani and half-Indian, and currently resides in Austin, Texas. Duriba also feels uncomfortable writing about herself in the third person. For more of Duriba's work, check out her blog.