by Monica Bhatnagar – Follow @bhatmon
If Bad Auntie was an action hero she would be the super assassin Asian grandma in Rowan Atkinson's "Johnny English Reborn." The Asian grandma assassin is not only a senior citizen but is also quite agile for her age; and best of all she is really good at what she does: Assassinations.
Bad Auntie is petite, ornery, and she also moves faster than you would expect a lady of her age to be able to move. Although Auntie is not good at murder-for-hire (thank god!), she does excel at showing up out of nowhere, and at exactly the wrong time.
A few years ago when I was visiting my parents, we attended a BBQ hosted by some close family friends. These friends were celebrating becoming grandparents for the second time. I was feeling anxious about my nonexistent career, and guilty for not having the kids my mother so deeply desired.
I sat quietly chewing over my feelings, away from the hubbub. I knew Auntie was around, so I was on high alert. I reached down for my drink, and as I sat up, she was walking toward me. I thought to myself, "Get UP! For the love of God, get up right now, and walk away from her!" But even as the thought was crossing my mind, she was sitting next to me.
The conversation went roughly like this:
Auntie: "They now have a grandson and a granddaughter!"
Me: "Yeah, that's really cool."
Auntie: "That's all parents want for their kids—to have a complete family."
Me: "Uh-huh."
Then she got up, and walked away, and I got another plate of food and drowned some more of my emotions in food and drink.
I do love action films, and one of my favorites is "Taken" with Liam Neeson. I thought it would be fun to use this film as inspiration for an action film in which Bad Auntie could be the star.
It's called "Eaten." Of course.
---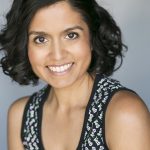 Monica Bhatnagar is a Los Angeles- based actor and filmmaker. She has worked on commercials for Lumosity, Honda, and Red Laser, and her sci-fi short film "Manikin", which she wrote, and acted in premiered at the Los Angeles Women's International Film Festival in March of 2016. Monica regularly acts in sketches for Late Night with Conan O'Brien. She also creates her own comedic sketches, including her latest, "Mediocre White Man Confidence…It's a hell of a drug". Follow her on Twitter: @bhatmon, and Facebook: @ActingMonica.