If you asked 38-year-old Indian-American journalist and published author Mitra Kalita to list her accomplishments on a resume, it would undoubtedly be an extensive list punctuated by semicolons and multi-adjective phrases. To say the newly appointed managing editor of editorial strategy at the L.A. Times and former executive editor at Quartz has managed to make a name for herself in the industry is to state the somewhat obvious.
One might venture to guess that Kalita, who has also served as president of the South Asian Journalists Association and adjunct professor at Columbia University Graduate School of Journalism, shares the enviable laser focus and tireless work ethic of other highly successful professionals. True as that may be, it can hardly account for all of Kalita's achievements both in the newsroom and at home. Life for this mom of two is a constant balancing act —but she will be the first to say that she does not do it alone.
In a Q&A interview, Kalita offers insight into her approach for innovating today's journalism practices, how she manages to "have it all," and what lies ahead in sunny L.A.
Q: It was announced that in your new role at the L.A. Times you will "work to develop and refine new styles of journalism similar to those [you] helped pioneer at Quartz." What specifically are these new styles of journalism?
The best journalism — in any form — has creativity at its core. Still, let me try to answer this question through some of the stories and types of narration that digital makes possible. When Facebook bought Whatsapp, I felt there was a need to cover this beyond a routine M+A deal, as well as to break down that term "mobile web" and its effect on relationships/customers. A lot of Americans also were saying "What is Whatsapp and why is it worth so much money?" So I found someone who represents the power of Whatsapp and asked her to let us peek into her messaging, happy birthdays to Sunday night dinners to live-streamed weddings from Spain. Take a look at her piece here.

Other examples: Our audience in India is a hyper-engaged one. Metrics show us the sheer amount of time they spend on stories is several times that of other readers. But I also know this because they flood our inbox with specific criticisms and points of view. How do we better serve Indians but make them feel a part of Quartz stories versus just reactors? For the recent unveiling of the Indian budget, we asked two college economics classes to annotate the document on our site and invited readers to join them. We then summarized the arguments and wrote an article off their input.

Another: We hosted a Google Hangout over Facebook's decision to cover the cost of egg freezing to capture differing points of view, especially among different generations. Of course, I am also a big fan of narratives, deep dives and investigative reporting, but the reality of digital storytelling is that we no longer have to feel constrained by a 750-word format, a big box of white space to fill, or traditional forms of he-said/she-said journalism.
Q: What do you find is lacking, if anything, or needs to be fixed in today's media? How do you hope to execute these changes in your editorial strategy at LA Times?
I am really reserving judgment until I am in the newsroom and better understand the place. But this idea that legacy media institutions have to be "fixed" or keep up" with the spate of media start-ups intrigues me. From my perch, I look at the L.A. Times brand and traffic and actually feel jealous.

At Quartz, every day, every story is a fight for an audience. So what the L.A. Times already has is pretty powerful. I think the questions now to ask are: How can we better serve our readers and all the ways they consume news now? How can we attract new readers? How do we ensure our products, across platforms, are editorially excellent and commercially viable?
Q: What does it mean to you to be a woman of color helping to lead the editorial strategy at one of the country's biggest publications? How do you think your background and gender will positively impact the precedents you will set for journalism?
I confess that I was overwhelmed at the response to the announcement. There's Twitter and Facebook love, of course. Then there are the stories from media trade publications and the Indian press ('Indian-American does good') kind of thing. But what I didn't expect were the private messages from women and people of color, who [said] so much more.

A former colleague who miscarried years ago sent me an email imploring women in media management change the conversation about fertility, childbearing, leaning in, having it all. An African-American journalist told me his biggest regret was not entering the editing ranks when he had the chance because 'unless there are people at the table advocating for those stories, those stories will never see the light of day.'

So I feel this great responsibility, yes, but this is really not about me. I hope to be in touch with many groups of our readers to, indeed, represent them at the table — but more importantly, get their stories out there.
Q: What struggles did you face as an Indian-American journalist making a name for herself, and how did you overcome them?
A lot of journalists of all hues struggle to make a name for themselves. And I've certainly worried about getting credit for my work or pettier things like if I have enough Twitter followers. A mentor of mine recently told me to worry less about reputation and more about character, and I'm clinging to his words because I think it's a much better way to live your life and set about a career path that actually means something.

Also, there are a long line of Indian journalists who I've looked up to — Raju Narisetti, Peter Bhatia, Nik Deogun, Madulikka Sikka come to mind. My boss at the L.A. Times will be Davan Maharaj, born in Trinidad. I'm grateful to them for paving a path.
Q: How do you respond to statements by other South Asian career women of influence like Indra Nooyi who said women "can't have it all," and how do you maintain a work-life balance?
I saw Indra Nooyi speak when I was a new mother and I liked her honesty quite a bit. I have a similar village of neighbors, grandparents, nanny raising my kids. My husband is super-involved and cooks dinner three nights to my two. I stopped expecting to "have it all" long ago, but unfortunately the world still expects me to "do it all." My coping mechanism is essentially one of triage and figuring out what needs to be dealt with right away, whether I need to be the one to handle, or if asking for help might get the job done.
Q: How did your upbringing and your work in New York City impact your training as a journalist, especially after 9/11?
I've written before about how on 9/11, I started heading into Manhattan but stopped when I saw Muslim butchers in my neighborhood shuttering shops. I felt like I needed to tell their stories and narrate the complexities of race and religion that led up to that moment. So I stayed behind in Queens that day.

In the aftermath of the terror attacks, I actually wondered if I would ever cover another story in my career. That is how huge the whole thing felt. Of course, I went on to write about Enron and the recession, outsourcing and Obama. But 9/11 forced a generation of us to grow up, to work collaboratively in a newsroom, to feel so connected and emotionally tied to a story but still able to step back and explain it fairly.
Q: What's an important lesson about responsible journalism and storytelling that you have imparted to your former students and other aspiring journalists?
Someone once told me that you can't be someone you're not. I've found that applies to journalism, to mothering, to managing. Someone else told me that when you think you are done interviewing, make that last call or pay one more visit. Indeed, I have never regretted it.

Other advice for young people:

Learn the basics: grammar, the stylebook, story structure.

Become known for clean copy. It's much easier to break the rules (especially for digital) when you know them.

Eavesdrop on the reporters you want to be. How do they talk to sources? How do they pitch stories? How do they organize their days? Do they eat lunch at their desks or go out with sources every day?

Live a life and engage with the world. You should never have a quiet cab ride.
Q: South Asian Americans today are more and more breaking out of the "mold" and entering into career fields that were once not considered lucrative or even respectable. Do you feel this community has a responsibility to encourage its young members to broaden their reach in fields like journalism so as to better represent its people and their stories?
When I was president of SAJA, I used to call the parents of our scholarship winners to a) congratulate them on their son/daughter's achievement and b) assure them it really would be okay if their offspring went into journalism. I think South Asians have actually become fairly visible and successful in the industry, thanks largely to folks on television from CNN's Sanjay Gupta to PBS NewsHour's Hari Sreenivasan.

For what it's worth, I still call or email the parents of promising young journalists, desi and non-desi, to congratulate them on their children's successes — and still assure them it will be okay.
Q: How did being involved in organizations like SAJA help you grow in your career?
I've already mentioned the editors I have looked up to, but my early friends in SAJA remain my best friends today. I can call them for advice on a reporting dilemma, but I also can call them to babysit my children or for a quick cup of chai.
Q: What are you most looking forward to in your role at the L.A. Times?
Experimentation, innovation, great stories, celebrity sightings, warm weather.
[Feature Photo Caption: Mitra Kalita shares a laugh on her 38th birthday with daughter, Riya. |Photo Credit: Preston Merchant]
---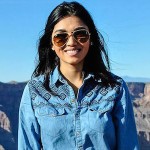 Foram Mehta is a freelance journalist and photographer enjoying the life of a "starving creative" in New York City. When she's not hunting down the best brunch in NYC, you can find her rooting on her beloved Texas Longhorns and dreaming of the day Oprah comes calling. Check her out on her personal blog: A Metaphorical Mind.