by Atiya Hasan 
Meet our Brown Girl of the Month of November, 2014!
Kulsoom Abdullah, a Pakistani-American who opened the door for women to wear clothing that adheres to religious codes at weightlifting competitions, began competing in 2010. She represented Pakistan at the 2011 World Weightlifting Championships as the first woman at the international level to compete wearing hijab (Muslim observance of covering the head, arms and legs etc.). Her athletic feats and determination culminated in an invitation to deliver remarks at the 2011 U.S. State Department's Eid ul Fitr reception following then Secretary of State Hillary Clinton.  She received her bachelors in Computer Engineering at the University of Central Florida and her doctorate in Electrical/Computer engineering at the Georgia Institute of Technology. She is currently a visiting scholar at Georgia Tech and a researcher at Damballa.
Abdullah was featured in "The Pakistan Four," a documentary about redefining what it means to be a Muslim woman in the U.S. She is also featured in a 2015-2016 Saris To Suits calendar of female South Asian American role models, a non-profit organization that benefits victims of domestic violence and sexual assault. Her hobbies of photography, video editing, writing and love of travel, have helped document her experiences in weightlifting on her website, LiftingCovered.com.  While she trains, she listens to EPIC trailer super-hero(ine) movie music and non-mainstream rock, electronic and rap artists.
"I was born in Kansas City ("There is no place like home!") but my family comes from the Khyber Pukhtunkhwa region of Pakistan. My father came to the U.S. back when the U.S. was actually recruiting people in the medical field. My mother did not speak any English and had never traveled outside of her village in the Khyber Pukhtunkhwa province.
I grew up in a small town called Okeechobee in Florida. To give some perspective, Okeechobee schools closed the day the Super Walmart opened so everyone could attend the opening. The Okeechobee High School cheerleaders and band had a half-time show in the parking lot. We had a close knit community of friends, and you never had to worry about commuting and traffic as it only took 10 minutes to get to the extreme ends of the city.
I grew up visiting Pakistan as much of my extended family live there. My mother tongue is Pashto, and I have picked up a little Urdu during my visits to Pakistan.
My parents were very supportive of my education and I was very fortunate that they gave me the freedom and flexibility to select a major of my choosing. I received scholarships to attend the University of Central Florida where I received my Bachelors of Science in Computer Engineering with a minor in Math, so even with my own choice, I was a desi parent's dream [for their son :)]. After college, I attended the Georgia Institute of Technology where I received my Masters and PhD in Electrical/Computer Engineering. My research in my PhD thesis and as a visiting scholar was in information visualization for network security, specifically for analysts to better understand and interact with the data.
Earlier last year, I became interested in machine learning and data science and used it on a project at Georgia State University in understanding the role of technology in CSEM – Commercial Sexual Exploitation of Minors, an area I would like to collaborate with others on in the future. Currently, I am a researcher at Damballa, a network security company, where I use data science to help in detecting advanced malware and advanced persistent threats.
When I was younger, I thought about becoming involved in sports, but had no motivation, and in retrospect, no role model. It was not until I was in graduate school that I became proactive and took up Taekwondo. My friend's roommate, Cora Lind, a graduate student in Chemistry (who has now become a good friend of mine), was on the German national Jujitsu team, was already taking this class, and encouraged me to take it. The instructor, Dr Robert Speyer, also a Materials Science professor at Georgia Tech, was accommodating in my choice of clothing (head scarf and covering of arms and legs). During that time, I became interested in strength training and used Stumptuous as my guide. After graduating, I read about Olympic Weightlifting, and then pursued that via Crossfit.
Weightlifting was my exercise and hobby. It helped motivate me to be healthier; being stronger has its benefits outside of the gym. My father's passing, which was sudden and traumatic, was a bit more bearable for me when I put my energy into weightlifting and working towards a goal. Losing someone in your life is very difficult, but you learn from the pain and how to heal and cope in your own way.
"…God does not burden any soul with more than He has given it– after hardship, God will bring ease." Quran 65:7
It took almost a year for coaches to encourage me to compete locally, and I finally did in 2010. I was then able to lift enough to qualify for the 48 kg weight class for U.S.A. Weightlifting National competitions. I was told I would have to compete in a customary singlet where my legs, arms and head would be uncovered, so I chose not to compete. I was encouraged by civil rights organizations and lawyers, especially from Nadia Ahmed, a lawyer who spent a lot of time helping me to contest the clothing ruling.
It was not until a CAIR press release in June 2011 that my voice was heard. My story was spread around the world. This was very sudden and unexpected. It presented me with roles and responsibilities I never thought would happen to me. I had very little guidance but the support of family and friends helped me through that period of my life. Perhaps if it was not sudden and I could have known what the future held, I may not have wanted to weight lifts, but the brute force made me learn a lot about myself and all that I was capable of accomplishing as one person.
I launched my website LiftingCovered.com to document my experiences weightlifting at U.S. national competitions. The International Weightlifting Federation heard my case, agreed to change the clothing ruling, and in July 2011, I was able to compete in my first U.S. national competition in Iowa.
Later in 2011, I was selected to represent Pakistan as their first female weightlifter in the 2011 World Weightlifting Championships in Paris, France. That competition also marked the first time that any weightlifter had competed while wearing a hijab internationally. In 2012, I went on to represent Pakistan once more at the Asian Weightlifting Championships in South Korea.
In 2013, I took a break from major competitions. I still train and attend local competitions. Training to do your best at competitions, plus the logistics and cost, make it challenging to attend, but I will see what 2015 holds for me. If things fall into place, I may compete again.
Spanning my journey from the start until now — and I thought my story was going to end but it looks like it is perpetual — I still have not been able to fathom that so many people know about it and are positively supporting it. I am fortunate to be able to do so much because of this and help other efforts and causes.
Most recently, I was one of the recipients of the Georgia Influential Muslim Award, featured in the 2015-2016 Saris To Suits calendar, and spoke on a panel at the Religion Newswriters Association.
I continually post on my Facebook page and website blog. |
– Kulsoom Abdullah
Buy the 2015-2016 Saris To Suits calendar on sale now! It's $10 for the digital copy and $15 for the hard copy!
Do you know a brown girl that is awesome in what she does? Send an email to atiya.hasan@0mq.349.myftpupload.com!
[divider]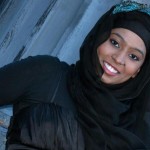 Atiya Hasan is the Editor in Chief at Brown Girl Magazine. She currently lives in Bishkek, Kyrgyzstan where she is finishing up her final semester of medical school. She is all about female empowerment through education and understanding of their rights and sexuality. She is scheduled to be published in an upcoming anthology titled "Faithfully Feminist: Jewish, Christian, and Muslim Feminists on Why We Stay" and is part of the I Speak for Myself series. In her free time, Atiya enjoys consuming large amounts of chocolate and TV shows.