November 6th saw the return of the massive hit show "Koffee with Karan!" We've been waiting eagerly ever since the announcement of the fifth season was made a month ago. Needless to say, the wait felt way too long, but now it's finally over!
Karan Johar, endearingly nicknamed "KJO," promised a lot more heat and gossip with the upcoming season. After an almost two-year hiatus, "Koffee with Karan" was back with a bang, as the first episode brought together Shahrukh Khan and Alia Bhatt, the main cast of Gauri Shinde's "Dear Zindagi." With such a star-studded premiere, we can't wait to see what else is in store of for this season!
Unable to contain our excitement, we've compiled a few (of many) reasons why we're excited our favorite Bollywood-centric show is back on the air!
1. The Combination of Guests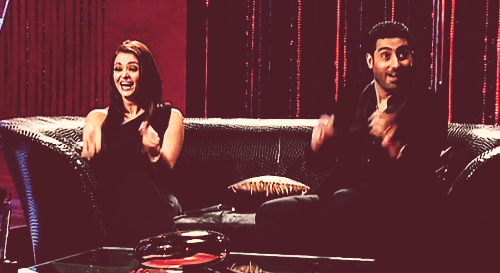 KWK is the one of the very few shoes which does not aim to promote movies! It's sole purpose is agreeably, "entertainment, entertainment, entertainment." KJO loves inviting guests who we love to see together or, more often than not, guests we don't get the chance to see together often, such as Nargis Fakhri and Freida Pinto, Kareena Kapoor and Rani Mukherjee, Parineeti Chopra and Alia Bhatt, and Juhi Chawla and Madhuri. Being able to experience the rapport of such stars is definitely a treat! The upcoming season, so far, boasts a guest list including, Akshay Kumar and Twinkle Khanna, Parineeti Chopra and Aditya Roy Kapur, in addition to Farah Khan and Sania Mirza. We're sure there's many more glitzy guests to come!
2. YouTube Doesn't Have Reruns Anymore!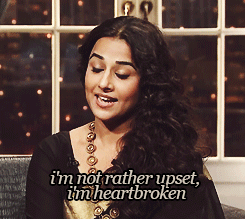 Life has been hard ever since the copyright infringement police have taken away our beloved full episode reruns of KWK. We all missed it terribly, and those ten minute rapid fire round clips we have access to just don't satisfy our "Koffee" addiction!
3. That Lie-O Meter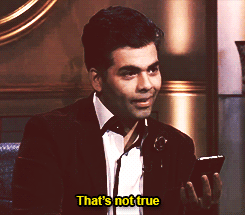 KJO being friends with the majority of his guests means he can catch them lying on camera. Having a host with the inside scoop definitely helps because as soon as that lie-o-meter buzzes, we know things are about to get spicy as we watch guests exchange not so sneaky glances with Johar. We only wish every talk show had a lie-o-meter since hiding away the truth seems to be such a norm these days.
4. The Rapid Fire Round, DUH!
Let's face it, the rapid fire round is our favorite segment of the show! This is when things get steamy, snappy, competitive and, for a lack of a better word, bitchy. All in good fun (sometimes), for the sake of the beloved Koffee hamper, we watch the emergence of a competitive side of our stars as they rank actors on acting ability, list who they'd kill, marry and hook up with, giving their peers alternate career choices, and answer (or mostly try to dodge) other similarly contentious questions. Needless to say, this round has given us some of Bollywood's biggest controversies such as Sonam Kapoor and Deepika Padukone taking jabs at Ranbir Kapoor in season three, Rakhi Sawant stating the infamous line: "jo bhagwaan nahin deta, woh doctor deta hai", in Season Two, and of course Salman Khan's proclamation of being a virgin in the Season Four premiere. There's obviously a lot more from where that came from, and we cannot wait to see the controversial masala this season!
5. KJO Needs a Saving Grace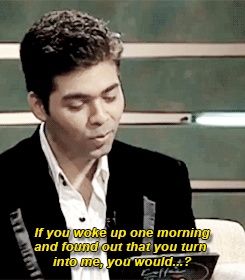 After receiving mixed reviews for his latest film "Ae Dil Hai Mushkil," his official stance on the Pakistani artist ban in the industry, and nixing Pakistani actor Fawad Khan from the Season 5 premiere of his talk show, KJO needs a resurgence as a public favorite again. Here's hoping Season Five will allow the director/producer redeem himself as the master of pleasing the masses and one of the most entertaining hosts in Bollywood.
If you caught the season premiere of KWK, comment and let us know what you thought!
[Featured image courtesy: YouTube/Idea; All gifs courtesy: Giphy]
---
Zaynah Arefin is known as a Houstonian-New Yorker. She is a New Yorker in the truest of senses but thanks to that little thing called love she now resides in Texas. Arefin is probably the desi-est of the desis.  She has a passion for writing and an even more intense love for all things Bollywood! She also hopes to connect with all of you filmy folk through Brown Girl Magazine! After all, who run the world? Brown girls!