More often, I hear the words seva and kirtan being contextualized in the western yoga community. In western teachings, seva is explained as a Sanskrit word that means "service," and kirtan as a repeated chant used to quiet the mind. As a practicing yogi, I've noticed the concepts behind these words offered in varieties: as chewable's for the mind to be strewn off the sidewalk post-hot yoga session, as bumper stickers, or as bait for excited bloggers publicizing their confused "spiritual explorations."
Over years of practicing in different yoga studios, I have sometimes felt the words divorced from their socio-cultural contexts and offered as cheap commodities, free to save or throw away—uprooted, objectified. Other times, to my pleasant surprise, an astute teacher might introduce the words as earnest invitations to feel more connected with the self and others. Those teachers just get it, I think to myself.
But, as a Sikh Indian-American, I learned what seva and kirtan meant before any well-meaning yoga teacher explained the "ancient" etymology to me.  I carry those words in my muscle memory and through my actions; they are part of my emotional center. Those words influence the way I perceive the world and hold my values. They influence the way I interact with others and myself, and while their objectification has poked me like a hot wire, I have come to understand them through a strong cultural upbringing.
Before I was old enough to go to school, my mom would instruct me to hand out dozens of napkins to congregants in our place of worship, the gurdwara, when it was time to take our sacrament, prasad. Other parents in the room would instruct the same, and kids would spring from the laps they were sitting on to hand out napkins until every hand was equipped. On Sundays, hundreds of napkins would be distributed.
Growing up shy, I sometimes felt hesitation. Placing a napkin in anyone else's hand who wasn't my own mother or grandmother psyched me out. I asked my mom why I had to it. She explained seva: that helping others was the right thing to do. At four years old, seva was a tool for me to overcome my social anxiety. My shyness stopped taking up so much space so that I could show up for others. It's the reason why as an adult, I am usually the first to hand out supplies in work-related meetings, without giving it a second thought. For me, seva isn't a cool Sanskrit sound byte, but a cultural value that has shaped my social evolution. The act of seva has distinguished me as someone who values relationship building, harmony, and service. Now, as a nursing student, I continue to see seva shaping my professional identity.
Similar to learning seva, I didn't grow up with the freedom or luxury to learn what kirtan meant by holding a downward facing dog in a high-end yoga studio. Kirtan was embedded in my spiritual upbringing as a natural channel for finding peace of mind. Before it was time to hand out napkins, I would sit in my mom's lap and be lulled into quiet by prayers I knew by heart. When I am feeling scared or down, I still repeat some of these prayers to myself, sometimes silently in a crowd, and almost always before bed. When I think of kirtan, I think of elderly men in turbans and tunics, sitting for hours behind their harmoniums, singing prayers and offering peace to people of all faiths.
When I think of kirtan, I do not think of yogis in sports bras and tights, chanting parts of the scripture I grew up with and being well on their way to the dive bar next door after 45 minutes. It makes me angry to know that some of these same Western yogis, while well-meaning, may feel uncomfortable to sit in a gurdwara and experience kirtan in its authentic space, which is always free to the public, regardless of faith, yet seldom sought out—stepped on by the glamour of the yoga business and societal ignorance.
Linguistic transplants like kirtan and seva adapted for western culture call attention to a struggle that Indian-Americans commonly face: a push to consolidate identities, to change the way our perceptions have been built and our neurons connected by the demand of a western culture just beginning to understand long-practiced Indian traditions. Admittedly, I have dismissed western explanations of words like kirtan and seva as contrived, fetishized, and hyper-intellectualized. These words live inside my home, and it hurts when they are plucked away to be inspected.
The words are more than what resonates at the tip of the tongue. They influence the way I walk through the world. I cannot make space sprinkle convoluted definitions atop the intimate ways I carry these words, which live in the rods and cones of my eyes. Although I never lived there, this is why India always feels like a home away from home, where billions of people authentically experience these same cultural constructs through almost every angle of their lives. The culture there feels warmer to me that way—less frustrating, more navigable. I feel those parts of me, the seva ingrained and silent prayers, are witnessed and understood without the demand of an analysis or a fascinated gaze.
In India, those parts of me get to be with more ease. In my American home, I am constantly in between cultures. I feel miffed when someone fails to offer water and snacks at the door, as I was taught and try to do. This is seva, too. Some of my friends are impressed by me, who they think is their most hospitable friend. But among most of my Indian friends, it is just expected.
While I continue to explore and consolidate my Indian and American identities, I notice an opening in my heart. My own resistance to American adaptations of Indian culture has softened. Last week, I walked into my yoga class early, and heard the most beautiful sounds I had heard all year. I looked into the window and there was a yoga teacher sitting behind her harmonium, leading a class in kirtan. Even though I wasn't in the room, I immediately felt connected to the practice and the care with which the chants were sung. In that moment, I realized that spiritual understanding is felt and experienced differently across all cultures, but when it's coming from an authentic place, you can just feel it. That day, I felt it, and my anger left.
---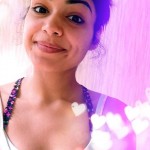 Jasleena Grewal is from Seattle, WA. Her beautiful Pacific Northwest home has taught her to see stars in cars, little amoebas in raindrop reflections against the quivering dashboard. Aside from what her parents have to say (about anything), she only let's the sky rule her moods.