Fashion doesn't need to play by the rules, yet for centuries clothing has been more a social representation of gender than a form of expression. But with fluidity becoming the future, fashion designers and labels are realising the need to let go of societal limitations. KiRu — the brainchild of Mumbai-based creators Krithika and Ruchika — is one such brand. 
KiRu is a sustainable Indian streetwear brand that aims to challenge gender norms with its gender-fluid aesthetic. 'KiRu' stands for 'kindness is 'round us' — a statement that the label incorporates to the core of its functionality. From ethical sourcing of materials to environmentally-conscious packaging, the brand is promising its patrons complete mindfulness beyond the realms of our society's acceptable social constructs. Brown Girl recently spoke to the duo about their fashion journey, gender-fluidity and the struggle of maintaining sustainability. Read on to learn more about the brand: 
How did KiRu come into existence? What is the idea behind the brand?
It all started when we were in university and were on a craft visit trip in South India. We observed what goes behind making a handmade product and the conditions of artisans who make them. We noticed that there was a huge potential in the Indian craft sector but unfortunately very little design intervention that could make their products relevant to the current times. We both have similar design sensibility and wanted to work on bridging this gap. 

In 2020, when the pandemic hit the entire world we realised the importance of being kind to people and the planet, and KiRu was born. KiRu, which expands to "Kindness is 'round us'" aims to create artisanal, gender fluid clothing that is waste-free and want-free and makes an effort to be conscious in all ways.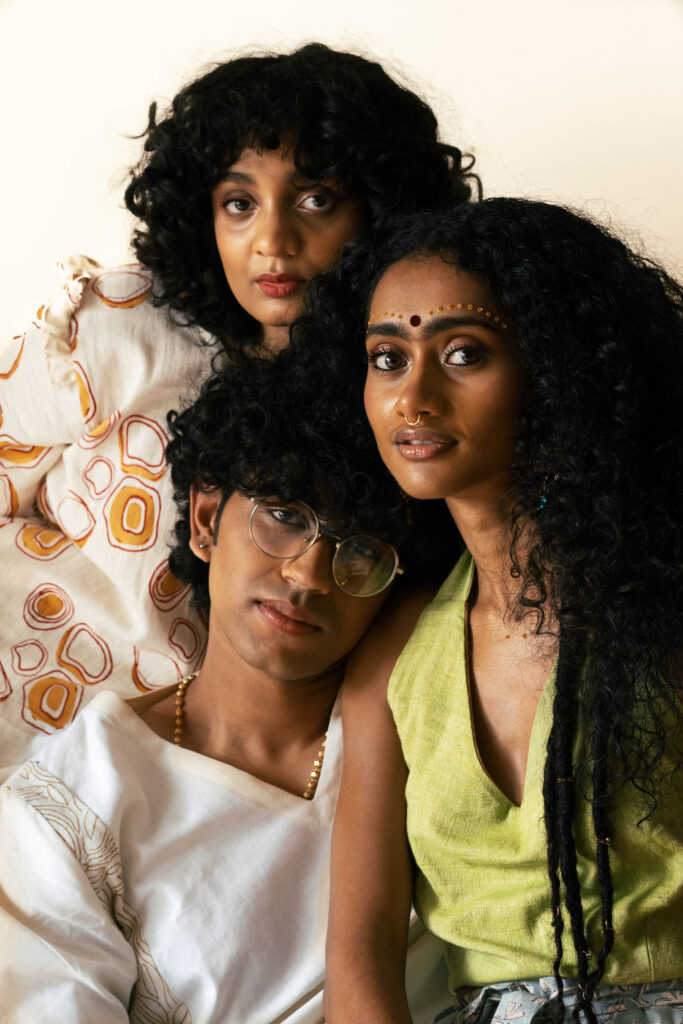 What are some of the challenges you faced in your journey of creating this brand?
As a bootstrapped company, one of our early struggles has been financial stability. Along with that, we are yet to find an organic growth strategy that will keep us on the radar of all who are into our kind of fashion! 
How did you find the means of production and ability to sustain it, especially during the pandemic?
We are a pandemic baby and from the beginning, we have made ourselves capable to function during these tough times. As we were design graduates, putting up a production team was not a big issue but finding the right 'master ji' definitely was.  Usually one of us visits the team and we keep a track of production through calls and messages.
What led you to develop a gender fluid clothing brand and venture into streetwear? 
We as designers believe that clothing has no gender and it was a no-brainer for us when we decided to start the brand. When we shop physically, we tend to go across all categories and not restrict ourselves. It's what led to this thought that clothing has no gender; it is a medium of self-expression. 

Our brand style sensibility is a mix of desi and street and we usually like to term ourselves as 'desi street' as we work with desi fabrics and artisans of India, trying to combine it with modern street design sensibility. Street style has always been about the youth and what they're thinking and doing, so we want them to be thinking and wearing us!
View this post on Instagram
What excites you the most about running your own label?
Our favourite part of running this brand would be working with different craft clusters and understanding the working of the craft; also just interacting with the artisans brings true joy to us. We love working on the design process where we get the creative liberty to interpret the traditional craft techniques in a modern way. We absolutely love it when our community gets in touch with us and expresses why they like KiRu; it keeps us motivated and going. Of course, watching our idea come to life is also the best part of the journey. 
The future of fashion is being sustainable. How do you ensure sustainability within your brand and would you say KiRu is 100% sustainable?
Sustainability can never be 100%, and while accepting that reality we always make sure the supply chain is ethical, responsible and fair. We try our best to keep our practices conscious and eco-friendly. Whether it's our packaging, having seed paper tags, or our designs being versatile to being long-lasting and getting more wears out of it. Sustainability is the need of the hour and should no longer be treated as an added feature for a brand.
What's your current favourite trend in fashion?
The tie-dye and marbling trend was something that caught our eye recently. Other than that, we get really excited to see people try on different aesthetics and that seems to be like the current trend. Finding one thing that suits you best. 
View this post on Instagram
Fashion, they say, is to make a statement. What's that statement you want people to hear when they see your clothes?
 Stories come in so many forms, your clothes tell the warm kind!
What goals do you hope to achieve with KiRu by the end of this year?
By the end of 2022, we would like to be known as leaders of gender-fluid sustainable clothing in India. Our vision is to influence a growing community of self-expressive people, who fully understand the impact of their choices on the world and act accordingly. And of course, grow our KiRu community massively! 
At a time when most businesses struggled to survive, these two young women chose to pursue their passion despite the limited resources available to them. And over the course of their journey, they have not only built a label that is inspiring in its mission and a source of fulfilment for its wearers but is also creating a community of crafters and putting India's rich craft to the fore. Check out what KiRu has to offer here.