While there are dozens upon dozens of teams and dancers in the North American bhangra community, there is one name that almost everyone knows: Dholi Ram.
Having played the dhol, the traditional percussion instrument integral to bhangra music, for over 20 different bhangra teams across the continent, DC-based Ram Viswanathan holds an unparalleled view into the world of bhangra. We just had to find out the story behind Dholi Ram and his rise as one of the most familiar faces in the desi dance circuit! Check out a video of his amazing skills below:
Here's what we found out about the immensely talented Brown Boy as part of our "Fast Five" interview series, which introduces budding artists/activists to the Brown Girl Magazine community.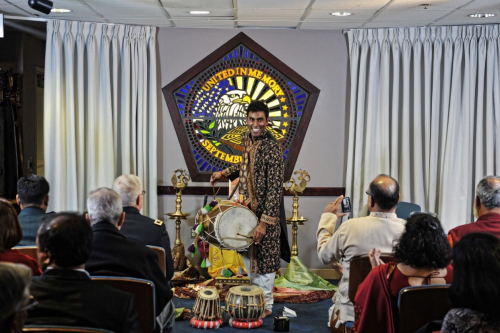 1. Tell us a little bit about yourself. What is your musical background?
"I am a South Indian Brahmin and was born in England. I came to America when I was very young. Growing up, I spoke late as I was diagnosed with a learning disability. However, music was a language which was easy for me to understand. The first things I started saying were things like 'sa ri ga ma pa' instead of 'Hi/hello' so music has been a part of me since birth.

Singing was my first love, as my family was musically gifted. I have learned Carnatic music (South Indian classical music) from my mom. She trained as a vocalist under two legendary artists: the late Maharajapuram Santhanam and the late MD Ramanathan, each of whom being respective All India Radio A grade artists in the Carnatic music world.  In fact, my mom is an All India A Grade artist herself. In addition to singing, I started learning tabla at age 12 from Dr. Narendra Verma, a contemporary of the great Zakir Hussain.

I also ventured into other genres of music in high school as I got into jazz and a capella singing for a group called "The Traveling Men," where I sang Tenor II, a bit of bass and even beat boxed. We even had the chance to travel to France and Spain and performed at iconic landmarks and churches. I completed my arangetram (debut on stage performance) in Carnatic music at the age of 18."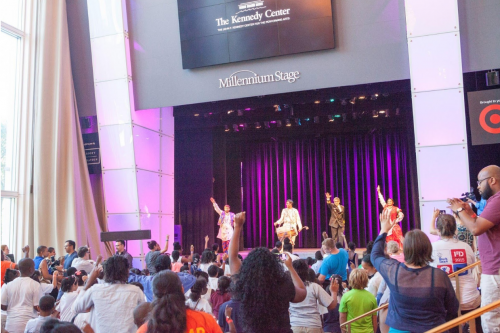 2. How did you start playing dhol, especially as a professional and for bhangra teams?
"Learning how to play the dhol is completely something I picked up on my own. I went to college at Drexel University, and their bhangra team didn't have a dholi at the time. So, I decided to give the dhol a try and then ended up playing for Drexel University Bhangra (DUB) throughout college.

I didn't know what I wanted to do when I got out of school, but I had a great interest in sharing my interpersonal skills with the world and combining my passions for music and travel. Once I got a feel for the bhangra circuit and this style of music when I played for Drexel, I wanted to learn how other teams performed. So I had decided to create my own business called Dholi Ram.

Since that decision, I have played for over 20 different bhangra/fusion teams from all over North America, and have performed in Mexico, at the White House and the Pentagon, with foreign and national dignitaries such as Dr. Kailash Sathyarthi and US Surgeon General Vivek Murthy, and for singers like RDB and Jay Sean.

I knew playing dhol for different teams was something I could be good at when I got the opportunity to play with Bhangra Empire. I was able to pick up the beats with another dhol player after very few practices. My dhol playing has been such a success since then.  People ask me if I have a bias towards one team as opposed to another when I play and my answer to them is 'no'. There's just a genuine love of interacting with the dancers and the audience while I'm performing, and I love getting to know the different styles of mixes the teams use. With the blessings of God, I am able to connect immediately with the music I have to perform to from the first time I listen to it. Music or no music, I always memorize what I have to do."

3. Speaking of no music, what went through your mind when First Class Bhangra's music stopped during their Elite 8 2015 performance?
"Oh man! That was an interesting day for me even before that performance. I had my standard Chipotle and pineapple juice meal as I do before all my performances, but my body started to feel heavy while FAUJ was performing. I wasn't really thinking much about my performance, and didn't even realize that the music stopped for the first 20 or 30 seconds actually! It was when certain dancers started looking at me I realized that their music had stopped. 'I can't believe this is happening,' I thought to myself.

Had it not been for the dancers on FCB still dancing, the audience cheering and friends giving support backstage, I don't know what would have happened as the stage crew tried to make us stop by turning off the lights.  I didn't want to look too much at the crowd, though, because they were so amped up from just listening to them so I didn't know how I would feel looking at them. But since I normally memorize mixes for any team I perform with, it allowed me to prepare for situations like this – no matter what team I'm playing for, I present myself in the best way possible. I don't stop playing; I don't give up.

Despite what happened, keeping the beat going for First Class Bhangra was one of the most magnificent moments of my life and I will never forget it. I remember that as soon as the performance ended, I looked up, yelled out 'YES,' and pointed to the skies to thank God and my family.  They're the ones that have given me that belief, that grind, that motivation to never stop and never panic."

4. Given your years of experience playing for different teams with different styles, how do you see the bhangra scene evolving?
"Well, first of all, the bhangra community will see me dancing at the DCMPAA [DC Metro Punjabi Arts Academy] Summer Competition, which is something I have never done before!
I think there's a lot of shade thrown about the way bhangra is performed as being too cookie cutter. But there's a lot of great things happening, and bhangra is being used for the right reasons. People are getting a lot from it – the Surgeon General even used it to promote a healthy lifestyle to kids. You also see people from different backgrounds also dancing to bhangra and sometimes outperforming the other Indian dancers on stage.

As a DC brand representative for Learn Bhangra App, it's amazing to see how that app has been able to have a worldwide presence especially in places like Argentina, Singapore, and Mexico! There are certain ideas that are amazing, the costumes are wonderful, the mixes are hot, and the gimmicks teams use via props are fun to watch.  Also, it's awesome to see that the bhangra community has grown so much and that competitions are becoming international."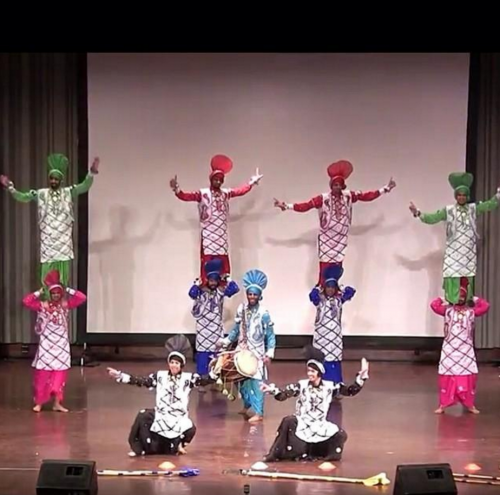 5. How do you balance your career with playing dhol all over the country? Are you still involved with singing and playing the tabla?
"Prioritizing is key. I worked full-time during the week and reserved the weekend for playing at special functions. That's just a hobby that I love to do, and if I love something, I do whatever I can to make myself organized.

Even though playing dhol is a hobby, I take it seriously. Music for me is something that is God-given and given via my mom through singing. The one lesson I learned from her is not only to strive for excellence but to do in a way that shows moral character and integrity. Before I do any wedding, I think, 'If I presented this to my mom, would she like this?' She knows quality when she sees it, and I also make sure to execute things with extreme precision.

As far as playing the tabla and singing, I am a Sai Baba devotee and play the tabla for bhajans. I am looking to do another arangetram in singing soon since grad school is on the horizon, and I think I have it in me to do it again. I want to do it for my friends and family, as a symbol of my thanks and appreciate for getting me to where I am today."
For more information about Ram, follow him on his Facebook page or visit his website at www.dholiram.com.