by Joya Dass – Follow @browngirlmag
In the next chapter of her career, LadyDrinks board member Kavita Mehra assumes the position of Executive Director of Sakhi for South Asian Women, a gender justice organization committed to intersectional advocacy and direct services that center on marginalized communities and experiences. We could write the standard piece about celebrating success, but some of the most successful people in the world are intimately familiar with failure as well.
In this exclusive, first interview about this next phase in her career, Kavita takes a look at the road ahead, while also reminiscing about the journey that brought her here.
Kavita, you and I have known each other for years. First and foremost as friends, but also, as members of the LadyDrinks board. One of the greatest things I can say about you is that you always have my back. And hopefully I, yours. What does it mean, in this day and age, for women to support each other?
It is central to my personal ethos that collective power can ignite social change. This supportive mindset is a fundamental part of who I am, and I work consciously to inform my interactions with this framework and be intentional with support in each and every interaction.

Given our current socio-political climate, there is a responsibility leaders have to promote and empower marginalized peoples. For me, occupying a personal and professional space as a feminist means investing in women and people of color.

I am fortunate in having a supportive group of advisors who have shepherded me through the darkest of hours and have rallied around me in times of need. Those individuals have been instrumental in my personal and professional growth. And, if we want to ignite social change, it is my responsibility to pay it forward and support others.
Before I ask you about this new chapter, let's talk about the ones that came before. How are you a different woman today than you were when working for Glamour Gals Foundation (GG)?
Every professional experience I have had has given me greater insight and perspective, for which I am grateful. At GG, I had the great fortune of serving at an organization in which I did not immediately connect with the broader mission. However, I grew to fully understand GG's community need and embrace its impact. My tenure at GG taught me to be open to new, and unconventional, opportunities, in a way which I was previously unable to appreciate.
You were named Interim CEO of the Boys & Girls Club of Newark (BGCN). That wasn't an easy job.What did you see that changed you?
Newark is a culturally rich and beautiful city, and I remain grateful for the opportunity to have worked there. BGCN is part of the fabric of the city, an organization that is fully vested in the community and is a pillar for the children and families it serves.

BGCN exemplified and brought me greater insight into building community, especially during this political climate. I wish I had more time to invest in this area while at BGCN. However, what I have learned has helped provide clarity for shaping our trajectory at Sakhi.
The topic of domestic violence is something we both have first-hand knowledge about. My mother is a survivor. How about yourself?

There is a personal connection to our work at Sakhi, and working for an organization focused on gender based violence is the reason I entered the non-profit sector. Earlier in my career, I was driven by wanting to help create agency and empower survivors.

Over time, I have developed a deeper understanding and enhancing both equity building and social justice. Simultaneously, Sakhi's approach has grown to become much more expansive. While a critical element of our work builds agency for survivors, advocating for gender equity and justice is the core of our mission.
How are you adjusting? What are your days like?
It's an honor to work alongside a group of powerful women who engender a deep passion for building equity and justice. We have a strong culture, one that has evolved from our framework of empowerment.

I am just a few weeks into the role and I am currently focused on learning about, and connecting with, all of our stakeholders. Our organization has been on an upward trajectory, and I am eager to build upon that momentum.
What's it like to walk into a world where domestic violence is still happening between husband and wife?
Intimate partner violence transcends every community. The added complexity of race, ethnicity, religion, and immigration status in our current political climate makes our work all the more necessary. It is our responsibility to vocalize, locally and nationally, the unique challenges our community experiences. Sakhi works towards gender justice every day as we fight for our community because we want to see all people free from violence and repression based on gender, and able to live with dignity and respect.
How did you feel when you learned you got the job? What was your prayer the night before you found out?
I am still in shock! Truthfully, it hasn't fully sunk in yet. I've wanted to join the team at Sakhi for the better part of my career. Humbled and deeply honored best describes what I am feeling, as well as eager for the challenges ahead.
Sometimes the path to success is paved with several failures. What failures have made you who you are today?
I absolutely learn more from failure than any success. I have had multiple setbacks throughout my career—most recently was when I was vying for a position (that I actively sought), while an outside candidate was ultimately hired. I poured my heart and soul into the role, and I was personally disappointed with the outcome. However, upon further reflection, I now see that the leadership at the organization made the right decision.

What has come out of that experience is an opportunity to assess my strengths and my opportunities for growth. One of the most important lessons I have learned in the last few years is taking space to breathe from difficult experiences—it provides clarity that otherwise might not crystallize.

Failure will come again, but I have learned to embrace it because it always leads to learning opportunities and better outcomes.
This job is very much about female empowerment. What does power mean to you?
Movement building and power are at the forefront of what I have been exploring. There is a recent awakening to the need to collectively channel efforts to manifest structural and social change. It's imperative that we continue mobilizing our communities, bridging dialogue, and thinking about national coalition building.
You traveled to South America, Europe and beyond in between jobs. What are some of the things you realized about yourself?
Traveling this year helped clear my mind, and more importantly, further defined the type of leader I want to be. I wasn't living up to my own expectations, particularly in how I was engaging with others and the world. I needed to take a step back from myself and define the ideals I want to embody. A large part of what I have needed to do is shift my behavior, and develop a greater sense of self-awareness. It's not been easy, but I embrace the personal and professional challenge of behavioral change.
We, as women, have to ask for help. Somewhere along the way, our generation decided that women should somehow do everything. Will you be hiring a team?
Sakhi's team and board of directors are supportive, passionate thought partners, and I value working side-by-side with them. As of now, we are not making any institutional changes.
What do you know for sure?
Every moment, encounter, conversation, experience, and thought happens for a reason.
---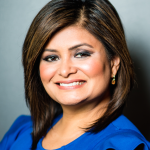 Joya Dass is a long time business news anchor in New York City. She has been seen delivering live reports on the markets from the floor of the New York Stock Exchange for Bloomberg, CNN, ABC, CBS, and most recently NY1 News. Since December 2002, she was also the host of the popular Saturday morning show AVS, bringing the latest in the Bollywood film industry news into the living rooms of first and second generation Indians living in the United States. Joya was recently recruited by Morgan Stanley to join a wealth management team at the New York City flagship operation. This continues the thru-line of empowering women, which began with Dass' networking initiative LadyDrinks, working to support South Asian female professionals in senior to mid level management or entrepreneurship in New York, Princeton, Toronto, and New Delhi.