by Sundeep Hans –  Follow @sundeephans
Kangana Ranaut, one of the most badass women to ever come out of Bollywood, issued one of the loudest, baddest clapbacks that it has probably ever heard. Its direct recipient, Bollywood bigwig, Karan Johar, was initially silenced…because seriously, what could he have said? Its indirect recipient – the whole Bollywood system – is still talking about it. And it's all about nepotism.
I'll backup for those of you that still don't know. Ranaut appeared on Johar's gossipy celebrity talk show "Koffee with Karan" Season Five last month alongside her (definitely not woke) co-star Saif Ali Khan to promote their new movie "Rangoon."
A point to note: She has been the butt of many a joke on the shows past seasons, almost always instigated by the Johar.
She was her unapologetically proud feminist self, answering each question from the gobsmacked host with a brutal honesty that neither he nor his audience (that includes me!), frankly, is used to. Each of her answers packed a punch and left a sting that still hasn't abated. She didn't sugar coat or demure, she wasn't diplomatic. She was bold! The global theme for International Women's Day this year is #BeBoldForChange. It was fitting. Although truth be told, she has kind of always been as bold as they come.
While the entire show was entertaining (mainly because of her candor) it was when she called Johar out for being part of the "movie mafia" and the "flag-bearer of nepotism" that left both him and Khan speechless.
In fact, it took him a few days after the episode aired to finally say something. After speaking at an event at the London School of Economics he was asked about her comments and his response was odd. He suggested that Ranuat didn't really know what nepotism meant.
Hold up! She called him out for "mocking" her English language skills on the show and he still chose to go that route? And he thinks because he hasn't worked with his "son, daughter or nephew" he's not guilty of nepotism (what?!) and that she should leave the industry if she feels "terrorized" (again, what?!).
https://twitter.com/iAmNehaBhatt/status/838444879671881730
Karan, your privilege is showing!
I think this was probably the first time he's been checked by someone with less power on the Bollywood power scale and it must have really sucked to have it happen to him on his own show. Ranaut has been dubbed the "Queen of Bollywood" after winning three National Awards, and carrying a series of successful movies on her shoulders, a feat usually reserved for her male counterparts.
Even still, Bollywood is a male-dominated industry, and Johar sits pretty close to the top. While she's an established superstar now, what she did – speak truth to power – was brave.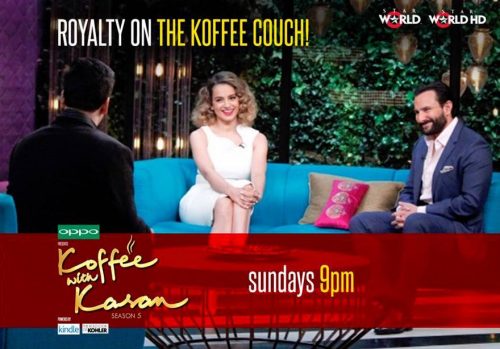 Johar's father was a huge producer, so he has grown up on film sets, attended film parties, and basically fraternized with the Bollywood 'film fraternity' his whole life. He is friends with the who's who of Bollywood. They're in his films and are usually the ones sitting across from him on his show year after year. He got his start on his dad's sets (yeah, you know that little Bollywood movie called "Dilwale Dulhaniya Le Jayenge"?!).
His first film starred the superstars of his dad's movies. He has produced many films with children of old Bollywood stars and invites them all to chat and promote their movies on his show.
The man IS the product of nepotism and he continues to perpetuate it. The truth hurts buddy. She was right. She has since responded to his comments with the same confidence she showed on his show. She says that it isn't just him, but the whole system in Bollywood.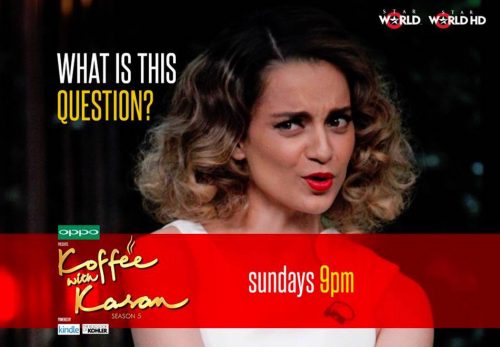 There is nepotism in Bollywood. He was told the truth on his own show, in front of his audience, alongside another beneficiary of nepotism, and it must still sting. This outsider, with no Bollywood connections, this 30-year-old phenomenal talent who has struggled and worked her way to where she is, told him the truth and he just couldn't handle it.
The only other badass truth teller to appear on his show was his dear friend (and my absolute favorite) Twinkle Khanna. The daughter of two Bollywood superstars, wife to one of its current megastars, herself a beneficiary of nepotism (she's admitted that she wasn't much of an acting talent). Like Ranaut, she is bold, but she's also an insider. The truth is that her banter and vernacular is familiar, and no matter how witty and bold or outrageous she is, she can get away with it in a way that Ranaut never will.
Ranaut is not in Johar's circle, and it's a pretty wide circle that encompasses a large portion of Bollywood, that's for sure. Well look at that, her movie mafia comment wasn't off the mark either.
Nepotism exists in Bollywood. There's no denying it. Some actors, directors, and producers who have benefited from nepotism are indeed talented folks who have also worked hard and struggled. No one is denying that. There is also no denying that their struggle is not equal to the struggle of outsiders. They are afforded entry into this very enclosed system, with all the perks that come with it by virtue of their birth. For every talented, hard-working star kid, we've seen another who keeps gracing us with his/her graceless performances because daddy ji or mommy ji or any other ji under the sun just wants to do everything in their (considerable) power to ensure their baby succeeds.
It's all about privilege and power.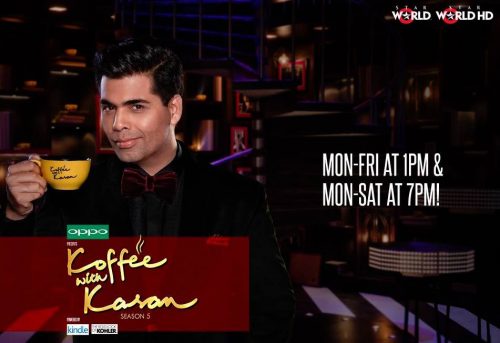 There is no denying the privilege and power that comes with the names Bachchan, Bhatt, Chopra, Deol, Kapoor, Khan, Roshan, Sinha, etc. There is no denying the power that comes with having your acting career launched by a huge production company without ever having given an audition. There is no denying the perks of learning to navigate the system from childhoods spent at star-studded parties.
Ditto the privilege of learning the ropes as an assistant to a big time director because he's your dad's buddy or the producer was hoping to cast your brother in his next film and you're the favor that needs granting. There is no denying the power of being able to say NO, whether it's to the shitty roles or appearing alongside unknown co-stars. Nor can we deny the power and privilege to never having been propositioned on the infamous casting coach.
The first step to fixing a problem is acknowledging that it exists. Bollywood has a nepotism problem. Kangana Ranaut called out Johar, and in turn the whole of Bollywood, for perpetuating this problem. She exercised her new power and privilege (she was the highest paid Bollywood actress last year) to call it out loudly from a platform that has become Bollywood's central soapbox. Slow clap and a standing 'O' for her.
Take a seat, Karan Johar. Take several seats. You've just been schooled.
[Images: Facebook/Star World India]
---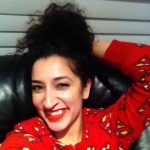 Sundeep Hans was born in Toronto, raised in Brampton, with a slight detour via Punjab. She has a great job, where her work involves collaborating with clinical and community leaders on initiatives around diversity, equity and inclusion in the region to reduce barriers for health care access in vulnerable populations. She has a Master's degree in Global Diplomacy from the School of Oriental and African Studies, University of London, a Bachelor's degree in History from the University of Southern California, and is almost finished with her post-graduated certificate in Ethics. She loves to read, travel and talk to anyone every chance she gets. You can follow her on her blog and on LinkedIn.