This post was originally published on our partner website India.com:
Bollywood stars very rarely take a strong, unapologetic, public stance on a social issue. Luckily, for us, Kalki Koechlin has never shied away from being her bold, badass self.
Through both her strong on-screen characters and her feisty, outspoken off-screen personality, she doesn't hold back. In her new five-minute video, Koechlin paired up with YouTube's fashion and lifestyle channel, Blush, to air her poem "The Printing Machine." The poem rightfully eviscerates the media for its sensationalism in the portrayal of women.
Directed by Akanksha Seda, this video targets newspapers, magazines, and even textbooks.
Why?
Because the printing press, with its infamous black ink, has now become a carrier of fear and panic.
These forms of media will churn out the most hyped up headlines just to turn heads and get noticed. The media has built itself on this form of violence—one that has, unfortunately, become a societal norm.
Koechlin perfectly parallels the two worlds we have created for women through this media: the horrific news we read everyday about heinous crimes towards women, as well as how we have desensitized ourselves against this. She references the 2012 Delhi gang rape, among other examples of gender-based violence such as the recent rise in acid attacks and foreigners being raped.
The other side of the coin is the depiction of women in glossy magazines—you know, the "tall, thin, fair and, therefore, beautiful women." Held to a higher standard because of these magazines, if women are not bikini-body ready or do not have flawless skin like a Fair & Lovely model, they're deemed not beautiful enough.
No moral argument is black and white, and Koechlin points that out vividly with a line like:
"Chrring at the marks of sin, cut out of the clothes you're in, the men with whom you've been, the color of your skin."
Showing off her freckled, radiant face, Koechlin moves gracefully in the video, and her soft voice opposes the grilling sound of the printing machine, "Chrr tak tak takka dakka tak chhree"—the ongoing background score throughout the video.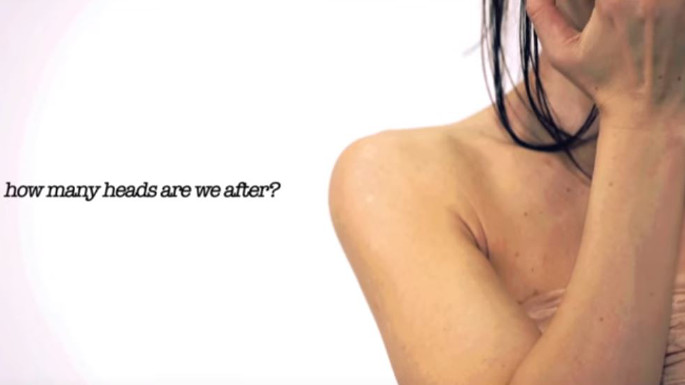 [Photo Source: YouTube/Screenshot.]
However, Koechlin doesn't fail to bring up that it's not just the media's fault; after all, they are only presenting what they know the audience will be happy to accept. Brutality against women has become a daily news story—which, unfortunately, also no longer surprises anyone. The media knows this, and therefore, feeds such news to us in all its glory. As Koechlin says in the video, "till heads pile up in our hands, printed crisp and clean on our newspaper stands, and blend smoothly into our morning routine." Isn't it a vicious circle?
She doesn't just stop there. She goes on to proclaim that all the crimes happening today will become our history tomorrow. Textbooks will reveal to the future generations about how we live today. Only we can change this history, media and its audience together.
As she predicts in the last line of her fantastic, must-watch video,
"irony of all ironies will one day reveal how our great Indian heritage fell to its knees at the mercy of innocents."
---
Saloni Gajjar is a recent alum of NYU's Magazine Writing Program. Her passion lies in pop culture writing, as is evident in her work with magazines like Marie Claire, Interview, and Complex. Her goal is to show the arts as a medium and mirror of the society, much beyond just entertainment.