by Kainaat Bhaskar – Follow @browngirlmag
When I was 5, my father told me to stay under a roof, lest the evil, evil hands of the sun touch my skin.
When I was 10, my mother discreetly replaced my Pears soap bar with a foul blend of turmeric, milk, and wilfulness, to be refilled every morning.
When I was 15, my grandmother chided me, her eyes oozing contempt,
Men want diamonds, my dear sister, not lumps of obsidian charcoal.
And I yielded, of course, I yielded.
That is what is what is expected of me, yes?
My wardrobe changed, turning longer, and higher, and darker and darker, because pastels and brown together, is a fashion disaster.
No short shorts, no halter-necks, no backless blouses, no crop tops, no cut-offs, no sleeveless, not even a single skirt.
It's turtlenecks and trousers for you missy, or churidars and kurtas, if you will.
My body lapped more milk than my tongue, but just as well, for no one wants a calcium-rich brick house for a bride,
No one wants a 5 ft. 7, 40-30-45, capable handed, strong jawed, thunder thighed size 8.
No one wants a strong woman.
The indoors became my best friend, the walls heard my secrets,
I told the ceiling fan about my first love, the faulty tube light about my insufferable maths teacher,
I carved lines of solitude onto my bed post, and on my skin, lines of scarlet,
Discovering that white is not the only perfect canvas.
And when I'd hear footsteps outside my room, firm and undeniably masculine,
I'd clamp my hands over my mouth, and not let even an N O escape,
Much less a whole lot of N O N S E N S E ,
Because listen, child, women are meant to be seen, not heard,
And you should not be seen either,
Except, of course, to cater to our whims and fancies.
You trapped me concrete and loathing, father, to protect me from the sun, but what good did it do, when your vile blood flowed through my veins, as everlasting as death.
I am not made of chocolate, mother, milk won't make me go from Lindt to Cadbury.
Nor can I change color, to suit myself to what I touch.
And, oh sweet grandma, how delusional you are.
I am the diamond you speak of, hidden beneath obsidian yet rare charcoal dust,
Like black silk covering a masterpiece.
After over a decade of comparisons to blackboards, catty compliments, disguising clothes, cringing boyfriends and irked family members, I am tired.
I am tired and sick of your double standards, of your overwhelming patriarchy, of your hypocritical notions, of your irrational fascinations, of your fixation with firangs, of your belief that Fair is Lovely, but Dark is Ugly.
I am sick of you, society.
I've set fire to my concealing garb, to my fairness creams, to my packets of bleach, to my Lakme Absolute White Intense Skin Cover, to the four walls I called a home.
I am not what you want me to be,
I cannot be what you want me to be.
I am Kali,
Hair flying, eyes fiery, itching to put you bigots in your damn place.
I am Kali,
Ingenious, bold, fierce, enchanting, unashamedly sensual, a woman.
I am Kali,
In the most literal and metaphorical sense of that word.
I am Kali,
And I refuse to be pushed onto my knees.
I refuse to ingest the poisonous beliefs and norms you shove down my throat.
I refuse to shape the chaos I am, cut off its corners, smoothen its edges, and fit it into the vanilla box you have prepared for me.
I refuse to believe that ebony is not the fairest of them all.
I am Kali,
And I refuse to be put down.
Don't you dare put me down.
---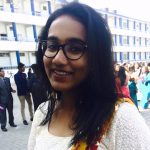 Kainaat Bhaskar is 17 years old, lives in Pune, and has an intense affinity for cats, chocolate, Salman Rushdie and Indie Rock.