by Ashni Mehta
A bystander of Saturday night's stabbing in London had the perfect response, and the Internet echoed his sentiment by starting a viral hashtag campaign: #YouAintNoMuslimBruv.
The knife attack that took place in a London subway station that injured three people is currently being investigated as an act of terrorism. The stabber reportedly shouted, "This is for Syria!" In a video of the incident, a bystander can be heard saying: "You're no Muslim, bruv. You ain't no Muslim" ("bruv" is London slang, equivalent to the American slang, "bro").
Twitter responded with more than 64,000 tweets by Sunday morning, making it the number one trending topic on Twitter, and the tweets are still rolling in days later. Although there are a number of people critical of the campaign, an overwhelming majority of tweets are supportive of the cause.
Even Prime Minister David Cameron of Britan applauded the bystander's statement.

Using social media to make sense of a senseless world. #YouAintNoMuslimBruv #London ??

— NOT JUST FASHION (@notjustfashion_) December 7, 2015
I'm grateful a hashtag summed up so much of today's ignorance #YouAintNoMuslimBruv No religion promotes killing! pic.twitter.com/KR3dMd24R0 — Ahou Koutchess (@ahou_doe) December 7, 2015
Extremely important to keep this hashtag going,these beasts are damaging Islam more than anything in history.#YouAintNoMuslimBruv

— Fareed Nasir (@Fareed1973) December 7, 2015
S/o to London & the great example they've been to the world after leytonstone. Only unity can conquer hate #YouAintNoMuslimBruv #solidarity — Abs (@_ahbz) December 7, 2015
Attacking innocent people 'in the name of Syria'? You're a disgrace, Islam and #Syria both reject you. #YouAintNoMuslimBruv #NotInMyName ??

— Fatima N (@Fatima_Nayimi) December 7, 2015
Someone who carries out acts of violence is not a representation of Islam #YouAintNoMuslimBruv #waragainstterror — amber davis (@amby_d) December 7, 2015
#YouAintNoMuslimBruv Stabbing innocent people in the Tube for Syria, does not make you a defender of Islam. It makes you a crazy terrorist.

— Dolly Kola-Balogun (@DollyKola) December 7, 2015
Stop embarrassing Islam,with your disgusting acts because #YouAintNoMuslimBruv #unitedAgainstExtremisim. -THANKYOU ENGLAND — Wardah Falik (@WardahFalik) December 6, 2015
#YouAintNoMuslimBruv – the power of language. One sentence pushes away extremists and unites everyone else. This is our stance now. Great.

— Dr Craig Morris (@1CraigMorris) December 6, 2015
"You're not a Muslim, bruv. You're an embarrassment." Passerby gets the last ten years down in a sentence. #YouAintNoMuslimBruv — Matt Kelly (@mk1969) December 6, 2015
And again, you can't define a majority by the actions of a minority…. #YouAintNoMuslimBruv

— Tommo (@thetommo) December 5, 2015
How the U.S. should be responding to terrorist attacks: #youaintnomuslimbruv — Mark Stephen DeRosa (@MarkSDeRosa) December 7, 2015
This is it. This is the unity we needed ?? #YouAintNoMuslimBruv

— Damla ?? (@Damzel_Smile) December 7, 2015
In light of all the recent attacks by extremists (San Bernardino shooting, Paris attacks, Leytonstone), we'd expect Islamaphobia to be rampant. Instead, it is revitalizing to see people of all races and religions to come together to show support for the Muslim community and differentiate between true followers of the religion and those who choose to radicalize it. And hopefully, the first step to uniting against those who kill in the name of religion.
---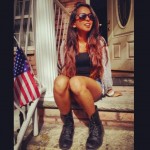 Ashni Mehta graduated from St. John's University with a degree in Psychology. Currently, she is the Community Manager at Corporate Suites Business Centers, as well as a professional Bollywood dancer with Sonalee Vyas Dance Company (SVDC). She is a passionate aerial yogini and a self-proclaimed foodie. During her free time, you'll find her eating and laughing her way through NYC.