At a recent desi all-girls get-together, we were watching "English Vinglish" – the Bollywood movie hailed as the stunning comeback of the big screen diva Sridevi. While my friends sat misty-eyed as Sridevi delivered her eloquent English extempore, my eyes zeroed in on her ensemble. In that climax scene and throughout the movie this Indian lady from Kanpur dazzles the streets of Manhattan in her colorful, striking and elegant six-yards.
Most of the Indian suits that hang idly (collecting dust) in my closet are bursting with color and boasting of sequined work. Yet, I almost always stroll around in black, white or grey slacks and pastel blouses. Every time a baby shower or a bridal shower invite makes its way to me, I contemplate and quickly dismiss the kameez; too glaring and gaudy. But when my friend sent us an invitation for her wedding in Europe, I was overcome with a steely resolve. I'm not sure if it was Sridevi or the fact that it was a wedding but I had to wear an Indian outfit! So I packed my emerald colored salwar kameez complete with sequins and matching studded jhumkas with them. For the first time, I felt thrilled and not embarrassed at the prospect of dazzling in Indian clothes.
Apparently, I'm not alone.
Huma Abedin (Hillary Clinton's aide and wife of former U.S. Representative Anthony Weiner) wanted to look like an Indian-American bride, to truly reflect the woman she is. She worked with her dress designer Oscar de la Rente to ensure her gown complemented a jeweled choker that was a family heirloom. Her dress not only reflected her history and heritage, but the cap sleeved chiffon gown and burnt gold embroidery was a visual extravaganza.
From pop-idol Madonna to British actress Elizabeth Hurley, tennis superstars Anna Kournikova, Serena and Venus Williams, supermodels Naomi Campbell and Gisele Bundchen, have all sported the traditional six-yard wonder.
Award-winning actress Helen Mirren stunned fashion police in 2004 at the Emmy Awards by arriving in a sari. Although the sari itself was elegant, her choice was confounding. It was a weird yet an elegant choice for an aging beauty.
Indian women themselves are only now openly embracing the visual wonders that their clothes promise. Bollywood superstar Vidya Balan has a never ending love story with the Sabyasachi sari. From Chanderi to Kanjeevaram, she has sported every hue and style. She has been sublime, stunning, bold, beautiful, but always graceful.
Not to mention, actress Sonam Kapoor, Bollywood's claim to fame in fashion, has worn her share of saris with pure elegance.
It's not just the celebrities adorning India's go-to outfit. In 2011, French couturier Hermès decided to sell saris in India to attract the South Asian clientele, ranging from $6,000 to $8,000 a piece.
More so, local American department store chains like Macy's and Kohl's now showcase Indian weaves and prints to appeal to the South Asian populace living in the Diaspora.
Most of the silks I own have piled up since my own wedding. So far, I am detached to these ethereal silks, but the designs, motifs and elaborate embroidery weep in isolation. Often the weave carries a tale and the fold wraps a memory. From dismissing the Indian suit, I have changed into sneaking one at every possible appropriate occasion.
With the weather gloomy and the chillness seeping my bones, my solace right now is the splendid sapphire pashmina draped over my black turtleneck sweater. It brings unspeakable warmth that carries the pride of my heritage and silent yet stunning acknowledgement of my origin. Besides, when was the last time you found a sapphire or emerald outfit at the mall?
[divider]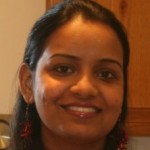 Meera R. Corera, based in New York City, is a freelance writer and blogger focusing on all things India — women, travel, immigration, food and cinema. Follow her on Twitter for her latest happenings!