by Sunny Sharma
The International Indian Film Academy Awards (IIFA) was held for the first time in the United States of America on April 26th in Tampa Bay, Florida and is set to air this Sunday, June 15, 2014 on STAR Plus. If you weren't one of the lucky thousands that were able to attend the actual event, this behind the scenes post may be help you get your IIFA pre-show fix!
To begin with, The IIFA Tata Motors awards show was supposed to start at 8 p.m at the Raymond James Stadium, home of the Tampa Bay Buccaneers. However, true to "Indian standard time", the show did not officially begin until an hour and a half later. And while it was supposed to end three hours later, at 11 p.m, the event did not conclude until around 3 a.m—a very expensive tardiness since overtime at the venue costs $1,000 per minute.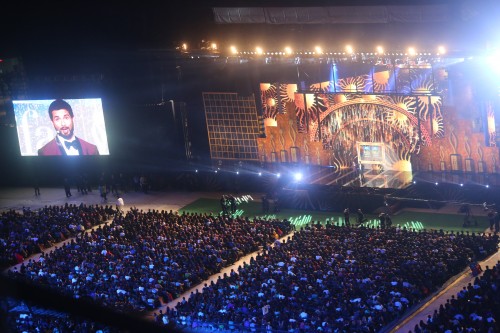 Generally IIFA is held in exotic locations around the world, such as South Africa, Malayasia, Netherlands, Thailand, and Macau. This year marked the first in the IIFA awards' fourteen-year history in which the show was hosted in the United States. One man was instrumental in the selection of Tampa Bay as the first American host city for the 2014 IIFA awards. Dr. Kiran C. Patel, the wealthy majority owner and Chief Executive Officer of WellCare HMO, widely known for his philanthropic activity in Florida and internationally, convinced the IIFA board of directors and won the bid for the city. Patel is a firm believer in spreading awareness about South Asian culture. In that vein, he and his wife Dr. Pallavi Patel, an entrepreneur and pediatrician, founded the Drs. Kiran & Pallavi Patel Foundation for Global Understanding, which aims to fund various programs in health, education, arts and culture. It is widely believed that through this foundation Dr. Patel was able to fund enough money to attract attention to the U.S.
My experience at the IIFA awards was, overall, positive. The performances were high energy and very well done. Kevin Spacey did the "Lungi Dance" and Hrithik Roshan and John Travolta danced the "I see you" from Pulp Fiction; John Travolta also danced with Priyanka Chopra on stage. It was nice seeing the blend of the two cultures since Bollywood and Hollywood have historically taken ideas from each other and have increasingly been mixing. American attendees at the event included Tampa Bay mayor Bob Buckhorn, Miss America Nina Davuluri, actors Kevin Spacey and John Travolta, and Olympic swimmer Brook Bennett.
Even though I had a great time with my own friends, I was disappointed to see beefed up security at the Hilton hotel where Hrithik Roshan and Saif Ali Khan allegedly hosted exclusive and private after parties. Not that I am saying we tried to get in…but what can I say; I'm a dedicated and devoted Bollywood fan!